By Mark Schaefer
The race to publish meaningful and relevant content is furious. But a new development I uncovered pushes some new boundaries. Is this development creative genius or pathetic stealing?
I was doing some research on marketing education and came across a seemingly helpful article on Forbes. But something did not seem quite right. Here's a screen shot. Can you detect something strange here?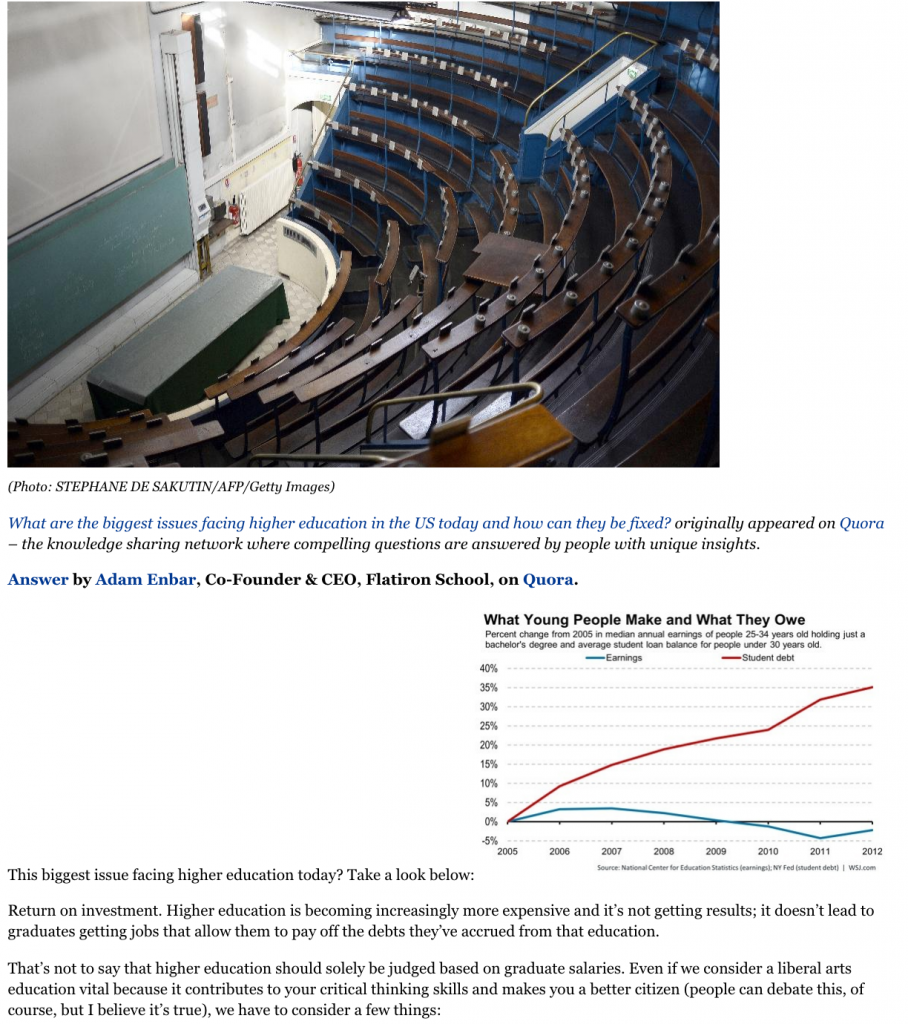 Like most people, I didn't pay much attention to who wrote the article. I simply dove into the meat of the content. But where did this content come from? Forbes lifted an answer from Quora (a site that posts answers to questions) and pasted it as a fresh article on its own website. There is an interesting dynamic at play here.
The benefits of this content strategy
Forbes has an insatiable need for content and has found a new goldmine — experts answering questions on Quora. This is a new source of free, quality content. The risk of lifting the Quora answer seems low since the author is undoubtedly delighted by the mainstream publicity and Quora is probably happy with the link, too.
When I did my web search, Google directed me to the Forbes article, not the original Quora answer, because of Forbes' superior site authority in the eyes of the Google algorithm. So quality content that would have been buried on Quora is now elevated to premium search status on Forbes.
There is another subtle benefit. This is an intelligent and helpful article. But embedded in the middle of the post is a promotional paragraph about the author's institution — native advertising, really. The author, a former HubSpot executive, would certainly know the value of such links and content. A simple answer on Quora now captures a top search position, probably better than any advertising he could buy!
If content swiping like this becomes a mainstream practice, what are the implications for PR and SEO? Figuring out how to get Forbes to swipe you could result in amazing benefits, as the author Mr. Enbar discovered. And I've linked to the piece here, which doesn't hurt either!
The mechanics of swiping
So how did all this happen? I reached out to the author of the Quora post Adam Enbar for his take on it and his PR representative provided this response:
Both Adam and his cofounder are very active on Quora and have seen their responses get picked up by other outlets, like Huffington Post, in the past. It seems that Quora has a partnership with these publications and allows them to run interesting and useful answers as new articles.

We weren't approached by Forbes but also weren't that surprised to see Adam's answer repurposed there, since that's happened in the past. We were happy to see it reach a wider audience.
An interesting nuance: What if Adam didn't want his post published on Quora? What if the author dislikes Forbes magazine? If you publish on Quora you have no choice in the matter. Under the terms of conditions on Quora, they can license your content in any way they see fit:
By submitting, posting or displaying Content on or through the Service, you grant us a worldwide, non-exclusive, royalty-free license (with the right to sublicense) to use, copy, reproduce, process, adapt, modify, create derivative works from, publish, transmit, display and distribute such Content in any and all media or distribution methods (now known or later developed).

You agree that this license includes the right for other users of the Service to modify your Content, and for Quora to make your Content available to others for the publication, distribution, syndication, or broadcast of such Content on other media and services, subject to our terms and conditions for such Content use. Such additional uses by Quora or others may be made with no compensation paid to you with respect to the Content that you submit, post, transmit or otherwise make available through the Service.
Forbes has always pushed the boundaries of content ethics, pioneering sponsored content and native advertising in many forms. What do you think about this idea of creating new content from answers on Quora?
Marketing genius or a desperate reach for new content? Let me know in the comment section. But one thing for sure is, once again, the people actually creating the content are left out in the cold.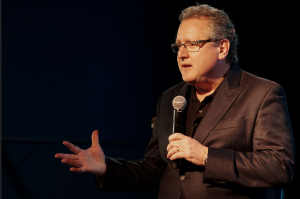 Mark Schaefer is the chief blogger for this site, executive director of Schaefer Marketing Solutions, and the author of several best-selling digital marketing books. He is an acclaimed keynote speaker, college educator, and business consultant.  The Marketing Companion podcast is among the top business podcasts in the world.  Contact Mark to have him speak to your company event or conference soon. 
Illustration courtesy Flickr CC and Blue Coat Photos