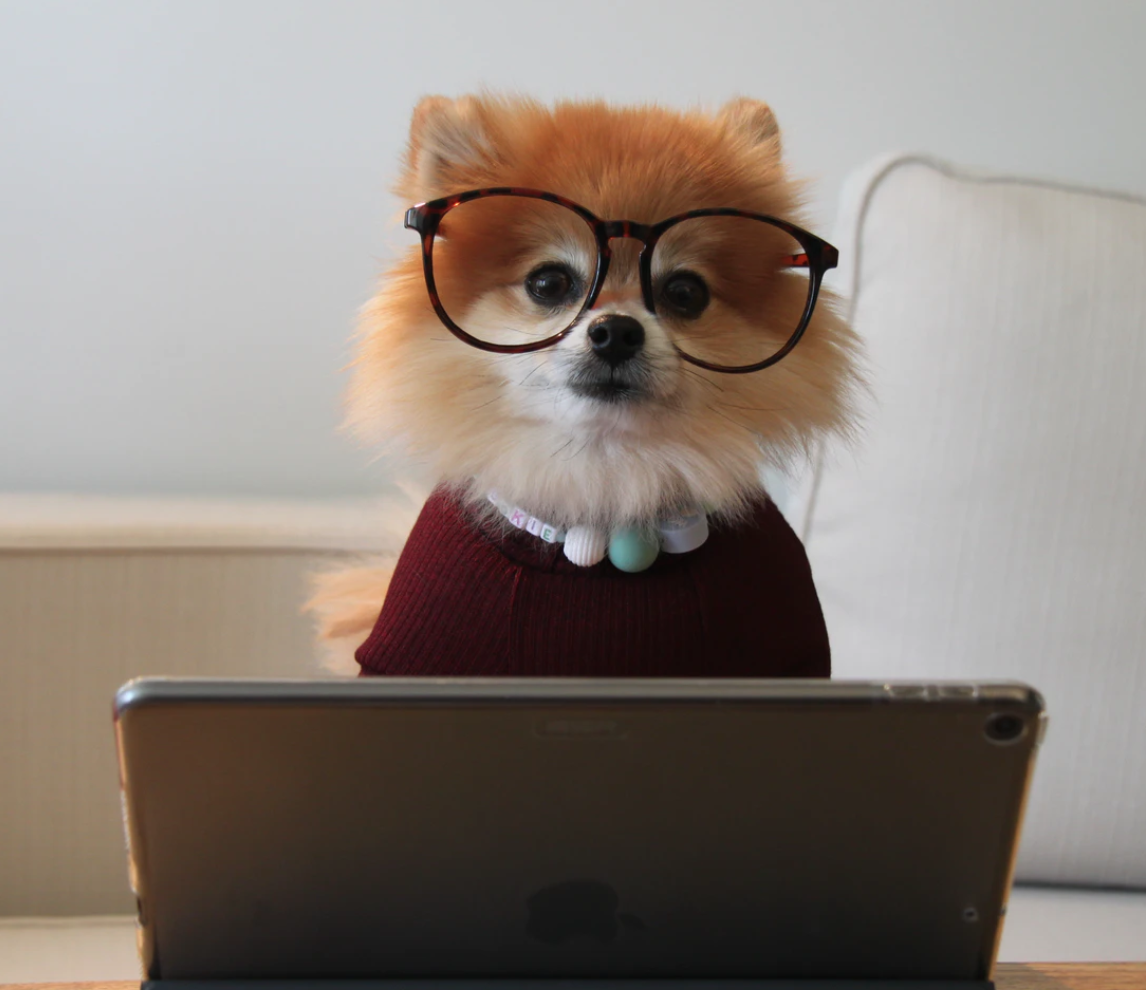 Over the past few years I've become skeptical about the true opportunities for Search Engine Optimization (SEO) for many businesses. Some of my SEO friends have pushed back — but I'm unconvinced. I think the window for smart SEO investment is closing for several reasons:
Now before I go on, I want to emphasize that SEO is not only viable but vital to many businesses. But not all. And I don't think we should commit to an SEO investment just because we're afraid not to. There are alternatives.
In this post, I want to provide a very "quick and dirty" way to determine if an SEO investment is right for your company.
I'll express the SEO challenge and opportunity in a simple "three-dimensional model." I'm a visual person and it's always helpful for me to actually see a diagram or picture of things!
Here's a diagram of the first two dimensions, which was inspired by a post created by Christopher Penn.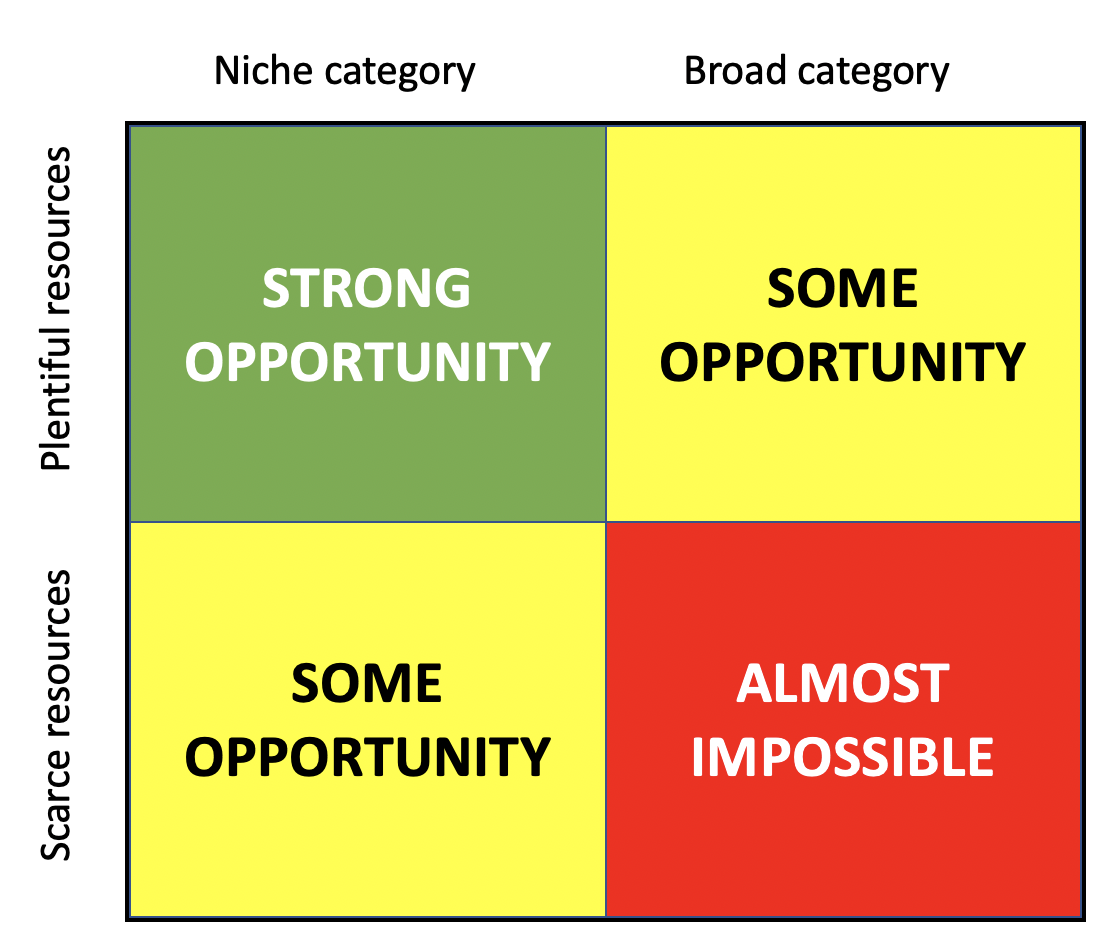 In this simple diagram, we see that the real SEO investment opportunity is for businesses serving a very specific niche instead of a broad product category — especially if you have a lot of expertise and money to devote to it. As I said, if you enter the SEO fray, you have to be prepared to be one of the junkyard dogs constantly fighting for the top spots.
This is probably obvious. But that's not the whole picture. There's another dimension.
The saturated niche
A few years ago, I was hired by a company in the medical device industry to help them get into blogging. The CEO felt that she was behind the competitors and needed to catch up and improve their SEO.
This company fit the criteria for an ideal SEO investment: it was serving a specific niche and had plenty of money. But I needed to make sure that my customer actually had a chance to compete with a blogging strategy. After all, if competitors are already dominating the search results, would blogging really make an impact on her success?
Here is a very simple analysis that I do — and anybody can do it. There is certainly a relationship between domain authority, content, and SEO investment.
Domain authority (a rating from 0-100) is an estimate of the "power" of your website and can be impacted by many factors including:
prestige and age of a website
quality of the information
the relevance of the topics of your content
competition around the subject matter
If a website has high domain authority, you can reliably predict it will have SEO dominance as well. My favorite tool to examine domain authority scores is SEMrush but there are others.
Here are the domain authority scores of my medical device customer and her three competitors in this niche:
Company One = 71
Company Two = 68
My customer = 14
Yikes! We have just met our two junkyard dogs!
These competitor domain authority scores are astronomical. Without even looking at their sites, I could accurately predict these sites were incredibly content-rich — and they were. They had podcasts, videos, and years and years of amazing blog posts.
My customer was not going to win this game with a traditional content/SEO investment. In essence, her competitors had created content shock for her and blocked her out. We had to look for creative alternatives, which we did, but that's a story for another day.
The point is, my customer had passed the criteria on the first two dimensions. She was in a niche and she had a lot of resources to throw at SEO. But she was too late. There was far too much content saturation for her to have a fighting chance with this strategy. She could blog for years and probably not make a dent in these SEO rankings.
The third dimension
So we can't look at market niche and resources alone. We also have to examine the competitive landscape. We may be in the right market and have the right budget and still fail if the competitors have a significant head start (their cumulative advantage!)
We now must take that green box of opportunity from the first chart and look at it through the specific lens of competition.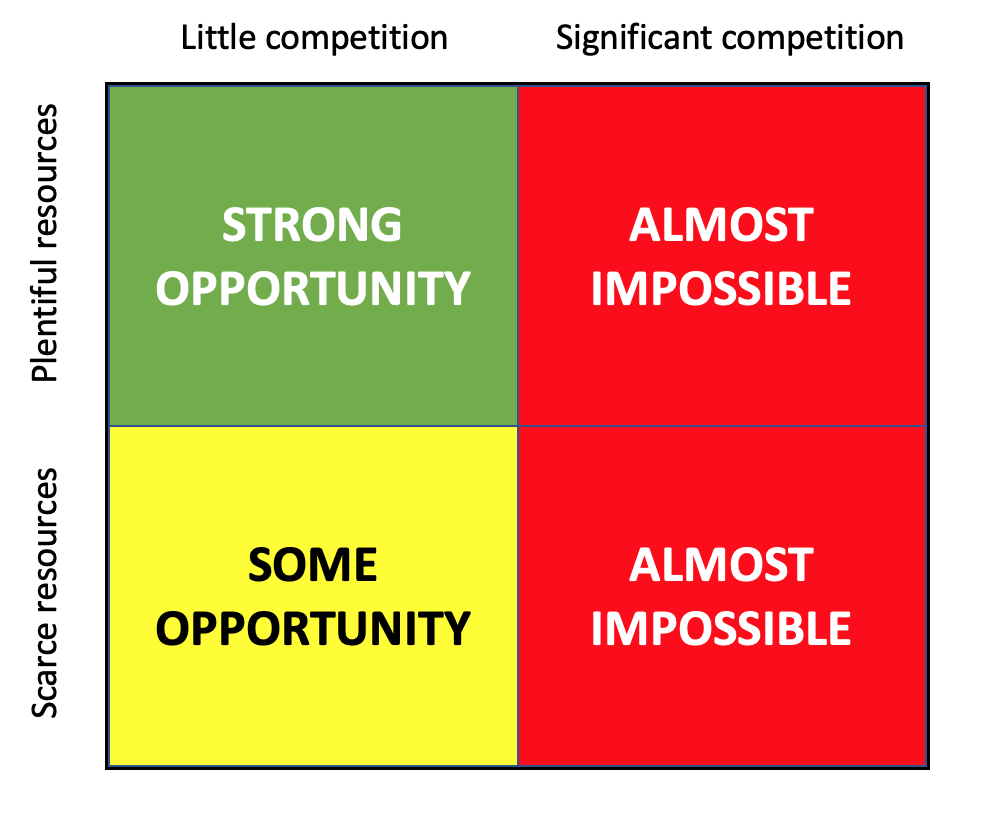 We now see a more complete picture. In an unsaturated niche, even meager resources might be enough to make progress. But if there is overwhelmingly dominant competition, progress is unlikely and you might want to invest elsewhere.
This is a point I emphasize in all my classes. You can't invest in content and SEO in a vacuum. Do the research.
Domain authority scenarios
In the medical device example above, I had to find alternatives for my customer. Could we publish in a different place or in a unique way that could earn traffic?
Let's look at two other domain authority scenarios. What if my analysis looked like this:
Company One = 16
Company Two = 14
My customer = 14
This is a very common competitive profile I see across many industries — this is an unsaturated niche! This analysis shows that everybody is asleep at the wheel. Nobody is using content in a smart way. In this case, there would be a significant opportunity for my customer and they could probably make fairly rapid progress with a content strategy and SEO investment.
Here's another example. What if an industry domain authority profile looked like this:
Company One = 30
Company Two = 20
My customer = 14
This is also a common scenario — One competitor has edged ahead of the pack but is not dominant. A 20 point difference in domain authority is significant, but not insurmountable. In this case, I would want to take a very detailed look at Company One. Is there some place where they are vulnerable? Are they building momentum to increase this gap, or can we catch them and surpass them?
Most of the time in a case like this, I would recommend an aggressive content/SEO strategy … but it will take more time and more resources to see meaningful progress.
What's right for you?
One thing I always emphasize is that there is no cookie-cutter solution to business problems. Today the speed and complexity of a marketplace demands careful research and wise analysis. Is an investment in SEO right for you? I hope this simple, high-level view helps.
This article is meant to help you start thinking about SEO more strategically. I'm not anti-SEO. I'm "anti" making decisions to spend money just because somebody is selling you a package. Ask the hard questions. Ask for a domain authority analysis. Consider the realistic opportunity for success or failure and how much time and money that will take.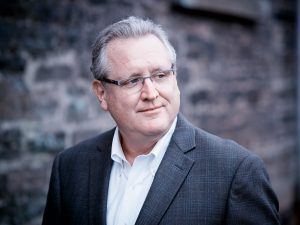 Mark Schaefer is the executive director of Schaefer Marketing Solutions. He is the author of several best-selling digital marketing books and is an acclaimed keynote speaker, college educator, and business consultant.  The Marketing Companion podcast is among the top business podcasts in the world. Contact Mark to have him speak to your company event or conference soon.