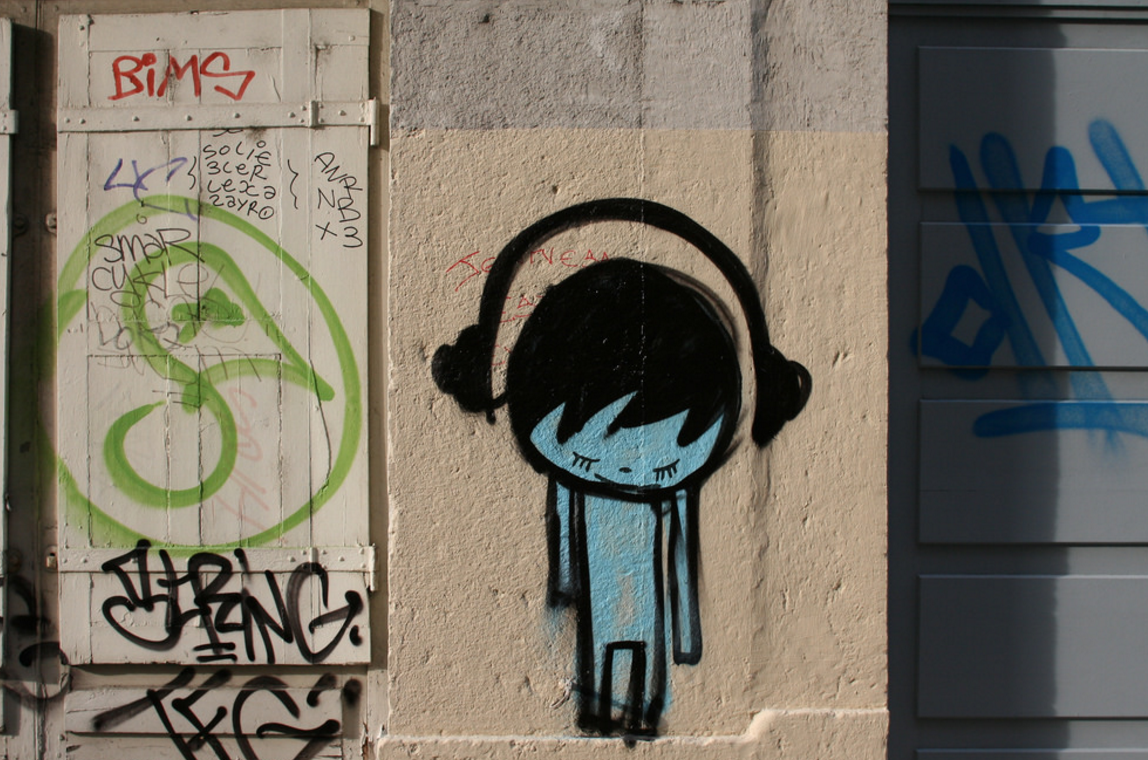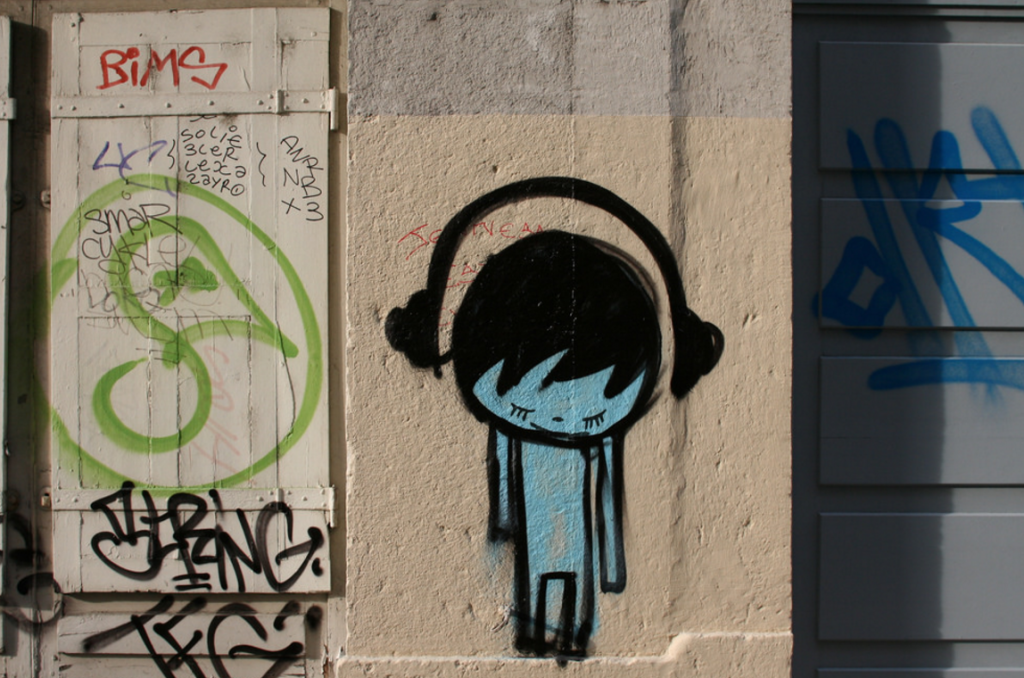 We are rapidly moving toward an ad-free world, which is kind of scary because the Internet really, really, really depends on ads.
Ad blocking increased by 94 percent between 2015 and 2016. About one-third of all smartphone owners block the ads that make all that great free content possible.
I probably consume more content than ever. But I do it though Netflix, through Sirius radio, through Spotify. I don't personally use an ad blocker … but I don't see ads, either.
Fortunately, there is a new social media super-power that presents an extremely attractive new advertising venue: Podcasting. You heard me correctly. Podcasting is the little advertising engine that could.
You can't block an ad on a podcast, and when the ad is delivered by a trusted podcast host, the format is arguably the most effective way to connect to some audiences right now. In fact, ComScore reports that people prefer ads in podcasts over any other digital medium!
Now is the time to get in on the ground floor of sponsored podcasts. Fueled by smartphone ownership and the advantage of being the "multi-task" medium, podcasting is experiencing its greatest growth spurt ever, as evidenced by this new report from Edison Research: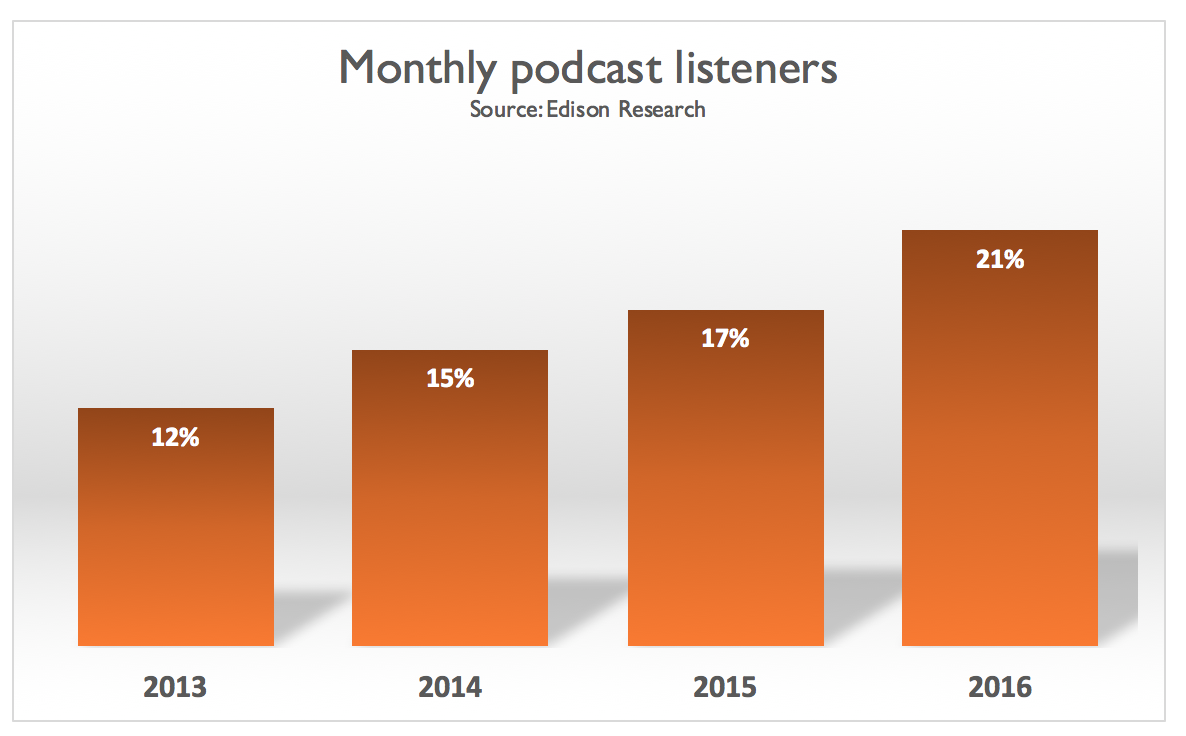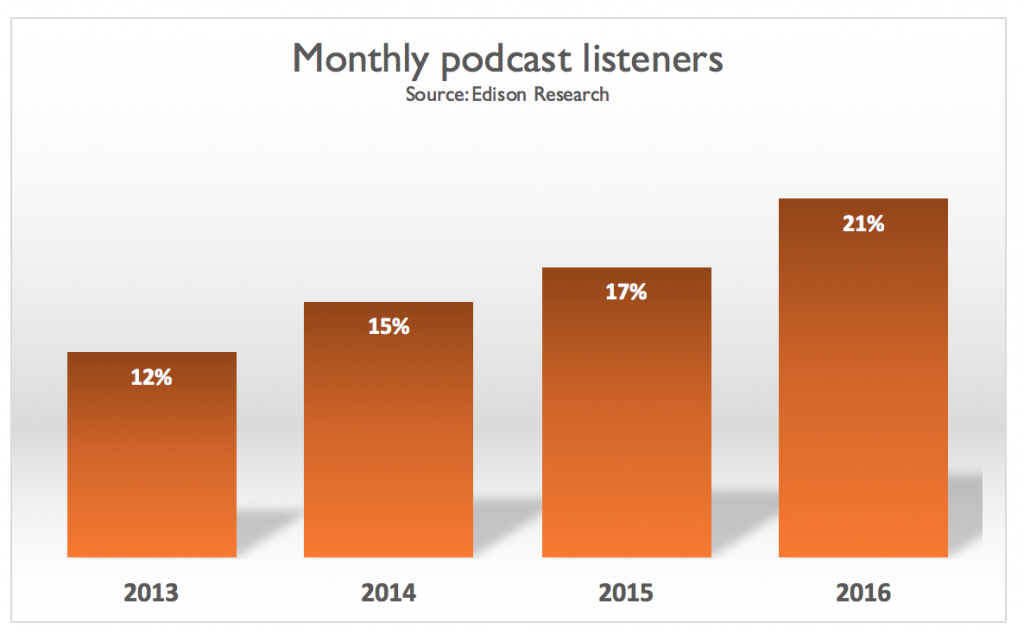 Most of the growth is occurring with consumers under the age of 55: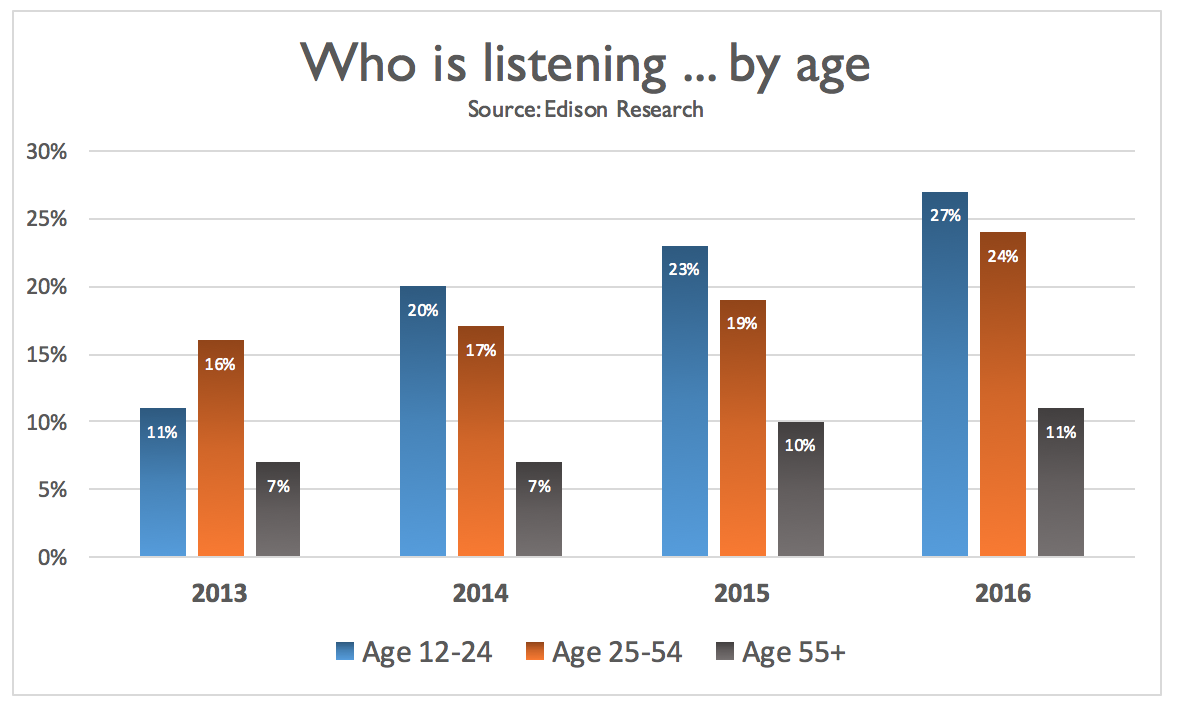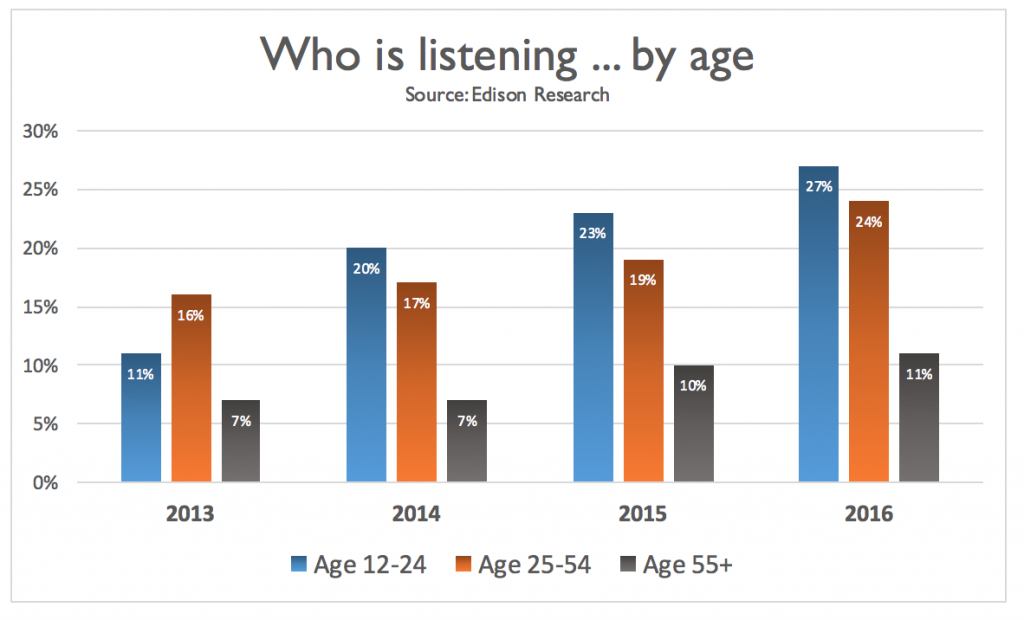 And podcast consumers are voracious, spending more than four hours per week consuming an average of five different programs: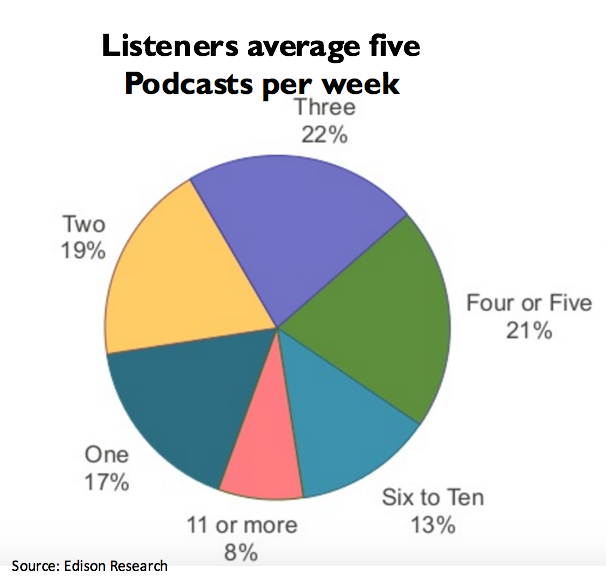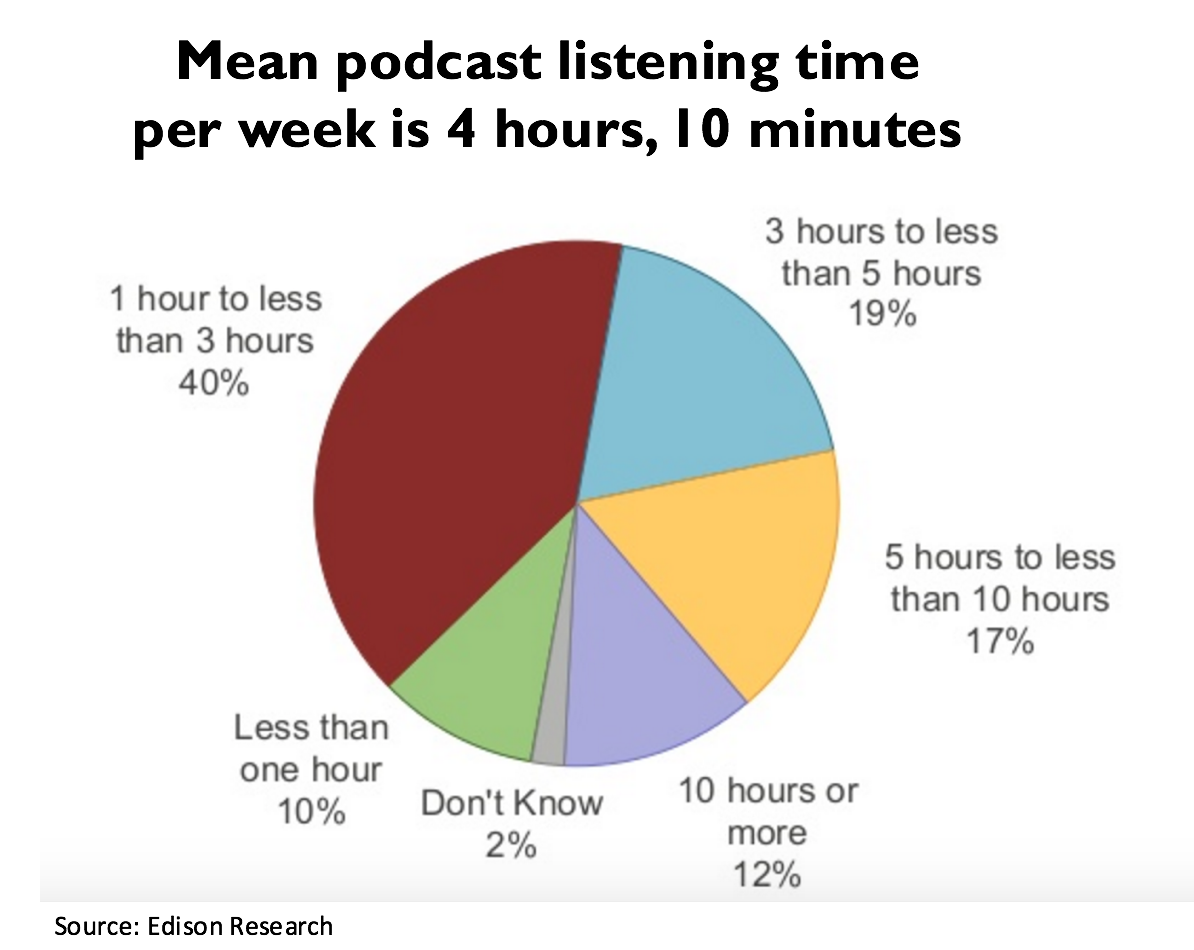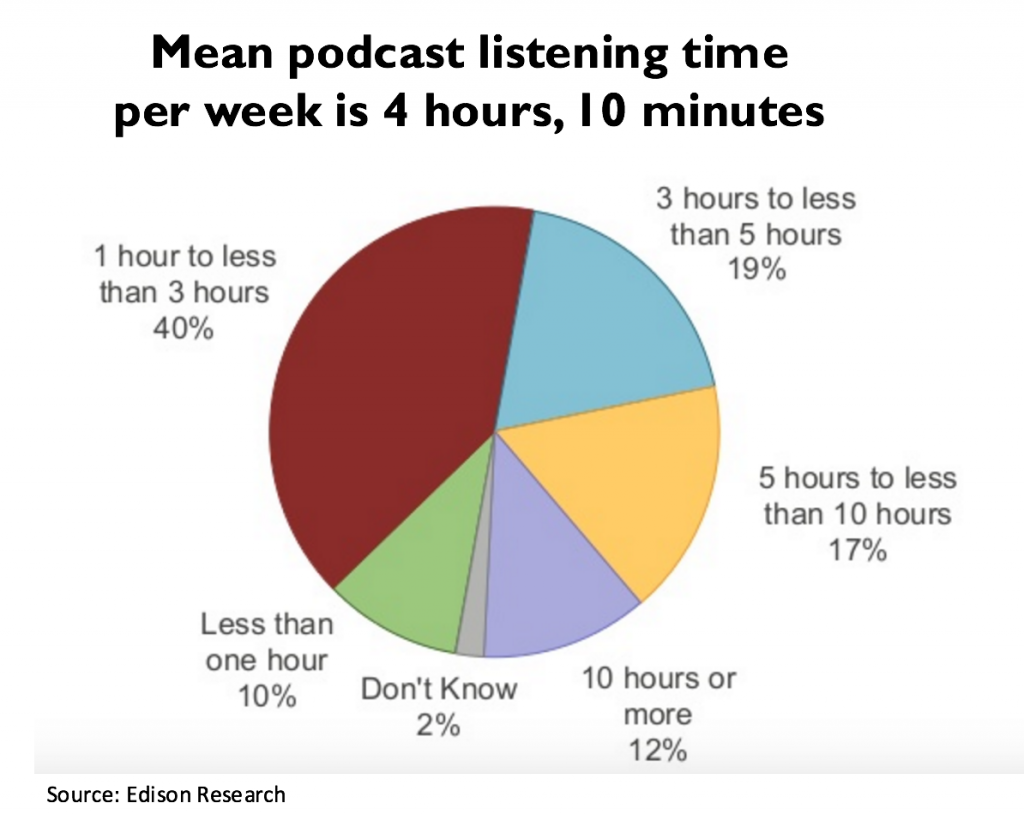 Podcast consumers are desirable ad targets for many brands because they are significantly more affluent and educated than the average American: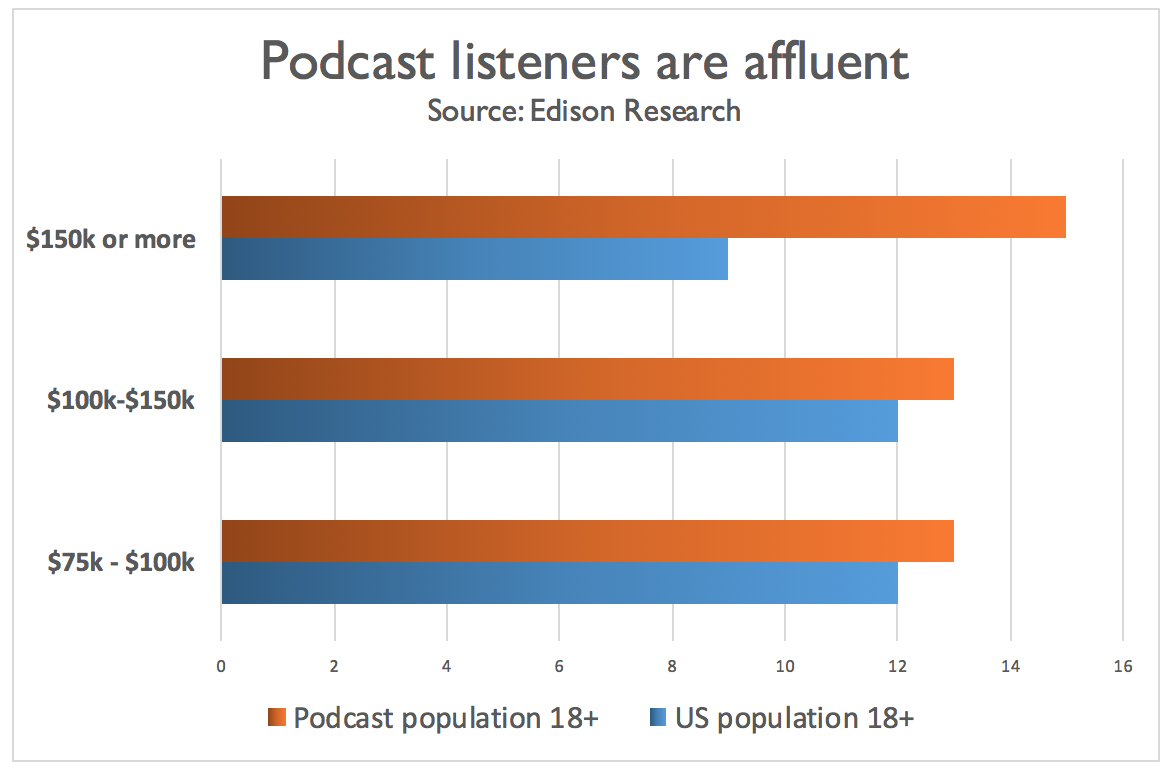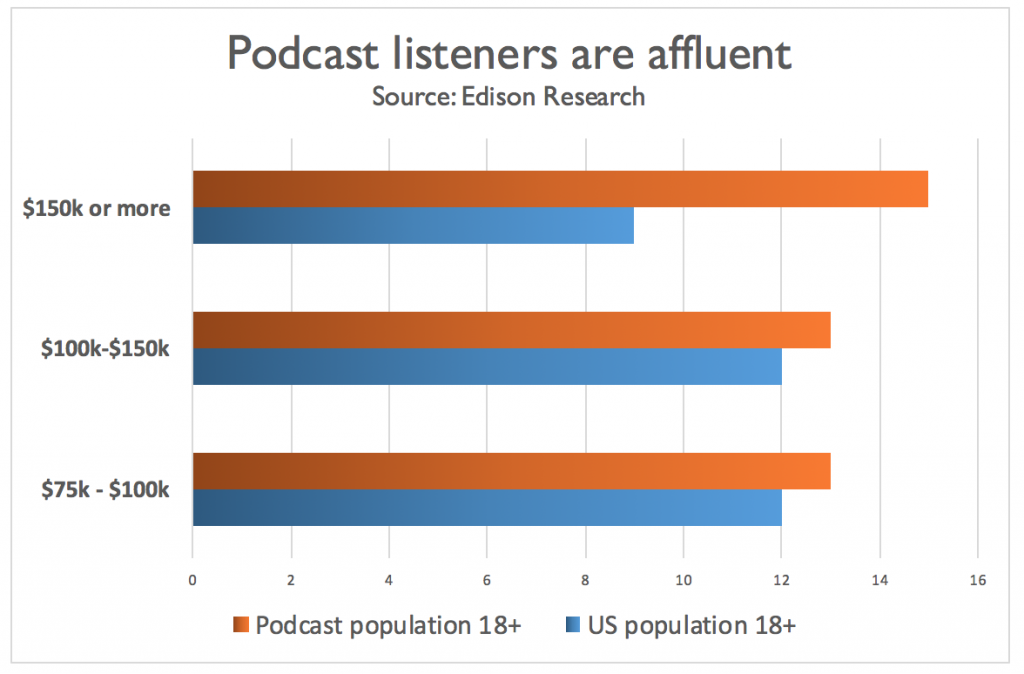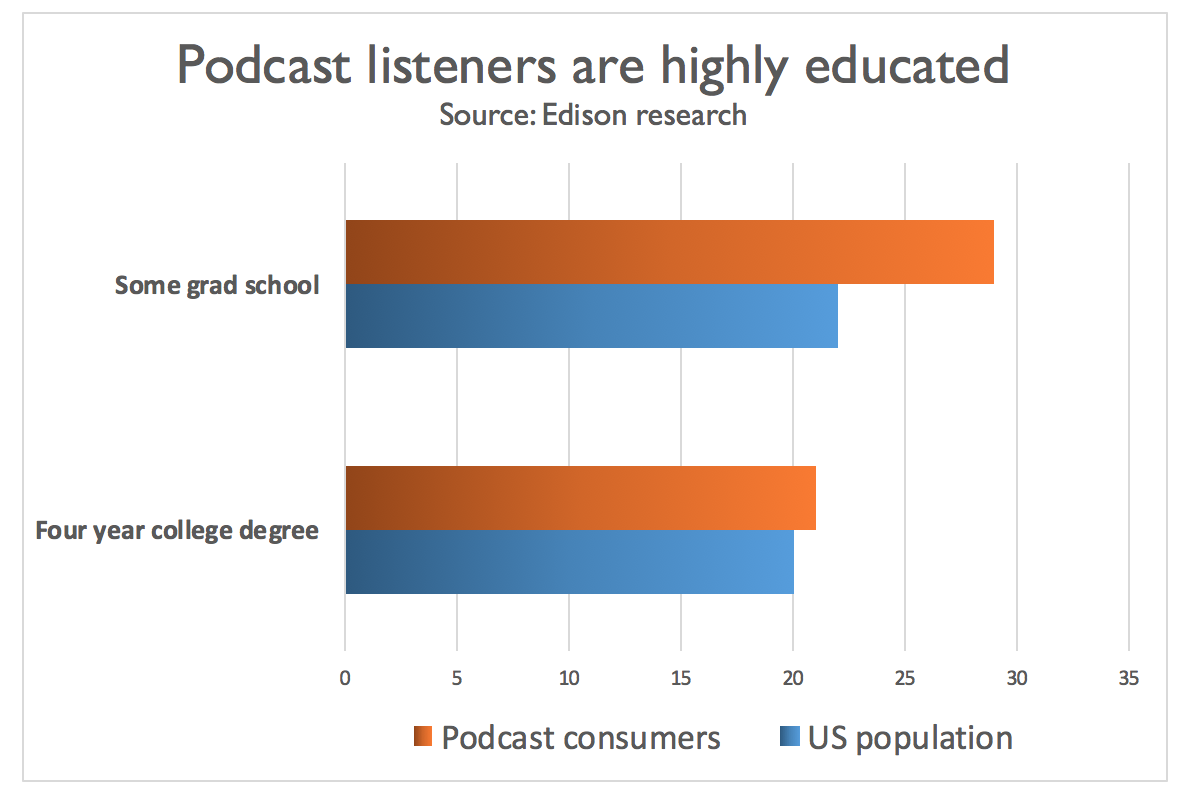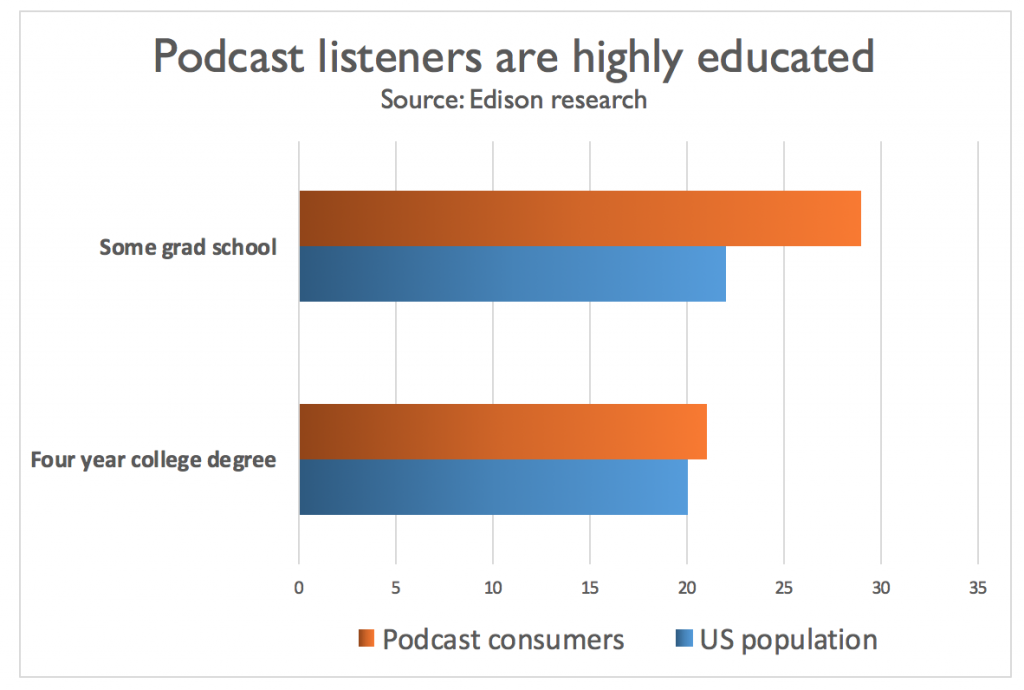 Finally, podcast consumers are much more likely to follow your brand: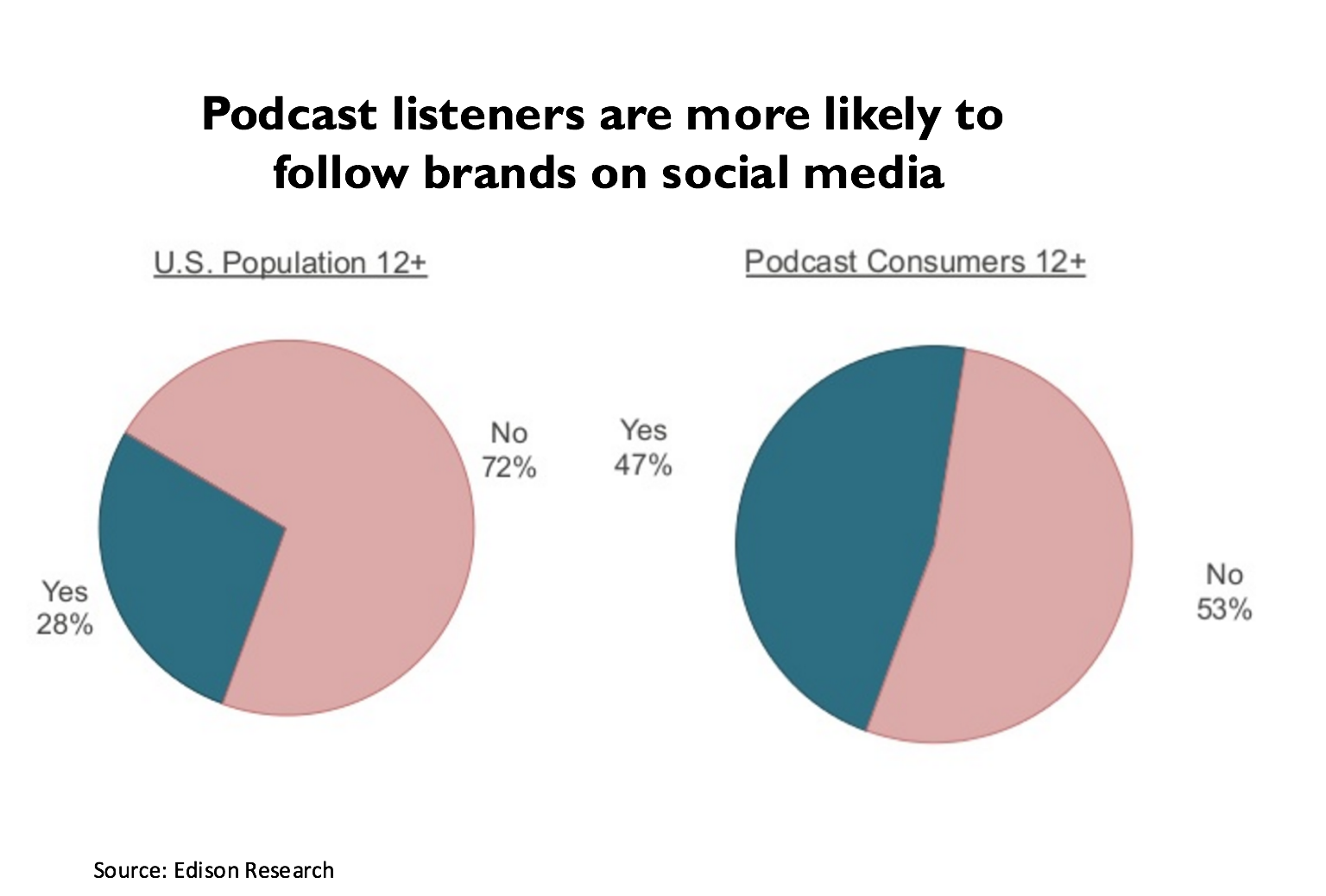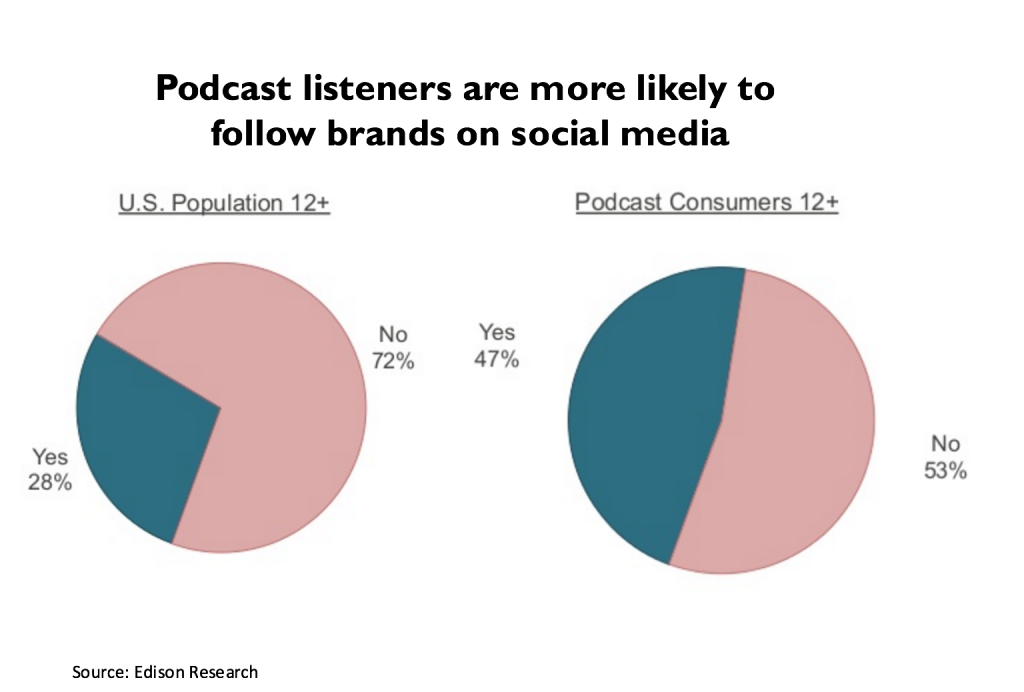 In a sign that the advertising power of podcasts is starting to be recognized, Scripps, a traditional media company, is making major investments in the space: It bought podcast advertising company Midroll Media for $50 million in cash in 2015, and Scripps just acquired Stitcher, a podcast-streaming app, for $4.5 million.
As a marketer, the research had an impact on me and I enjoyed hearing more about this opportunity and the future of podcasting when I discussed it with Tom Webster on our latest episode of The Marketing Companion. If you love podcasting, marketing, advertising, social media, or just the sound of Tom's voice, you won't want to miss this show.
Plus, you'll learn about Tommodium, a new pharmaceutical product from the Marketing Companion Labs. It's the solution to Social Media Constipation and … well, you'll have to hear to believe it. Here we go:
If you can't access the edition above, click on this link to listen to Episode 78
Please support our extraordinary sponsors. Our content is free because of their generosity.
Many thanks to our friend Scott Monty for the awesome show intro. Be sure to check out his amazing newsletter The Full Monty, the best weekly curation of digital news.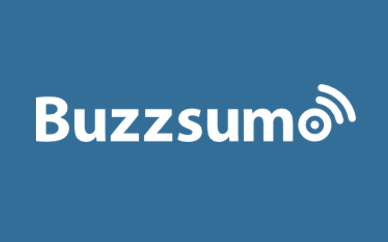 BuzzSumo is the world's best way to discover, analyze and amplify your content. Run over to BuzzSumo today for a 14 day free trial. Beyond data, BuzzSumo offers priceless insights to take your marketing to the next level.
Check out BuzzSumo's powerful technology to look at the hottest content trends down to the hour!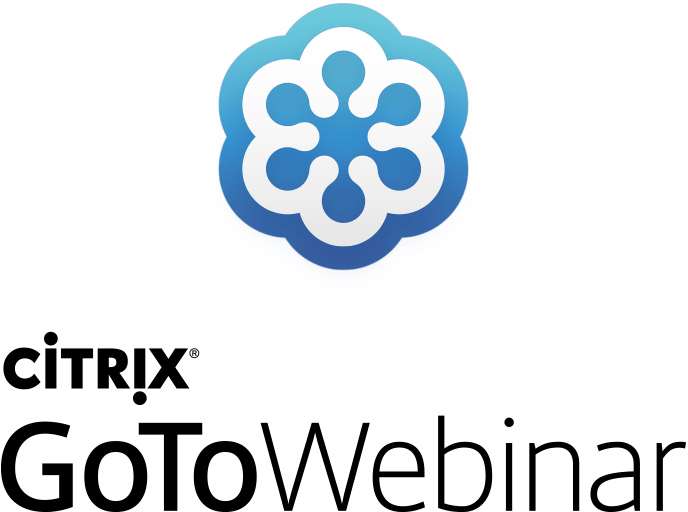 GoToWebinar – a leader in online events – is one of the easiest and most effective ways to connect and convert your target audience. You can generate qualified leads, establish thought leadership and build brand awareness for up to 1,000 attendees. Trusted by start-ups to global organizations worldwide, GoToWebinar helps businesses reach over 40 million people each year.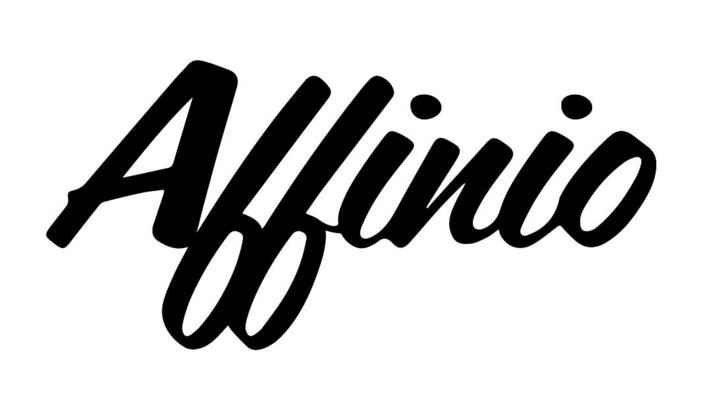 Affinio is now offering a FREE eBook co-authored with Mark Schaefer called How to Identify, Understand and Grow Your Ideal Content Audience. Check it out, as well as their new free Discovery tool.  Affinio is an advanced audience intelligence platform that leverages the interest graph to understand today's consumers. Using our deep learning and custom network engine, Affinio is able to analyze these connections to develop a social fingerprint for each user.  Affinio's customers use this data to: Build in-depth data-driven personas; Understand their audience; Conduct competitive analysis; Identify ideal influencers and sponsorship opportunities; Build data-driven content strategies that resonate; Place highly targeted ads with data-backed creative.
Illustration courtesy Flickr CC and Nicolas Nova