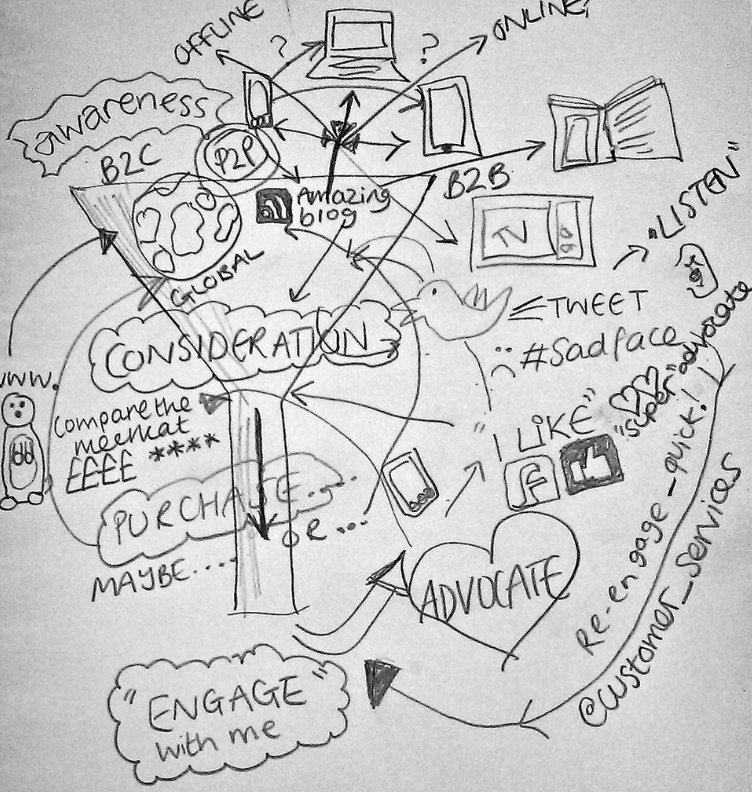 Probably the biggest myth — and mistake — I see regarding social media marketing is the idea that audience equals action. It doesn't.
Most of the time, your social media connections begin as "weak relational links." It's like a handshake. This first connection doesn't mean they will respond to a call to action like buying something from you. It simply means the door has been opened.
So that's why it is so ridiculous to equate something like Twitter followers with influence and power on the web. Don't believe me? Let me prove it to you.
The case of the missing book sales
This is one of my favorite case studies about how difficult it is to get people to take action on the web (this story comes from my book Return On Influence).

Alyssa Milano — a television actress best known for being on Who's the Boss and Melrose Place, and more recently, for being a celebrity presence on Twitter — sent out a somewhat unusual tweet to her nearly 3 million followers: a link to the Amazon page of a book called Connected: The Surprising Power of Our Social Networks and How They Shape Our Lives by Nicholas Christakis and James H. Fowler.
You would think that this is a marketing dream come true! It had all the makings of a viral success story. A book recommendation from a heavily-followed Twitter account should lead to a huge spike in sales, right? Amplification, after all, comes from size: The more followers a person has, the more people who will see a message and who will, potentially, retweet it — and, thus, the more people who will potentially act on it.
So, then, how many extra books were sold in the wake of the three-million-follower tweet?
None.
Literally, not one. In fact, in the days and weeks following Milano's tweet, the book's sales actually declined. The actress' follower numbers, in this case, hadn't been a force for much of anything. "At least with respect to the influence of behavior," author Christakis noted, "these Twitter links are weak."
On a personal note, I've had my blog posts tweeted by Alyssa and other Twitterati, and while it definitely sends a short-term spike in page views, it has never resulted in any measurable difference in new blog subscribers or any other meaningful metric. In fact, after Guy Kawasaki (1.5 mm Twitter followers) tweeted my post five times in 24 hours, my blog reader subscriptions went down.
On Twitter, no one can hear you scream.
While there is little serious research so far on these social media connections and offline influence, these examples are illustrations of what many consider the "weak relational links" of social media connections.  Social networks are effective at increasing participation—by lessening the level of motivation that participation requires. It takes no effort to click a "like" button, for example. But it takes more investment to actually act on a person's influence and buy a book, show up at a rally, or contribute to a charity.
And so we bust one of the Internet's big myths. Audience size does not equal "activation."
Building social media connections that work
SO how do we create action on the web?
You would think that most businesses would know this by now, but alas many "influencer" decisions are still made by the size of an audience on Twitter, perhaps the least-powerful network on the social scene right now.
So how do you create relationships that you can activate?
Here is a chart I use in my classes. It depicts what marketing is all about in just one line: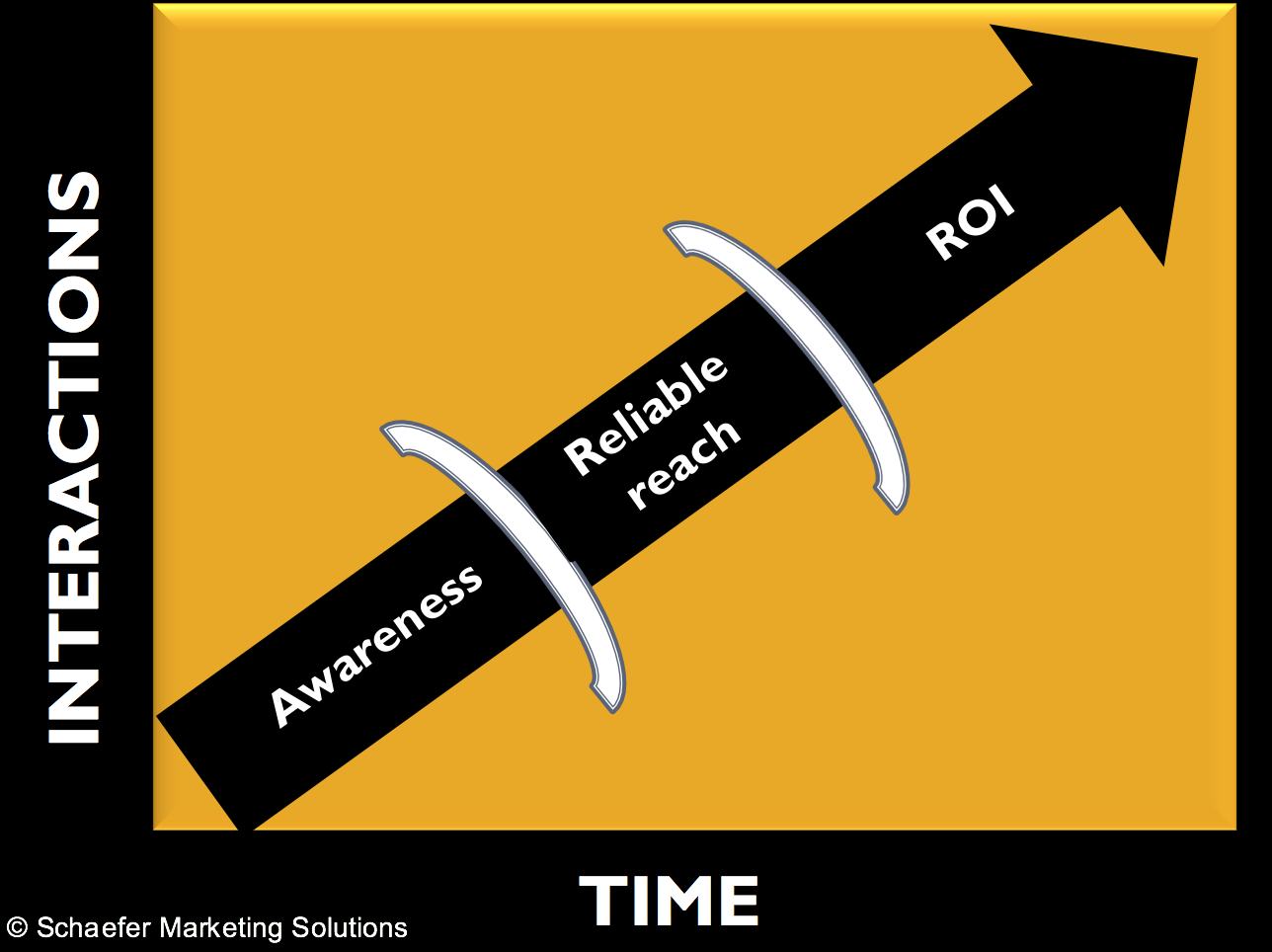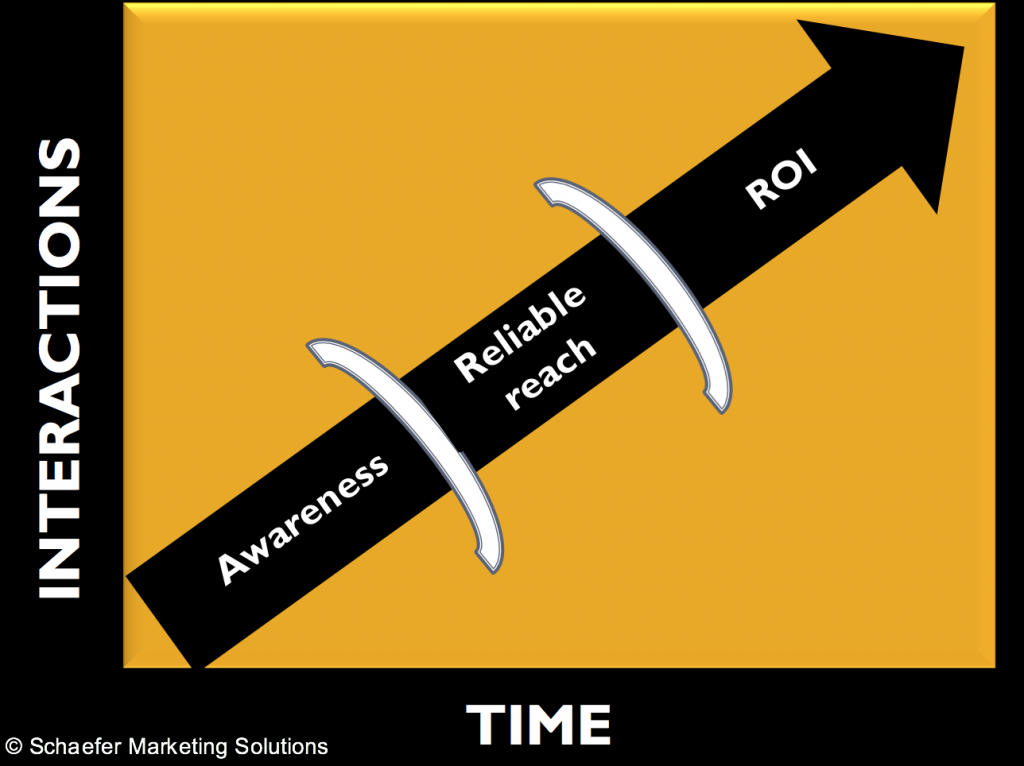 At the base of this line is awareness. That is the weak relational link we're talking about. It's "the handshake."
So you need to lead them up the curve. The next phase is "reliable reach," a term I've adopted from Jay Baer. In this phase, people are beginning to have an emotional connection with you and they demonstrate this by signing up for your blog, newsletter, video series or whatever constitutes your content drug of choice.
People are noticing you, they like you, trust you, and they want more. In a virtual way, they are saying "it's Ok to market to me."
The final phase is loyalty. It takes patience to get there. It takes consistency and quality work to get there. This is typically where the actual business gets done.
Edelman came out with some research that codifies my ideas. They contend the opportunity is to move consumers from "involved" to committed. Same concept.
As marketers, our job is to provide these opportunities to interact with our brand that lead people up this curve toward activation. Generally, we rely on content to do this, but it could also be ads, recommendations, reviews, referrals, word of mouth discussions, testimonies, social proof, and all the touchpoints we regard today as the "buyer's journey."
The problem is, many people in social media marketing today only focus on the first phase — building an audience that is generally aware of you. But until you lead them up the curve, it's unlikely you will be able to actually drive them to any kind of action.
Make sense to you? I'd love to hear your thoughts in the comment section.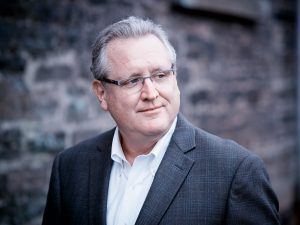 Mark Schaefer is the executive director of Schaefer Marketing Solutions. He is the author of some of the world's bestselling digital marketing books and is an acclaimed keynote speaker, college educator, and business consultant.  The Marketing Companion podcast is among the top business podcasts in the world. Contact Mark to have him speak to your company event or conference soon.
Follow Mark on Twitter, LinkedIn, YouTube, and Instagram.
Illustration courtesy Flickr CC and Laura Dineen
Book mentions are affiliate links.