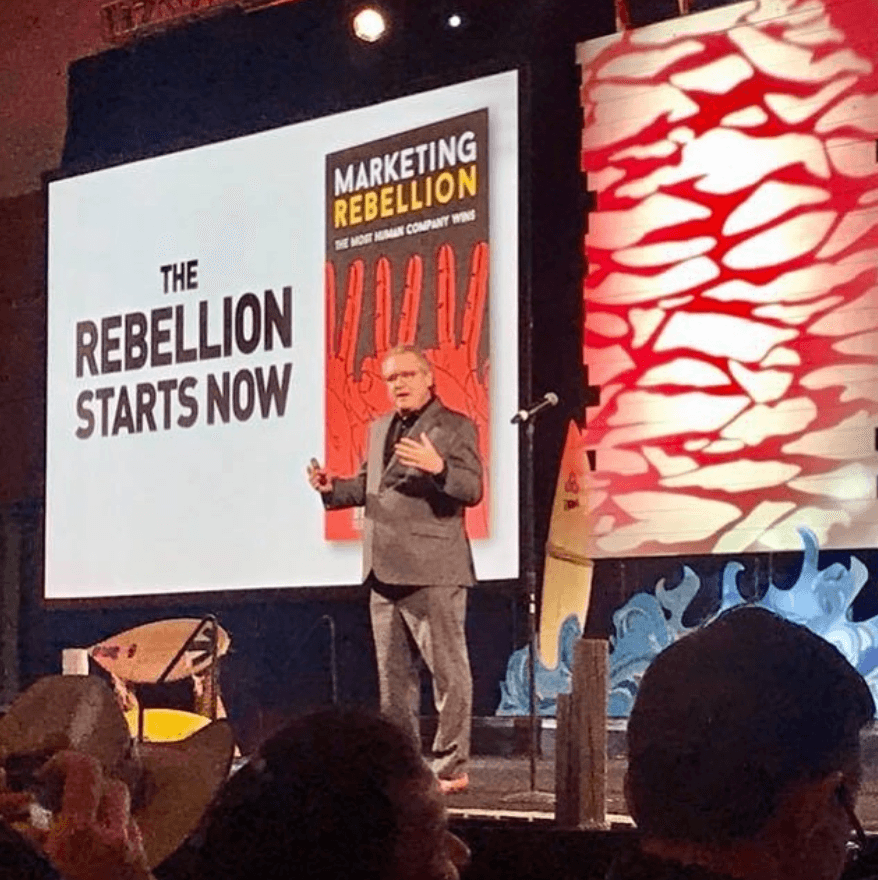 I wanted to tear open the curtains and share my own book marketing efforts with you, dissecting the human-centered process I used to promote my new book Marketing Rebellion: The Most Human Company Wins
.
The main idea behind the human-centered marketing view I present in Marketing Rebellion is a recognition that most of our marketing is being done for us by our customers … and certainly it is the most effective. So, instead of interrupting people with spam, robo-calls, and other things people hate, we need to look for ways to join this conversation organically by providing ideas and services that people love.
The principle idea behind the marketing of the new book was to put conversational stories in people's hands they would naturally want to share and discuss. Most of this was centered around a few key days to create a "sonic boom" that would lead to vast awareness of the book and ultimately sales, followed by sustaining conversations to keep the book selling.
These were the primary story-telling elements I used in my human-centered marketing campaign:
A heart-pounding "movie trailer" with highlights from the book.
A pre-sale mailer to friends and influencers
Free bonus material (like a workbook and coloring book) that people could interact with and share
"Sustaining content" like podcasts and quotes from the stars of the book
Amazon promotions
I'll dissect each of these elements for you and let you know how the tactics worked.
1. The "movie trailer"
Here is the "movie trailer" I produced for the book:
Click here if you can't see the video above: Marketing Rebellion video
To create this trailer, I partnered with Jon Briggs at Food Fight Studios. The video looks amazing and complex, but in reality, it was one of the easiest creative ventures ever!
I wrote the script, picked out the music, and handed it to Jon. His gifted artists and animators did all the rest. The finished video is 98 percent of what they originally provided to me, so they absolutely nailed it right out of the box. The whole process was so simple — Highly recommend this team!
The purpose of this video was to provide content that was so interesting and valuable that a teacher could use it in a classroom. I wanted to create a "movie trailer" for the book like nobody had ever seen before, and I think we achieved that.
For weeks leading up to the launch I had been teasing my audience with posts containing clues about the book so when the video hit, people watched with anticipation.
As of this writing, I estimate the video has been seen at least 30,000 times including posts on Facebook, LinkedIn, Twitter, YouTube, my blog, and views through my speeches. Not exactly "viral" by Kardashian standards, but pretty good for a business book! I know of a few cases where in fact, people used the video in their own classes and presentations.
I would rate this part of my plan as a "B+." I would have liked to have seen the video be distributed even more broadly but perhaps that will happen over time.
2. Pre-sale influencer mailer
A theme of my book is to enable marketing that is so personal that it seems hand-crafted. So I created boxes for a few friends and influencers that contained elements representing stories from my book, including a toy elephant, a coin from WestWorld, a hand-made bar of soap. I included personalized notes and an advance copy of my book.
So, I put a lot of work into this. The monetary value of each box was about $60.
My goal was to grab the attention from these busy people in a big way and provide something truly compelling and conversational they could take to their sizable audiences to fuel this "sonic boom." Facebook marketing star Mari Smith (who did Facebook and Instagram stories about the book) said it was the best book promotion she had ever received.
Most of my friends responded and helped out. Here's a breakdown of the success of the promotion: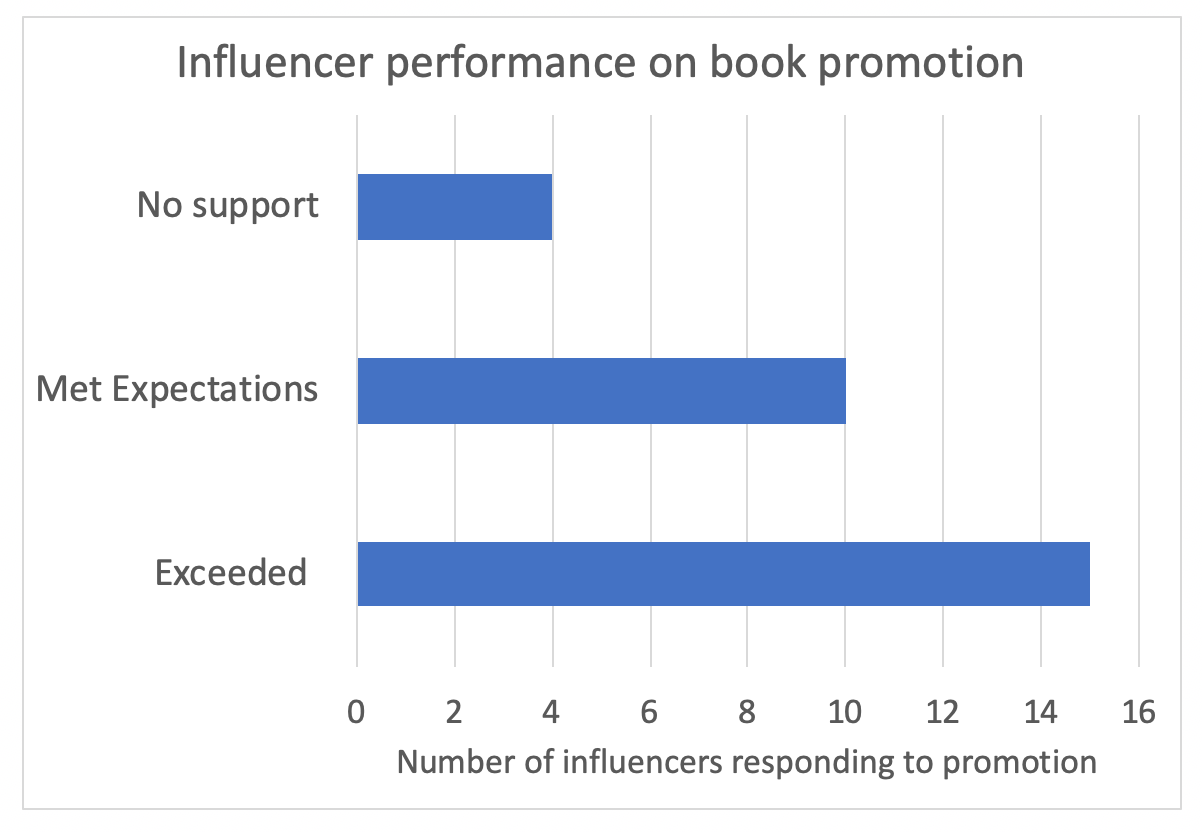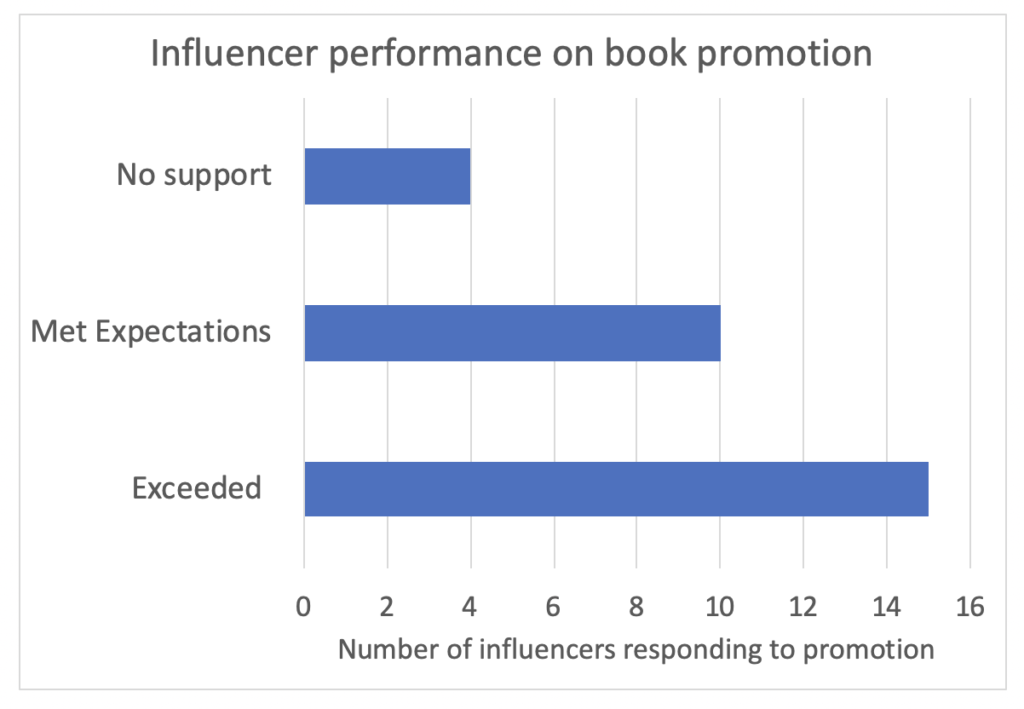 No support — I was a little hurt by this honestly. I don't ask for help often (never, actually). So when my request to some friends was ignored, I was surprised.
Met expectations — This would include mentions on main social media platforms and email lists.
Exceeded expectations — Would include an "unboxing" video, multiple mentions, or exceptional content.
When I saw a tweet that said "I've seen Mark's book mentioned four times today, I better go buy it," I knew the sonic boom was working. I would grade this part of the effort as an "A" and probably the most effective part of my promotion.
I did not offer custom URLs or affiliate links for this book. It just didn't feel comfortable pushing that on my friends, but I might try this in the future as a more precise way to measure the impact.
3. Free bonus material
I put countless hours of effort into creating valuable free materials to accompany the book. This Marketing Rebellion website was mentioned several times in the book and includes:
A free 40-page workbook with study questions and bonus material
A hand-made coloring book of stories from the book
A word of mouth marketing workbook
A free chapter of the book
An opportunity to get a free Marketing Rebel sticker and button
The idea was to provide unique materials that people could interact with and perhaps post online. Not counting my time (which was considerable!), I invested about $2,000 in these materials.
This experiment did not meet my expectations. I had a lot of downloads of the material and positive feedback, but I'm not sure it ignited enough posts and conversations to justify the time and expense. I was hoping to see some social media posts from the coloring book, for example, and there were none that I know of. Only 30 people contacted me so far about the free button + sticker offer.
My theory is that a low percentage of readers interrupted their reading to actually visit the site to see what was there, or perhaps the "swag" just wasn't good enough to warrant their attention.
I'd rate this investment as a "D" … but it's also the part that is hardest to truly judge the impact. My sense is, I would not invest in these bonus materials again if I write another book, or at least I would try a different angle.
4. "Sustaining promotions"
The big problem with book sales is keeping them going after the boom. After the predictable spike in sales when the book is announced, it's a struggle to keep the momentum. There were five key activities I was counting on:
Bonus episodes of The Marketing Companion — This was an experiment. Over 10 weeks I produced special 15-minute episodes of my podcast featuring interviews with some of the stars of the book. This was a surprising success with strong downloads and excellent listener feedback.
Photo quotes — I created more than a dozen graphics with some favorite quotes from the book.


These were very popular on LinkedIn and Instagram, not so much on Facebook.
Interviews — With high buzz surrounding the book, I've done nearly 40 podcast interviews in 12 weeks, with many more scheduled in the future. This has definitely helped support sales after the initial boom and introduced me to new audiences. Each show host crafts the story of the book and promotes it their own way, which is fun to experience.
For example, there is no advertisement I could ever take out that can compete with an interview and endorsement from the incomparable author and speaker Bob Burg: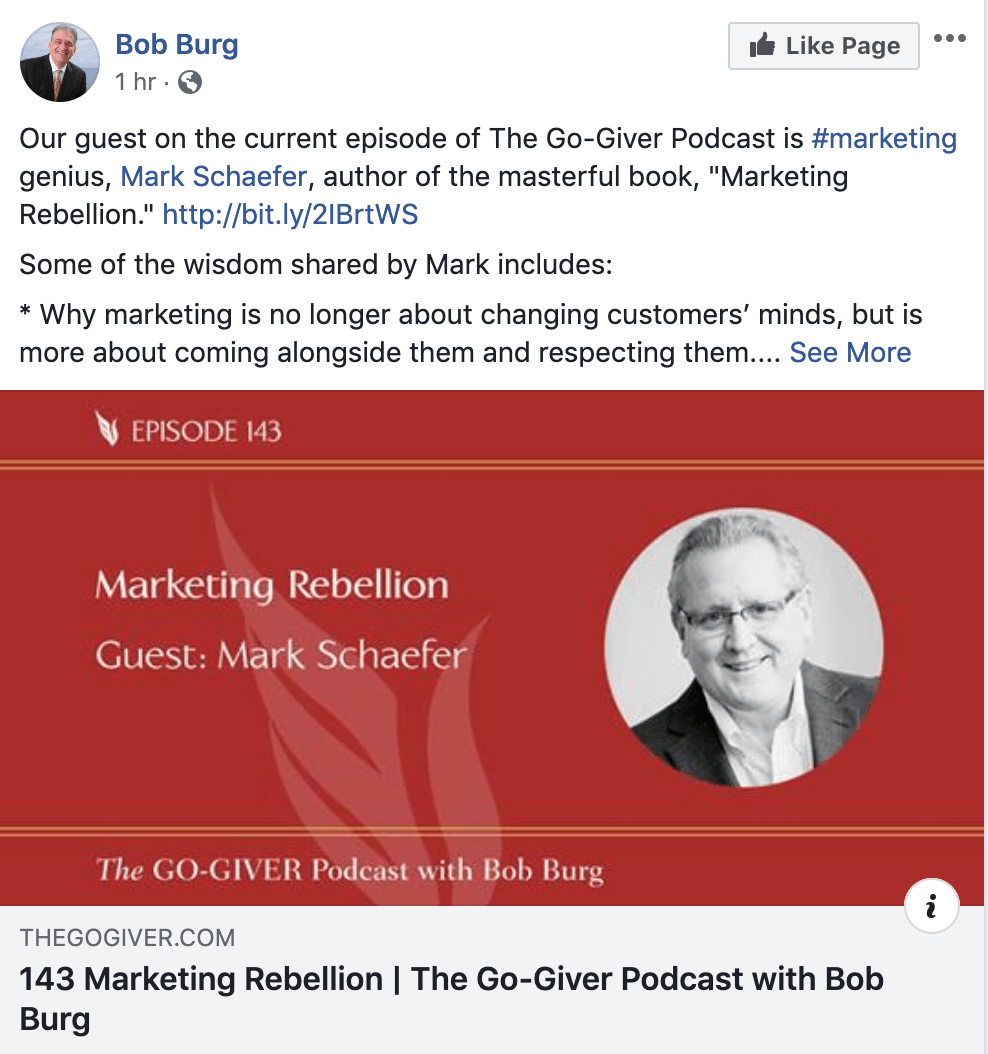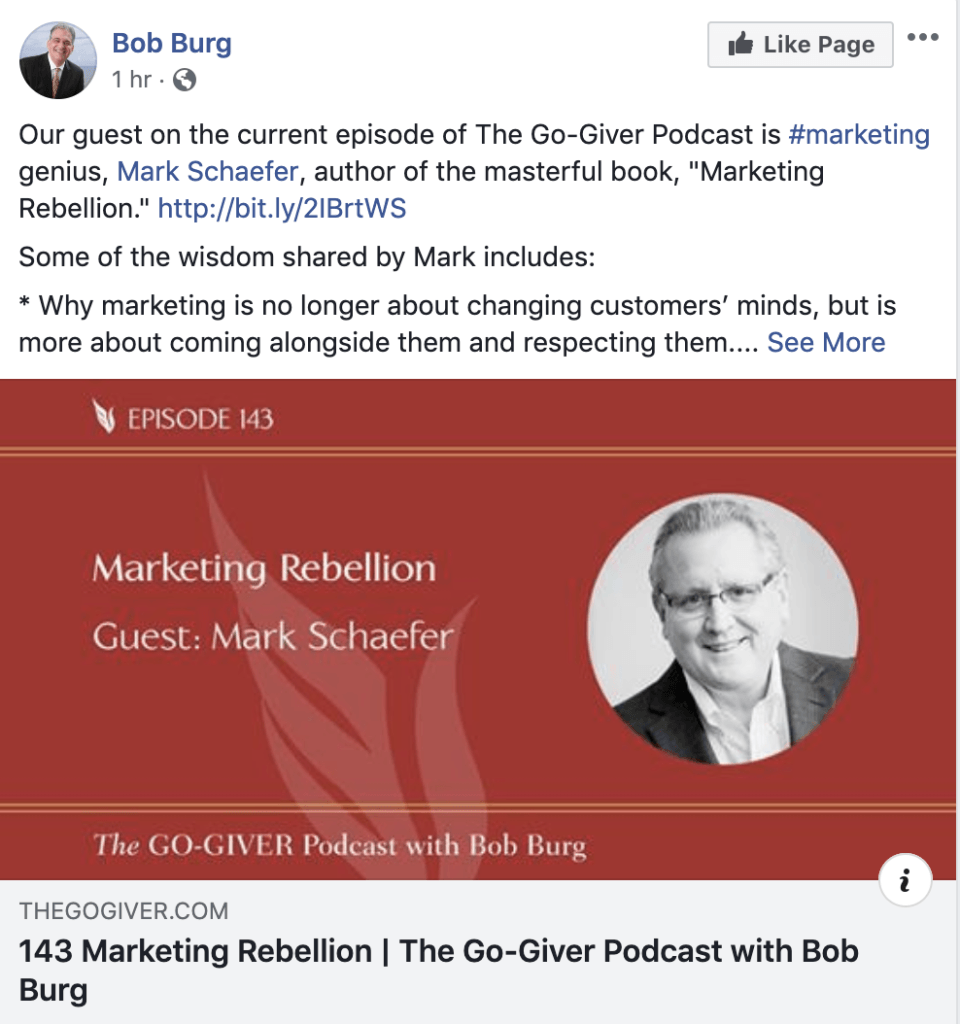 Amazon promotions — I did some sponsored promotions on Amazon with about a 200 percent return on investment. This is not an interruptive ad, but a suggestion based on a customer's search for other marketing books.
Speeches — Because I self-published the book, I can offer an attractive bulk discount to organizations who hire me to speak. I have probably sold an equivalent number of books through this profitable channel versus online sales and will continue to do so for years to come.
I would grade these sustaining efforts as an "A" because so far, the post-spike sales have been steady and strong.
Did this book marketing work?
I've done a deep dive on how successful authors became successful authors and there is one common thread: LUCK.
I'm not kidding. Behind every successful writing career is a stroke of luck somewhere! I'm not a person who can count on luck and neither are you, so I hope some of the ideas I presented here are helpful.
One of the things I write about in my book is the difficulty presented by measurement when you're counting on others to carry the story forward. For example, my movie trailer video was shared to "the audience of my audience" dozens of times. How many books did that activity sell? Impossible to know.
One of my favorite quotes in the book is from Marc Simons of Giant Spoon: "You can either keep up with the pulse of the culture, or you can measure. You probably can't do both."
Winning marketing today requires experimentation that may elude easy measurement. I was willing to experiment and trust my audience to tell the story. Check out this amazing Twitter video by Trevor Young, as a great example of the audience carrying the marketing forward: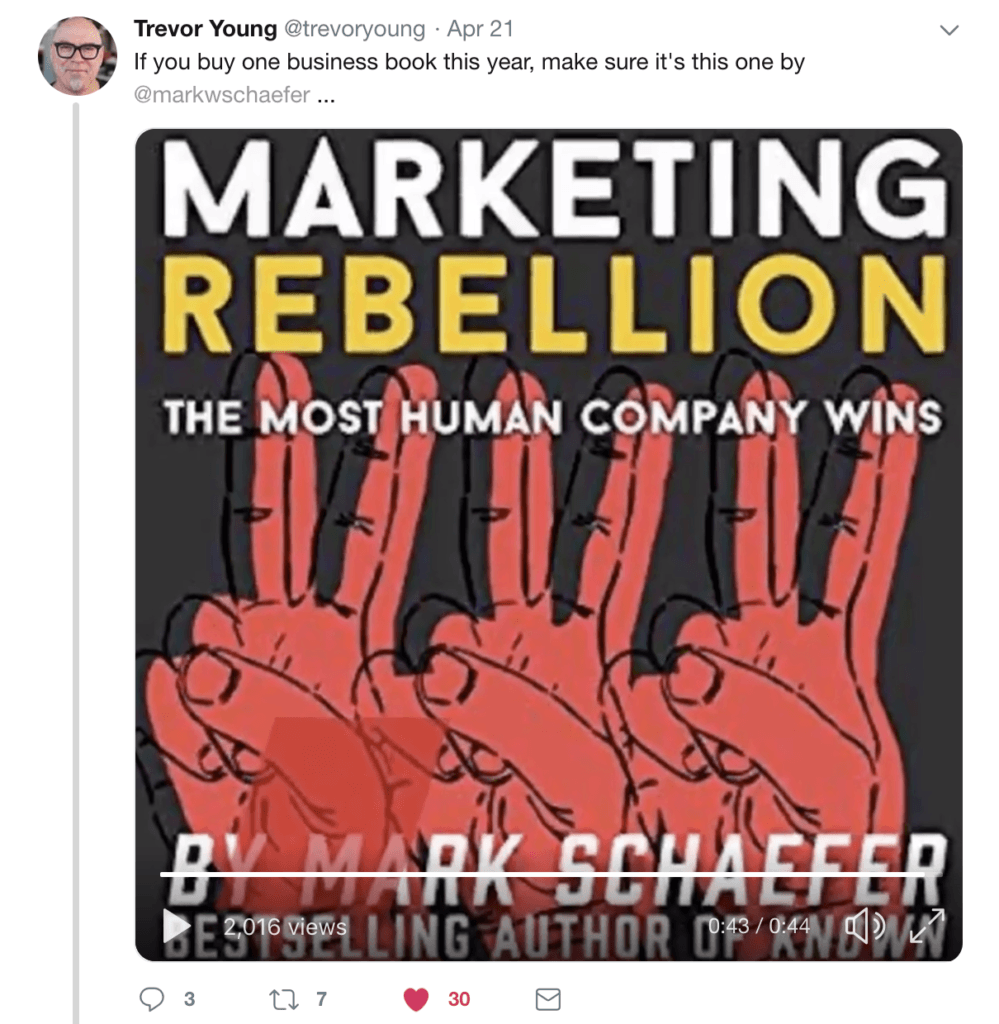 (You can view the video here:  pic.twitter.com/IaOCKK1IBP )
Thirty "likes' on this tweet may indicate an intent to buy … or not. Hard to measure!
Despite the difficulties connecting communications to sales, the book achieved important tangible milestones.
Marketing Rebellion briefly hit number one in both the marketing and advertising categories on Amazon. This is my seventh book and the first to go to the top since my book Return On Influence (2012 McGraw Hill). I think it's significant that a self-published book hit number one (I don't know of another book that has done that) and undoubtedly this would not have happened without the comprehensive marketing efforts.
Across all platforms, the book has received more than 120 positive reviews (averaging about 4.8 / 5.0), which is a lot in a relatively short period of time.
The break-even for out-of-pocket expenses (including art, editing, production, and promotion) was about 30 days of sales.
At the three-month mark the book is still selling well. For example, in week 11, I had the second-best week of book sales ever. So the "sustaining efforts" are working.
Book marketing qualitative measures
Selling business books is excruciatingly difficult work. I always counsel new authors to forget about the sales numbers — look at the other benefits of the book to build your authority and create new business opportunities. So these "qualitative" measures may be more important than the monetary benefits. Some qualitative measures would include:
My book is opening up new speaking and consulting opportunities.
The book generated massive amounts of free PR.
Marketing Rebellion is already being used as a required text at prestigious universities such as Northwestern University.
Working two years on the book was the equivalent of earning a new masters degree. I can use this new competency in my classes, workshops, consulting, and content.
Overall, I would give the book marketing a high grade. I wrote a meaningful book that is helping people, expanding my authority, winning high praise from readers, and even earning a little money along the way. I've accomplished my goals. It is out-selling my last book KNOWN: The handbook for building and unleashing your personal brand in the digital age
over a similar timeframe, which was an important personal goal.
I hope you've benefited from this inside view of my book marketing. If you haven't bought the book yet, I hope you will give it a chance. And maybe you'll even be inspired to carry the story forward for me!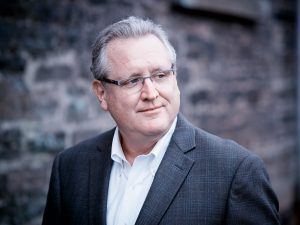 Mark Schaefer is the executive director of Schaefer Marketing Solutions and COO for B Squared Media. He is the author of several best-selling digital marketing books and is an acclaimed keynote speaker, college educator, and business consultant.  The Marketing Companion podcast is among the top business podcasts in the world. Contact Mark to have him speak to your company event or conference soon.