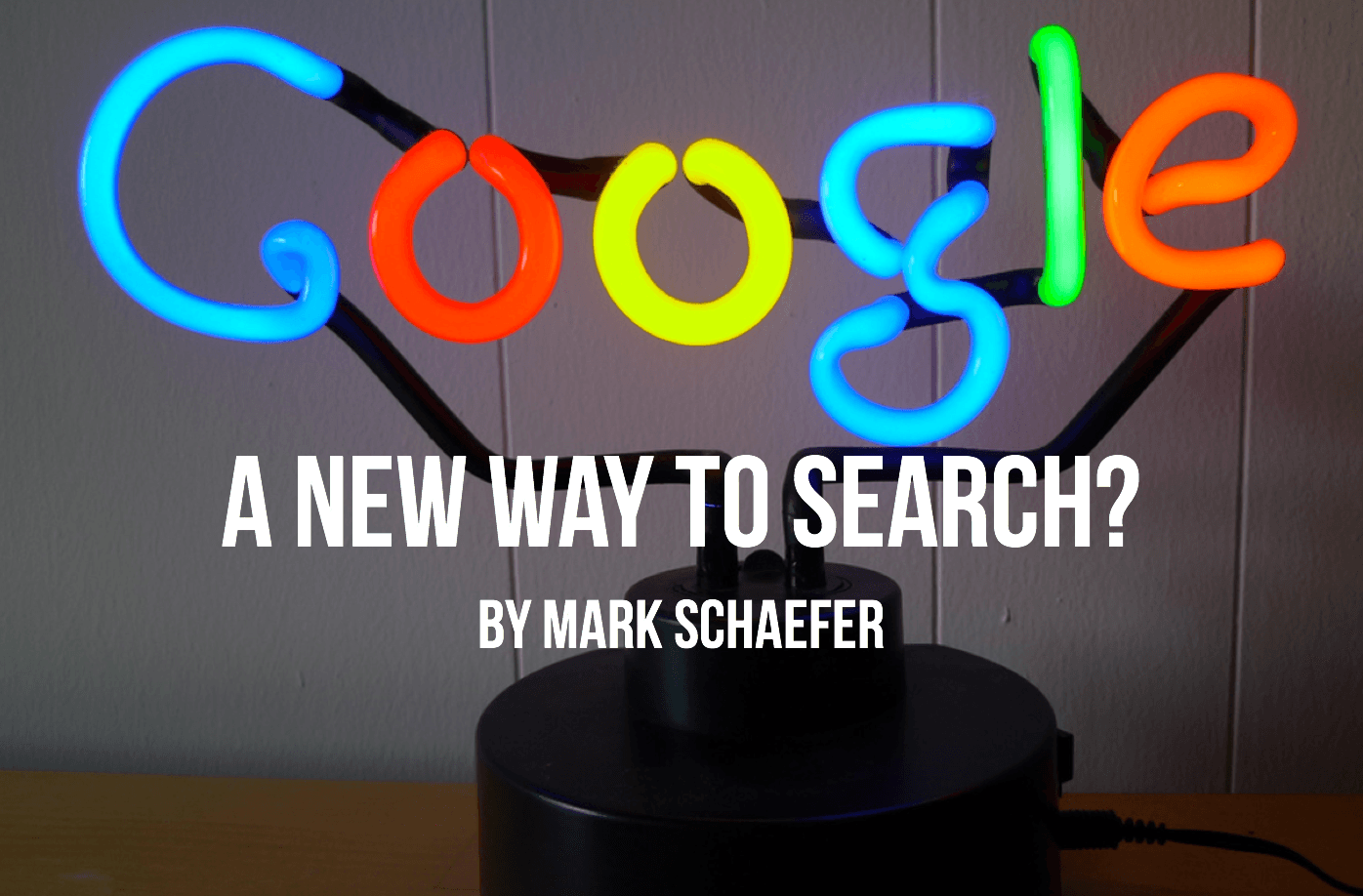 By Mark Schaefer
Google search goes away?
You might think this title is ridiculous. Maybe even sensational. But traditional web search is changing dramatically and it's a real concern for marketers and traditional SEO. Let me explain …
As consumers, we depend on a reliable list of products and references from Google to get through our daily lives, find the right dress, or answer a question in an argument. Google now processes 40,000 search inquiries every second of the day!
On the business side, we want to be the answer. This is the heart of the digital marketing battle — Whether organic or paid, we want to be at the top of the search results. This is the penultimate goal of content marketing – to earn our way to the top of that list of Google content recommendations.
But what if there was no longer a list of results? What if there was just one answer … And it wasn't coming from Google.
The new way to search emerges
In 2015, voice search went from a statistical zero to 10 percent of all search results and ComScore estimates that by 2020, 50 percent of all searches will be by voice. While it won't likely replace existing screen-based search, voice search is already enough of a factor that businesses need to understand strategies for being found this way.
And a significant portion of those strategies will be new: No one I know of really has an existing SEO strategy for Siri!
As evidenced by a new Smart Audio Report from Edison Research and NPR, smart speakers are becoming part of our daily lives, and at least at this point, the winner is Amazon Echo (better known as "Alexa.") Google has its "Home" product and Microsoft, Apple and other companies will have serious entries soon, but the biggest beneficiary of the boom in voice-controlled personal assistants and search has been Amazon.
An indispensable voice
This new home appliance is having an increasing impact in people's lives. Developing a "voice search skill" is like learning to type with your thumbs five years ago. Smart speakers are becoming part of the fabric of our lives:
65% of smart speaker owners indicate they would not want to go back to life before getting their devices, and 42% say their device is now "essential" to their everyday life.
70% of smart speaker owners say they are listening to more audio at home since acquiring their device – across news/talk, podcasts, audiobooks and music.
Among smart speaker owners, 45% expect to purchase another device – and, of the non-owners surveyed, more than half say they are likely to purchase their first smart speaker in the next six months.
Another important finding is that smart speaker owners are using the devices to manage their homes. Owners who make their home "smart" say they most often connect smart speakers to control home lighting, the thermostat, home security systems, and outdoor lighting and sprinklers.
Smart speakers are also particularly appealing to parents. Eight-in-ten parents say these devices have made it easier to entertain their children.
The economic on-ramp
From a marketing standpoint, the idea that fascinates me is that increasingly, these speaker will be the "economic on-ramp" for commerce, as Google search is now. However, Amazon will try to direct you to the Amazon eco-system and Apple will try to keep you in the Apple eco-system. This is where the real battleground will be.
Who will "own" or partner with the Wal-Mart eco-system?
Will we choose a car in the future due to the brand of smart speaker we like best?
Will one part of our home be controlled by Google, another part by Amazon, while an Apple device plays out TV and music?
What IS the strategy when Google search becomes less important, at least as we now know it? It makes for a fascinating discussion … and in fact Tom Webster and I had one on a new episode of The Marketing Companion podcast. You won't want to miss this debate! Please click to listen:
If you can't access the episode above, click on this link to listen to Episode 108
Other ways to enjoy our podcast
Please support our extraordinary sponsors. Our content is free because of their generosity.
Many thanks to our friend Scott Monty for the awesome show intro. Be sure to check out his amazing newsletter The Full Monty and his new podcast available here: fullmontyshow.com.


The results don't lie: Typeform has a 57% completion rate on surveys, against the industry average of 20% (according to Survey Gizmo). The difference? Typeform's one-question-at-a-time interface creates a memorable user experience. Use images, animated GIFs, and even video to express yourself more fully. And Typform integrates with your favorite tools including Google Sheets, MailChimp, Airtable, and hundreds more. Remember: What you ask matters. How you ask is everything. Go to Typeform.com/companion to receive a special 30 percent off discount for our podcast fans!


CoSchedule is the world's number one marketing calendar utility, used by more than 8,000 companies. The application allows users to build out their entire marketing strategy from one master calendar, collaborate with their teams, and streamline their entire execution process in one place. CoSchedule is the web's most popular marketing calendar and the fastest growing startup in North Dakota. Ranked as the best business tool built by a startup on Entrepreneur.com. Get your Marketing Companion 30-day free trial by heading to www.coschedule.com/marketing-companion.

BuzzSumo is the world's best way to discover, analyze and amplify your content. Run over to BuzzSumo today for a 14 day free trial. Beyond data, BuzzSumo offers priceless insights into content discovery, monitoring, influencers, and outreach, content research and planning, and competitor research. It is an indispensable application for content research, analysis and SEO. Find out why so many Marketing Companion fans are now hooked on Buzzsumo. Check out BuzzSumo's powerful technology to look at the hottest content trends down to the hour!
Illustration courtesy Flickr CC and MJ Martin