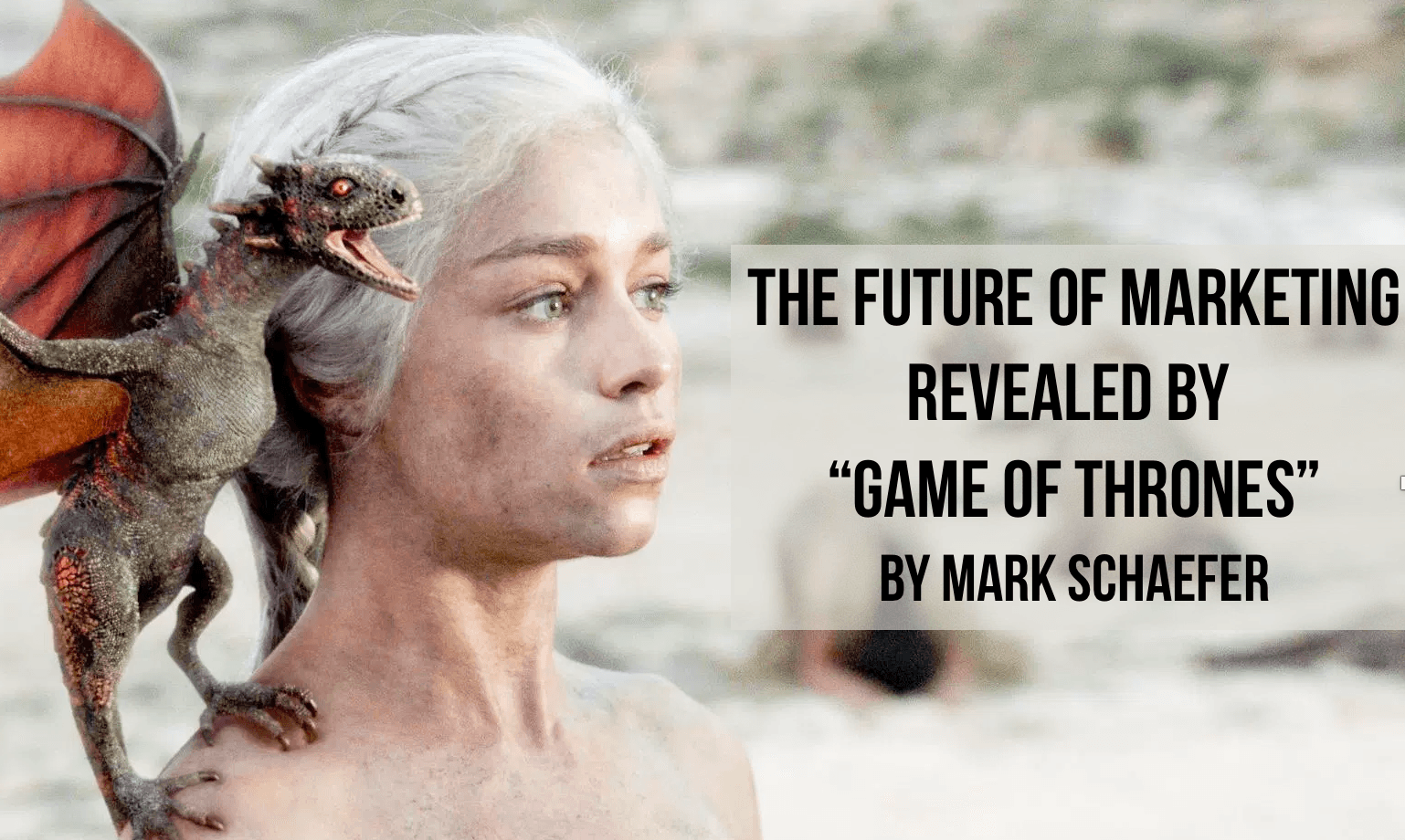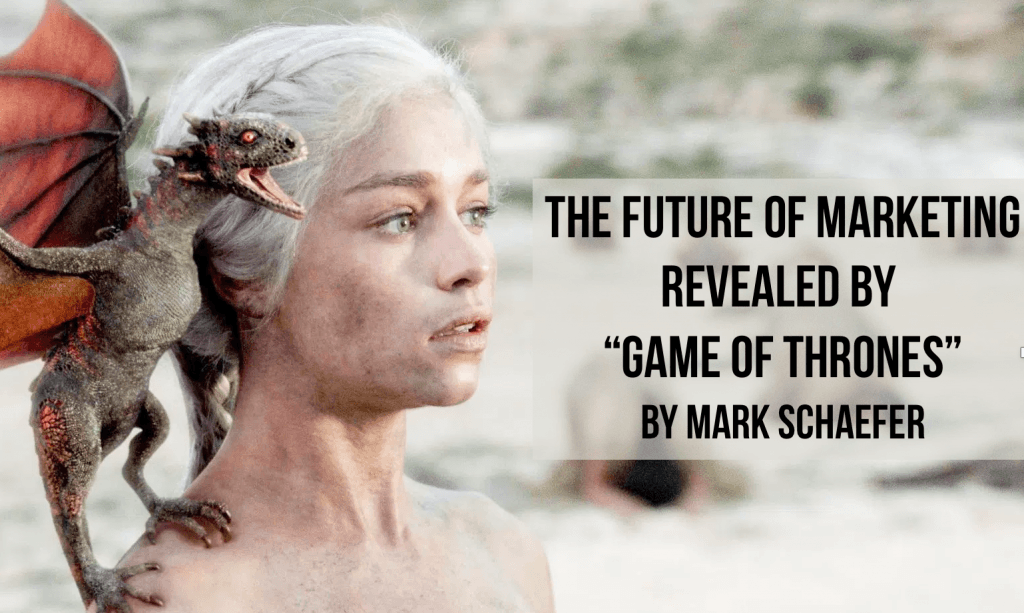 By Mark Schaefer
I normally (actually, always) hate blog posts that try to draw some faint business lesson from the latest pop culture sensation … like "Five Things Bloggers Can Learn From Kim Kardashian."
But I'm going to sort of do that today because the lesson is big enough for me to take that risk. There is a profound marketing truth behind the television sensation Game of Thrones. I think you will agree …
The power to subscribe
I'm too busy to arrange my schedule around "regularly scheduled programming." For many years I watched almost zero television because I was busy starting my own business and spending time with my family.
About 10 years ago a small miracle occurred. You could purchase a season of a television show from iTunes. So, for about $20 I downloaded the first season of "Mad Men," which opened up a new world of  content viewing possibilities.
Today the world is overwhelmed with free or low-cost streaming video. My wife and I binge-watch seasons of our favorite shows on Netflix and Amazon Prime and we were recently faced with a quandary — we were offered a special deal to add a third streaming service for $10 per month.
There were plenty of good shows on this channel and the cost was quite low but I turned to my wife and said "Realistically, how many more television shows can we watch? Why would we add another service?"
And so, we didn't. We were overwhelmed by the option of more.
Content Shock has hit the television airwaves. In fact, content shock is everywhere that content can be found, including the music industry.
Are you feeling submerged?
When the internet began, musicians rejoiced. The web would be the great equalizer — through free access to the web, worthy talent would rise to the top, even if an artist didn't have a contract with a record company. But as this recent quote from The Wall Street Journal suggests, that dream did not come true:
"It has never been easier to listen to vast quantities of music, discover new artists and create, distribute and promote your own tunes. But there's a downside: It is harder for artists to break through the cacophony of today's global pop-music machine.

"The music business is pumping out more music than ever before, industry experts say, the result of cheap digital-production tools, round-the-clock social-media marketing and the prodigious output of hip-hop stars. Both artists and fans are feeling submerged."
We are submerged in music. We are submerged in television shows. We are submerged in blog posts. We are submerged in content of every kind. Even worthy content (like yours) may not be rising to the top.
Which brings me to Game of Thrones. How and why did this show break through the cacophony?
The content marketing lesson from "Game of Thrones"
I only recently became hooked on Game of Thrones, the most popular television series in history. Amid this flood of shows vying for the world's attention, how did this show capture an audience that is already submerged in content?
Because it is relevant and superior.
The show found a niche by exploiting the popularity of an existing novel, but also by creating broad appeal for a magnificent fantasy world. There was literally nothing like it. It was culturally relevant, bordering on a movement.
Second, it was superior to almost anything else on TV. Every episode is like watching a spectacular, high-budget movie. The plots are intricate, the acting is first-rate, the detail in the sets and costumes is stunning. The television episodes were filmed in Ireland, Spain, Morocco, Croatia, Iceland, and many other sweeping and beautiful landscapes.
When content is superior, it creates conversations, it gets shared — and content has no value unless it is seen and shared. Research shows the most-shared content inspires awe, and makes people see something new … there is some emotion behind the content other than "Seven content marketing tips."
Relevant and superior
As we know through research, Content Shock is here and like Game of Thrones, you also need to be relevant and superior to win.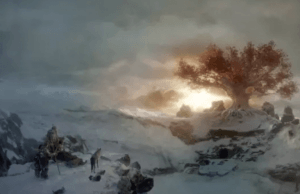 You don't necessarily have to film your YouTube video in Croatia, but you do have to own a niche and dominate it.
If you're a dentist, you can't just start a new dental blog and win. If you're a makeup artist, adding yet another video series to YouTube probably isn't going to be enough to stand out. If you're a real estate agent, we don't need more house photos on Instagram.
How will you be relevant in a way that others are not?
How will you be superior — and continue to be superior — day after day?
While this challenge may seem daunting (and it is), it's not impossible. Remember, if you're a dentist, you don't have to necessarily become the most remarkable dentist in the world. You have to become the most remarkable dentist in your community … in your niche.
The internet is just beginning. The ideas, the people, and the content that will impact us the most 10 years from now don't exist in this moment. Maybe that new spark will come from  you.
You don't have to have fire-breathing dragons and a Hollywood production staff to win. You don't have to be Game of Thrones. You just have to be the Game of Thrones — relevant and superior — in your niche.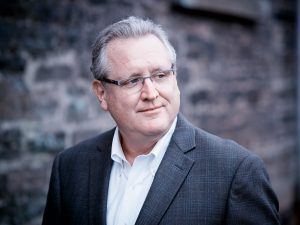 Mark Schaefer is the chief blogger for this site, executive director of Schaefer Marketing Solutions, and the author of several best-selling digital marketing books. He is an acclaimed keynote speaker, college educator, and business consultant.  The Marketing Companion podcast is among the top business podcasts in the world.  Contact Mark to have him speak to your company event or conference soon.