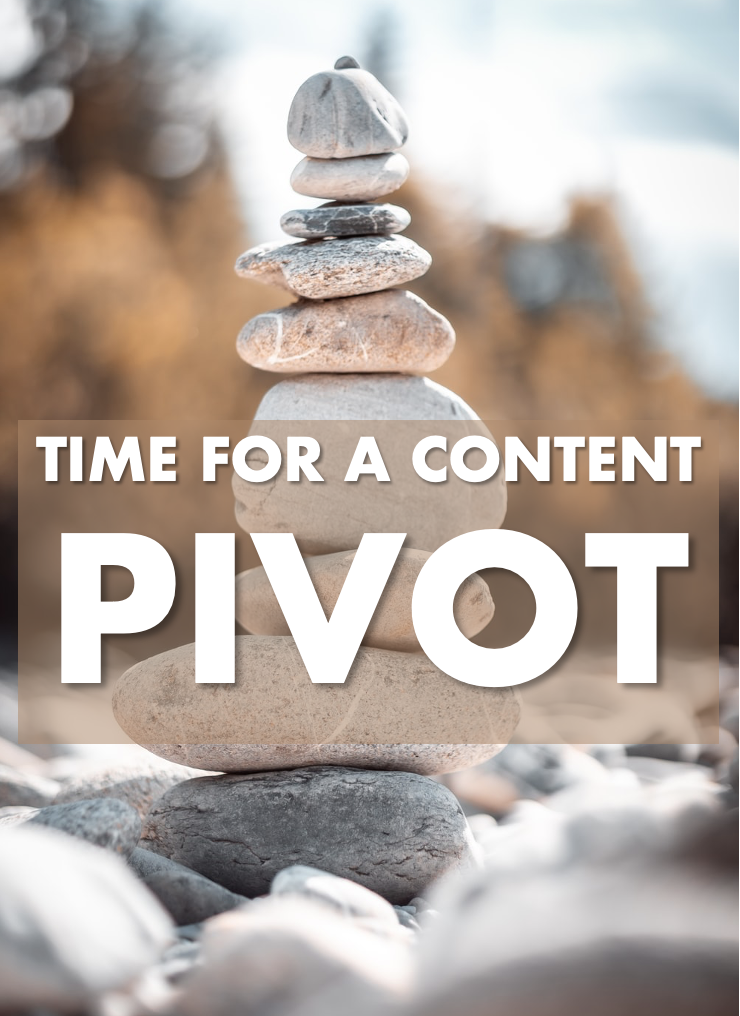 One of the themes of my writing has been the need for constant reinvention and renewal to stay relevant. So, it's time to take my own medicine. I'll be making some changes to this blog and The Marketing Companion podcast.
These changes are a result of surveys and interviews I've conducted over the past few months as well as observing new best practices throughout the industry. I'll discuss these changes and my thought process today. I'm also revealing a major change to the podcast in this post.
The blog … or paid newsletter?
The biggest trend in content marketing right now is subscription newsletters. Kind of weird right? Words are hot again!
But it makes sense. If you can provide insight that adds value and saves time, why not put it behind a firewall and charge for it on Substack or another platform?
The first decision I've made is that I am keeping my content public and free. I like this format, I like this community, and sharing with the whole world is more my style than creating something secret and somewhat elitist.
I also believe strongly that there is more power in content that moves freely instead of constraining it to a newsletter. I have a lot of equity in this audience and I can't turn my back on that. So change number one is … there is no change to the accessibility of the blog content.
The end of the guests
For more than a decade I've paid weekly guest bloggers to show their best work on my site. There were three reasons for this:
Help shine a light on worthy new stars
Add diversity of opinion and perspective to this blog
Create valuable content that can improve traffic to the site
I've known for years is that my readers are generally less interested in the guest bloggers. I ignored this feedback because I just liked shining the light on interesting new voices. But in my latest survey, this dissatisfaction came through pretty loudly once again.
Also, some readers complain that I was delivering too much content. I understand that. It's hard to keep up with so many posts coming at you. So, I've decided to cut out the guest bloggers which also reduces the amount of content coming to your inbox. Instead of three or four posts a week, there will be two.
I'll still have guest bloggers once in a while if some special opportunity arises. : )
Focus and direction
One of the surprises from my surveying is the continued intense interest on personal branding. So I'll provide a little more content in that direction (I have a lot to say!) as well as more marketing case studies and forward-thinking ideas.
Some people wanted more "tips and tricks" but I will remain focused on "what's next."
The big podcast change!
The Marketing Companion is now in its ninth year. I have basically stuck to the same format for all that time — me and a co-host dissecting trends as we discern the future of marketing.
I've loved having a co-host — first Tom Webster, then Brooke Sellas — as a comfortable and reliable format that is truly different from the rest of the podcast pack. But being limited to one co-host brain has limitations. There is a lot more to explore. So in this new episode of The Marketing Companion, I talk about an exciting new direction for the show and we say farewell to Brooke as the regular co-host of the program.
Pivoting my content strategy means that other changes are coming over time, but I think it's time to re-launch the podcast and try something new (while sticking to the core values of insight + entertainment). Listen in to this new show to hear what I have in store for you:
Other ways to enjoy our podcast
Please support our extraordinary sponsor. Our content is free because of their generosity.



Understanding your marketing video's performance can be like looking for a needle in a haystack. Vidyard's online video marketing platform is a magnet for your needle. Host all your videos, measure their impact and integrate them into your email, content, and digital marketing strategies. This is the video CRM solution! All Marketing Companion fans can click here to try Vidyard today, for free.