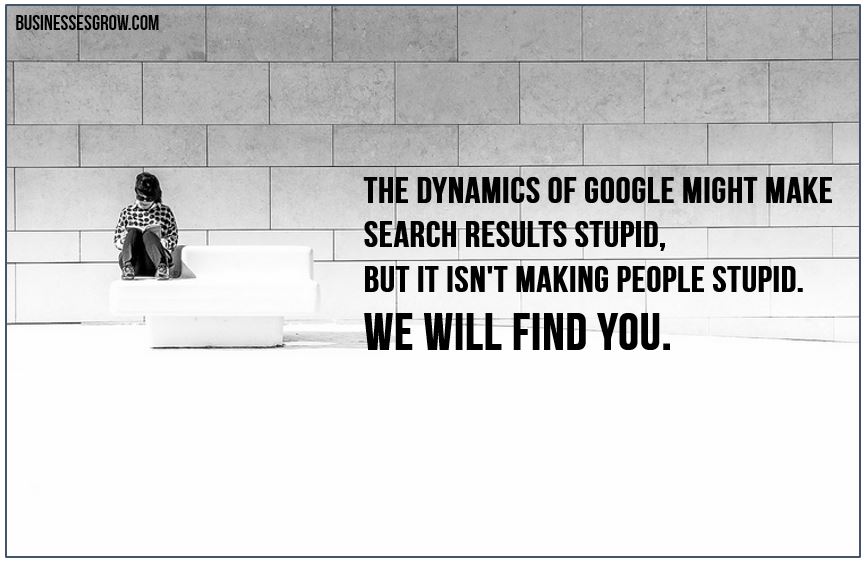 It's not often that I disagree with the super-smart author and entrepreneur Seth Godin but today is one of those days.
He recently wrote a wonderful and provocative post called "Is Google making the web stupid?" opining that the economics of search are "strangling" the best content.
He didn't use the term "content shock" but Seth described how the flood of great content on the web is making businesses resort to advertising, promotion, social media and other measures to claim one of those precious first-page search results.
He writes that Google can't find the best content for us any more because of these false signals, and that's why the web has been dumbed down. He concludes:
That means that a thoughtful, well-written online magazine has a harder time being discovered by someone who might be searching for it, which makes it harder to scale.

If you're a content provider, the shift to mobile, and to social and the shift in Google's priorities mean that it's worth a very hard look at how you'll monetize and the value of permission (i.e. the subscribers to this blog are its backbone). And if you're Google, it's worth comparing the short-term upside of strangling the best (thoughtful, personal, informed) content to the long-term benefit of creating a healthy ecosystem.

Here's the key question: Are the people who are making great content online doing it despite the search regime, or enabled by it?
Godin sort of contradicts himself. I agree with him — for most organizations, subscribers are the backbone of a business — not search results. Why did I read Seth's blog post? Did I search for "how Google is making us dumb" to find his article? Of course not. It came to me through my subscription because I trust his content enough that I raised my hand and said "market to me Seth." The power of his intelligent content literally has nothing to do with Google.
The Heroic Brand
Seth makes an argument that great content doesn't rise to the top any more, and he's right. However, it is possible that great content from great brands rises to the top. If Blogger Joe Smith from Paducah Kentucky had written precisely the same post that Seth wrote, I probably never would have seen it … and that has everything to do with this serious problem we all face of overwhelming content density. Perhaps I would have seen it in the quiet blogosphere that existed five years ago, but today even superb content is drowning under the content marketing tsunami.
As I wrote a few weeks ago, SEO and all this Google wrestling may be important for some kinds of content, but not all. Often, content moves on the web simply because a person or brand is powerful. In my upcoming book The Content Code, I call this the Heroic Brand. We all have personal brands but we don't all have Heroic Brands and clearly Seth Godin is a Heroic Brand. His content moves because of who he is, not due to an SEO strategy.
Branding matters more than ever. Exceptional content matters more than ever.
The dynamics of Google might make search results stupid, but it isn't making people stupid. We will find you.
Soul-grabbing brands
Here are some examples of people and companies who building Heroic Brands through beautiful, inspiring, mesmerizing content instead of SEO gamesmanship. These brands understand the importance of connecting through excellence, emotion and the communion of our human condition.
Soul Pancake, a site founded by Rainn Wilson, is dedicated to answering life's big questions. The content on the site provides a "brain batter of art, culture, science, philosophy, spirituality, and humor designed to expand your mind, challenge your friends, and feel damn good."
GoPro built its fanatic user base through a YouTube channel jam-packed with thrilling videos of customers skydiving, mountain biking, and deep-sea diving. It doesn't have to rely on SEO to create fans for its addictive, vertigo-inducing, user-generated videos. It's fostering loyalty by involving fans to share their experiences.
IQuantNY is an unusual and addictive site providing fascinating insight into the life of New Yorkers through creative data visualizations.
John Neeman Tools is a small company founded by craftsmen from Latvia. Their "Birth of a Tool" hand-made documentary video series had more than 2 million YouTube views. Their content about axes, knives, and strongbows moves through the Internet because you can clearly see the love and passion put into each and every product.
Momastery is a blog about unleashing the sister warrior. Author Glennon Doyle Melton brings an extraordinary amount of heart, humor, and bravery to her story, which she has leveraged into a best-selling book and successful speaking career. Essays like "Chaos and Kindness" aren't going to win any SEO contests but they win the hearts of her readers.
The Skimm is a daily e-mail newsletter that gives you everything you need to start your day. They do the reading for you – across subject lines and party lines – and break it down with fresh editorial content. They have no web-based content that depends on SEO yet it delivers millions of page views every day.
James Altucher is a financier and entrepreneur who is a hot mess of a human being — and he lets everybody know it through his raw and captivating content. His blog has literally catapulted his career into new heights in just a few years.
Manger (the French verb "to eat") is a glorious blog featuring rich and delectable stories and photos of rural French cooking. Mimi Thorisson's content is fine art, pure and simple.
27BSlash6 is an extraordinary out-pouring of creative and hilarious writing from David Thorne. Check out Missing Missy to see why his storytelling is earning readers without relying on search results.
Cleveland Clinic. Many believe they are putting out the best healthcare content anywhere. In a regulated industry generally far behind the content marketing curve, the hospital delivers posts that help people deal with chronic diseases, overcome depression, and the battle to live a healthier life. And all of the content is written by physicians who practice there. No wonder a regional hospital has more than 1.2 million Facebook Likes.
So you see Mr. Godin, it's still possible to be successful even without SEO. Google will not strangle all the very best content. We will find heroes and we will share their content. Sometimes it's enough to be passionate, excellent, and committed to providing only the best content your soul can possibly produce.
Like you.
Many thanks to my friends who contributed ideas for soul-grabbing content: Rob Petersen, Ameena Gorton, Mäel Roth, Jonathan Thaler, Tara Geissinger, Liz Sherer, Shonali Burke, Jen Phillips April, Despina Karatzias, and Jessica Bookstaff Doppelt.
Illustration courtesy Flickr CC and Nelson L.