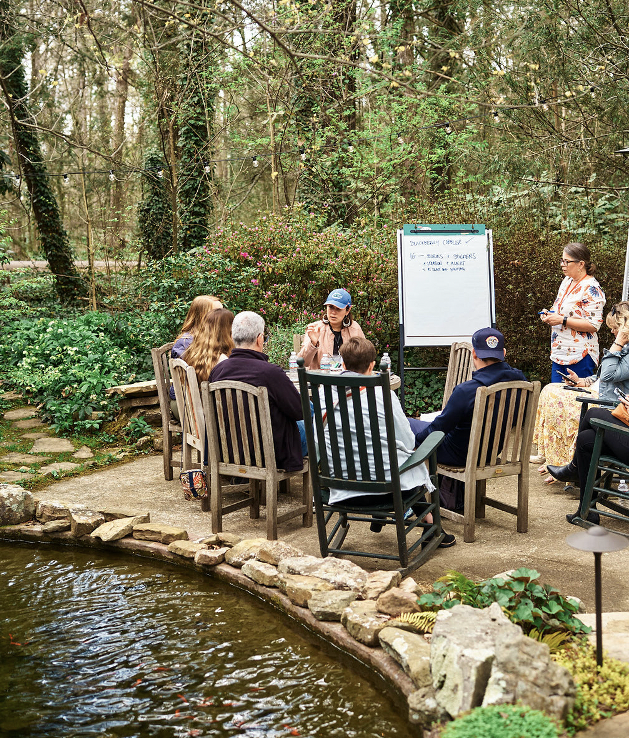 What a joy it was to gather 30 marketing leaders from around the world to think big thoughts together in a lodge nestled in the woods. That's my annual event called The Uprising. The world's best marketing event? I'm not sure what else can compare!
Over two and a half days, brilliant professionals had deep, meaningful, and inspiring discussions about the future of marketing. And we became friends (which is why I limit this to 30 people!).
I can say with authority that is certainly the best marketing event I have attended … and I've attended a lot. I regard The Uprising as the best achievement of my professional career.
I hoped to capture some of the highlights for you, but that would be impossible because almost every moment delivered a highlight … from the fascinating discussion topics to the breakout groups and meal-time conversations. We literally co-created a book's worth of content.
But here are a few points that stood out to me.
The future is community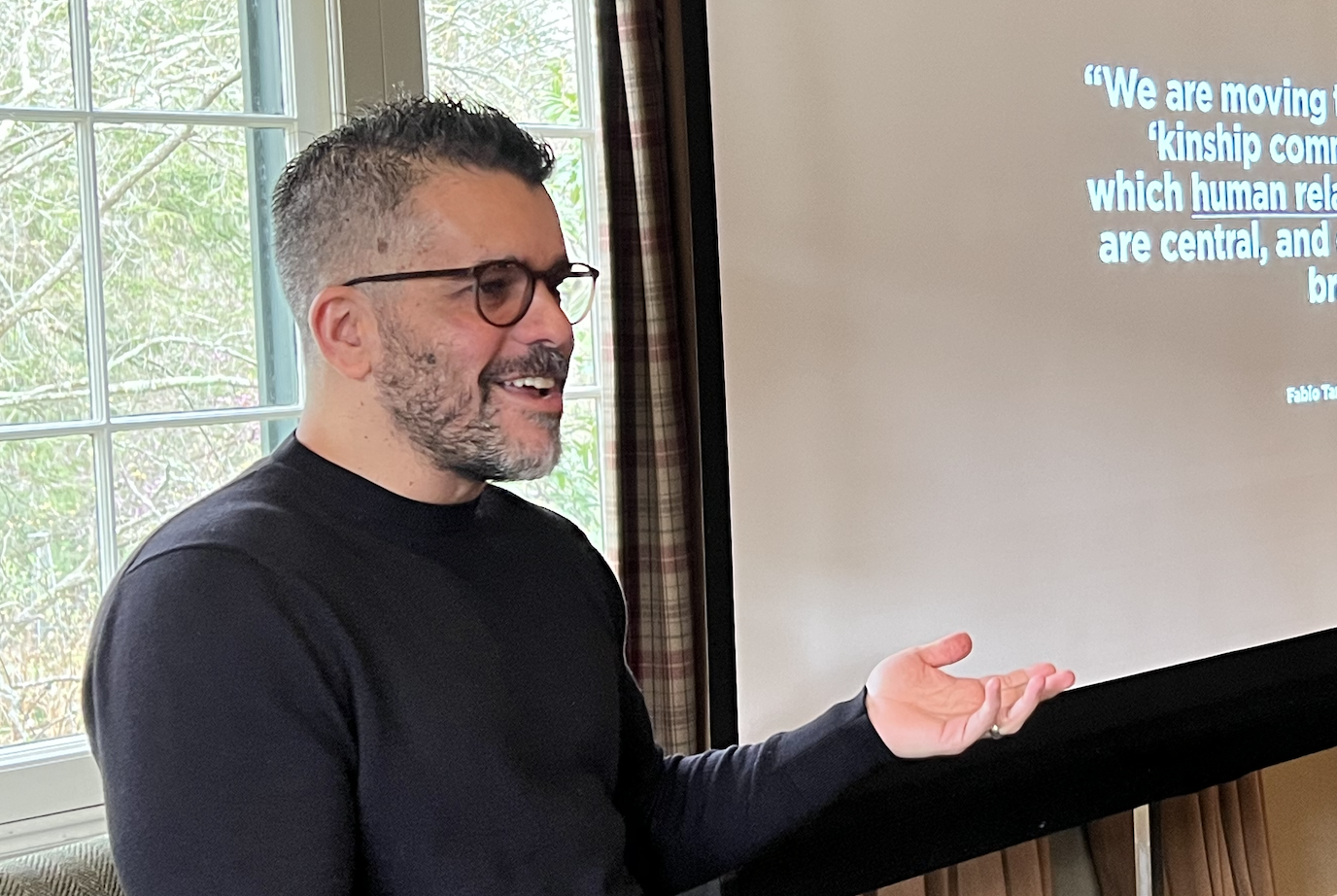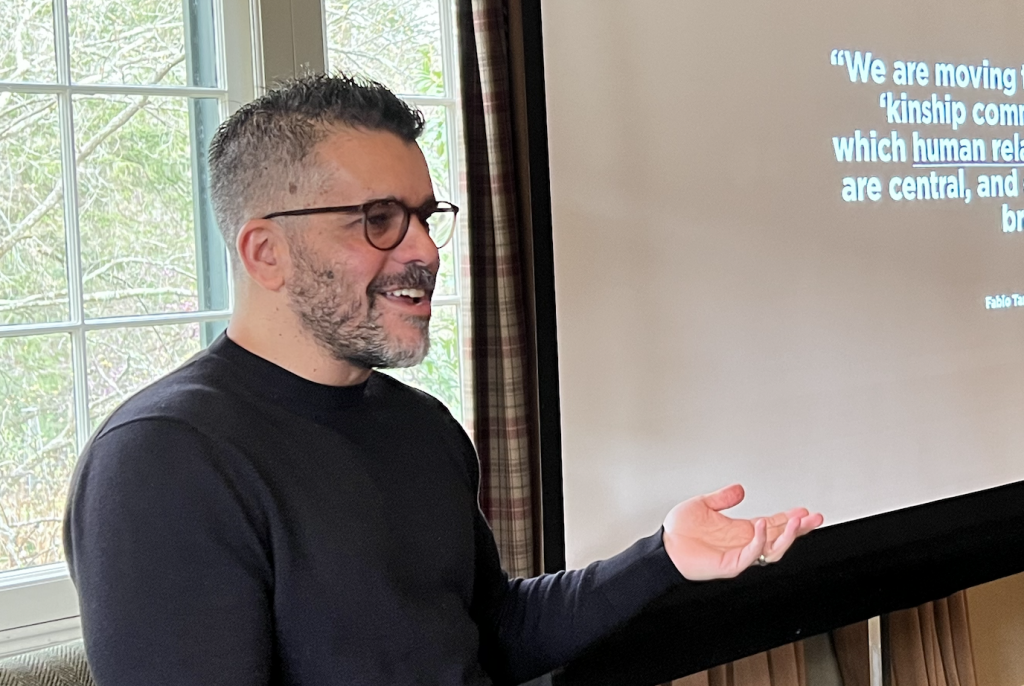 Fabio Tambosi and I kicked off the event with a collaborative discussion on how brands are leaning into community and a "kinship economy." Fabio has been an executive with IBM, Nike, Adidas, and Saucony and is one of the most brilliant and visionary marketers I know.
I pointed out that the world is longing to belong — especially now. The more time we spend online, the more lonely, isolated, and depressed we feel. There is certainly a role for companies and brands to play in meeting this need. This was a theme that weaved in and out of the entire event.
Fabio reinforced this idea with a concept he called the "kinship economy" where human relationships are central to a strategy that leads to brand love.
Fabio delivered a profound message that outlined the future of branding — it's a path to belonging that includes helping people connect to the world, interpret cultural moments through the eyes of the brand, and use the brand as a platform that amplifies human expression and creativity.
A framework for more human-centered marketing
Ruth Hartt is the chief of staff for the Clayton Christensen Institute and she led us through a very engaging presentation on the "Jobs to be Done" methodology. Instead of focusing on brand features and attributes, think through why a person would "hire" your product to perform a certain task.
She provided a dramatic example of a symphony advertisement that promoted music and artists that were probably meaningless to an average person. She then showed a re-worked version positioning the symphony as an antidote to daily stress.
We can help people "belong" to our brand if we connect to their emotional needs instead of beating our chest about product features.
Ruth, an opera singer, also sang for us after dinner one night!
Innovations in marketing measurement
Claudia Sciarreta is the Global Insights Director for Pepsico. She has worked with American Express, Jose Cuervo, Walmart, and other major brands This was just an incredible opportunity to learn of her journey through years of innovation in marketing measurement.
Many of her "secret sauce" observations are something can't put out in public, but the big takeaway is how Pepsi is mining big data for meaningful micro-trends and then coming alongside consumers in important cultural moments. Very much in line with the ideas Fabio shared with us from the athletic wear perspective.
Claudia said that beginning in the early 2000's we began to see that straight demographics weren't the only way … (sad that this is still what is TAUGHT mostly). Companies began to add psychographics and MOTIVATION.
The pandemic accelerated a desire for community. Buyer motivations changed dramatically over the last two years.
Pepsi works closely with psychologists and anthropologists to add depth to the data they obtain from social monitoring, trend tracking, and other technology-driven tools. Values Shift – Marketing is less about demographics—more fluid, not as structured, swarm society (micro-cultures, cultural fabric, topical). Customers are co-creating new products with them.
We also had an interesting discussion about the role of marketing researchers in changing company culture.
Reaching consumers in the metaverse and beyond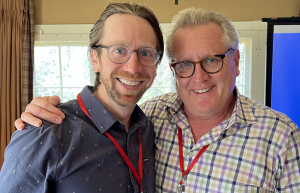 Futurist Mathew Sweezey (of Salesforce) challenged our group with a presentation that was simultaneously fascinating and chilling — our consumer future in the metaverse and Web3.
This presentation was a tour de force that I could not hope to capture in any short post but it was by far the most coherent and cohesive that I've ever heard on the subject of Web3 implications. Web3 is an exciting, immersive innovation of new places, new products, and new identities.
One thing that helped a lot was Mathew's explanation of the six possible utilities of NFTs:
Art/collectible –Represents either a piece of art or a collectible that holds value. The NFT proves the ownership of the art or collectible.
Governance — Holding the NFT provides the owner with a vote allowing them to control something. By holding more NFTs, you have a greater voice.
Digital asset — Provides utility in virtual/digital worlds. It could be a game asset, a POAP, a digital twin of a physical product, or a virtual-only product.
Avatar — The NFT is used as a profile picture or avatar, allowing the owner to show their support or status.
Key to access — The NFT grants access to a community, a website, a physical door, content, an experience, media, or anything that can be gated.
Advanced dynamics — Unique abilities available only to NFTs such as; Staking, Coupon, Propagation, Airdrops, Generative, and/or De-FI.
Purpose and your brand: A rational view
This thrilling session was led by Keith Jennings, Erin Esensee, and Carlos Oramas.
"Purpose" and aligning with shared meaning is one of the few ways left to earn customer loyalty.
Should your brand be generous and minimize harm to the planet? Yes?
Should you focus on purpose and take a stand? Maybe.
Your "who" and your "why" guides your "how" and your "what."
What is your core business and your origin story? This will guide you toward your purpose.
Story of GEMS Group — Carlos started in sales and vowed to never "sell." We need to serve. GEMS Group was founded to create smiles, which is the purpose of flowers. PS — If you want a guaranteed smile, click on the GEMS website!)
Erin is the business unit director for H-E-B Blooms and has partnered with GEMS for purpose-led marketing. "We don't sell flowers, we sell emotions and we want to serve those emotions and special events. Nobody is more passionate than us about that."
Carlos and Erin provided an amazing case study showing a business partnership based on purpose. They started a brand (Lonestar Living) based on bringing happiness and deep emotions to their community. A company should step in and be the hand, not just lend a hand in tough times. Send out a message during a crisis — who needs a smile? They routinely deliver bouquets to
Women of distinction
Military moms
Nurses and frontline workers during the pandemic
"We work on this because we know that it's right."
Simply being kind and generous has created incredible marketing visibility as customers tell their stories. Sales have taken off like a rocket ship.
The personal brand beyond KNOWN
Before each Uprising, I poll participants so they can vote on what we should cover in the limited time of the event. Developing a personal brand was very high on the list.
… as it should be.
Lauren Fast and I teamed up for this discussion. Instead of teaching everybody the KNOWN process (I gave everybody a copy of the book), I focused on the business and cultural challenges of our day that make the personal brand an imperative.
Insurance for your career — Having an effective personal brand might be the only strategic leverage we have as individuals.
Protection against bots/fake news — Establishing your authority can cut through disinformation.
Increasingly, personal brand IS company brand — We don't trust most companies and brands, but we do trust each other.
Community begins with personality/trust — Building on the community theme, I provided examples of how community often starts with a trusted person.
Authority versus SEO — SEO is becoming less accessible for many companies. Instead, we can earn an audience through authority.
Lauren explored the reasons why people have trouble working on their personal brand, which led to introspective small group discussions.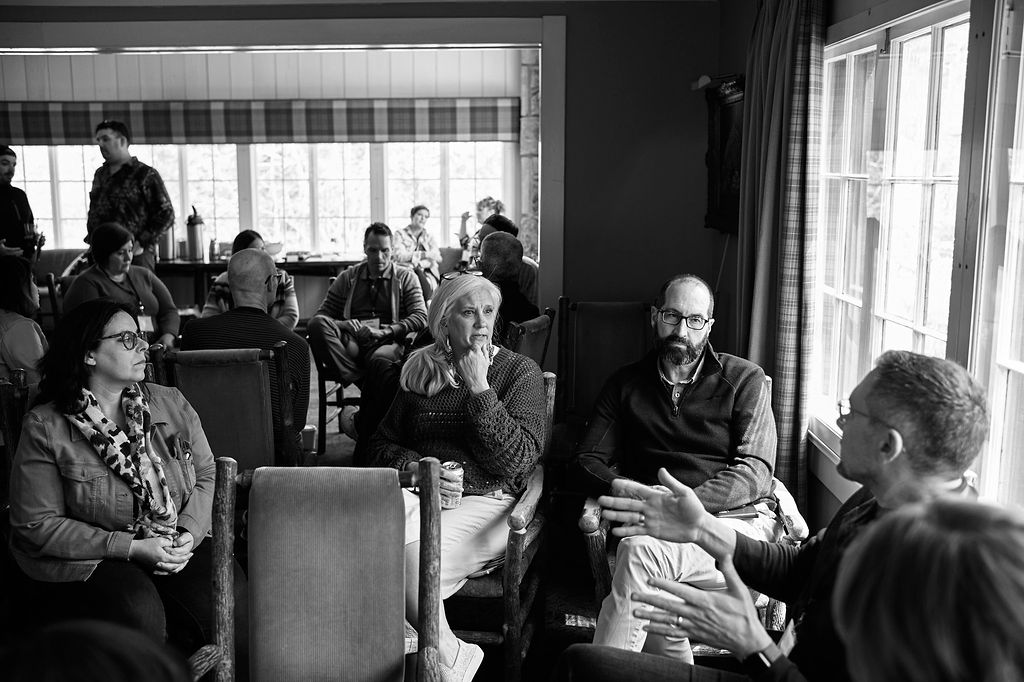 Falling in love with AI for marketing
Samantha Stone is a well-known marketing researcher and she's been looking at the impact of Artificial Intelligence on consumers.
Overall, consumers are OK with AI responses as long as they KNOW it's a bot and the conditions are not too emotional. Any situation with high emotions demands human intervention.
Samantha provided a number of inspiring examples where AI creates very personalized, tailored experiences that lead to business benefits. Examples included design, travel, cooking, and hospitality.
She also cautioned all of us to be on the lookout for bias creeping into AI services.
The future of social media
We took a team approach to think about the future of social media marketing.
Chad Parizman presented a very bright future for audio content. He said that audio is the most "reusable" content.
Valentina Escobar-Gonzalez made a strong case that video content was the most human approach to marketing, connecting this to the deep connection and emotion that can be created.
Jon Briggs touched on Discord as an important community consideration. He's rapidly built a community to blow up an NFT franchise called Battle Bunnies.
Lisa Apolinski emphasized the distinguishing importance of truth in the future.
Now … how about you?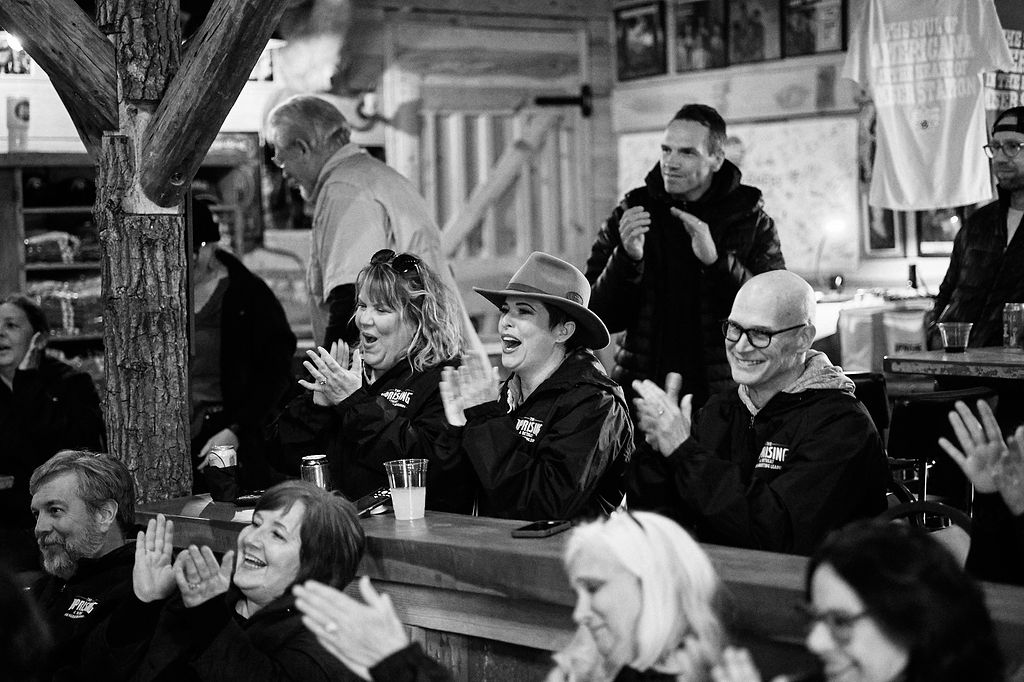 My wish is that everyone in my community has a chance to experience the best marketing event, The Uprising.
Inspiring content.
Uplifting people.
Amazing food in a beautiful, wooded setting.
Music, hiking, yoga, and games by the fire pit.
Won't you join us next time?
I'm already planning for next year with an eye toward the week of April 18, 2023, for an event in Knoxville, TN and a possible event in Europe for September or October of 2023. You can learn more and get on our mailing list for future events by clicking here.