I recently wrote this about my career and the process of personal evolution:
Having self-confidence is not just "believing in yourself." It represents an ability to take a step forward away from the familiar.

In a way, finding the right path takes self-confidence because it requires a succession of small steps away from the familiar.
Last week, I took one of those steps. A big one, in fact!
I  hosted a leadership retreat called The Uprising. This was one of the biggest risks of my career — Establishing an entirely new co-created, co-led retreat featuring 30 marketing thought leaders.
My biggest fear … nobody would come.
But my fear was allayed as soon as I announced the event and I actually had a waiting list of people who wanted to attend. On a scale of 1 to 10, it was a 15 because The Uprising went to a visionary sort of place I didn't even expect. Every person rated it a 10 out of 10 and wants to come back!
I'm having another event in 2020 (you can apply here) but first I wanted to re-cap some of the significant learnings of the first Uprising. There is no way I can honor the 15 hours of expert content at the event but here are a few key takeaways.
COMMUNITY-BASED MARKETING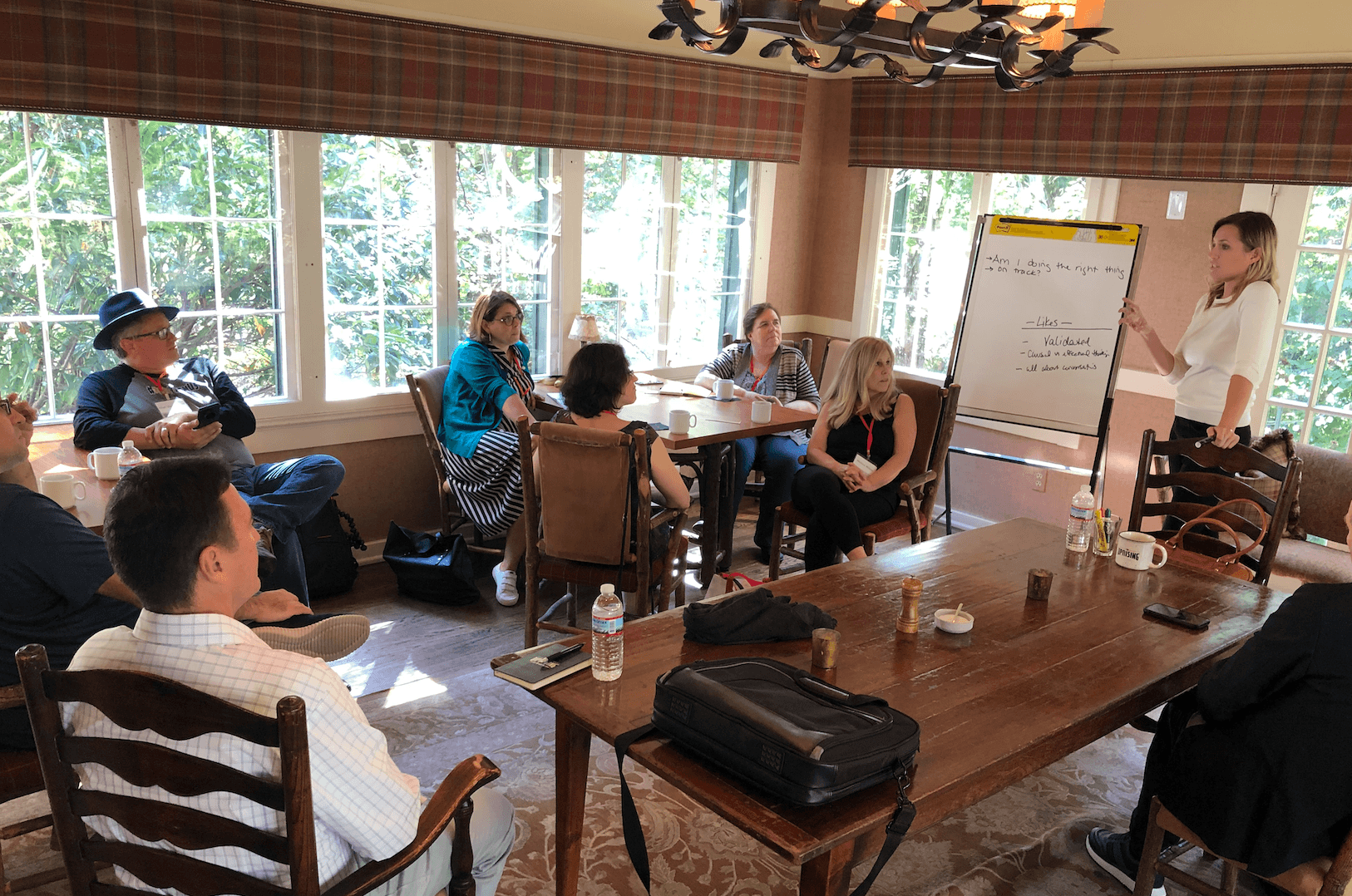 A major theme of the retreat was finding ways to activate human-centered marketing concepts in the real world.
Keith Reynold Jennings of Jackson Healthcare said that you've already made a mistake if you think "customer loyalty" means that customers should be loyal to us. First, we have to be loyal to them. He explained a "jobs to be done" framework for marketing that was also beautifully captured in this blog post.
I think Dana Malstaff is one of the brightest business leaders around. She explained the loyalty model behind her incredibly successful Boss Mom enterprise. She led a discussion on how community-based marketing is the future of business.
The key to her incredible success is to make her customers feel truly valued. "They just want to feel like they belong," she said "People want to hear: 'you're not alone, and you're not crazy'."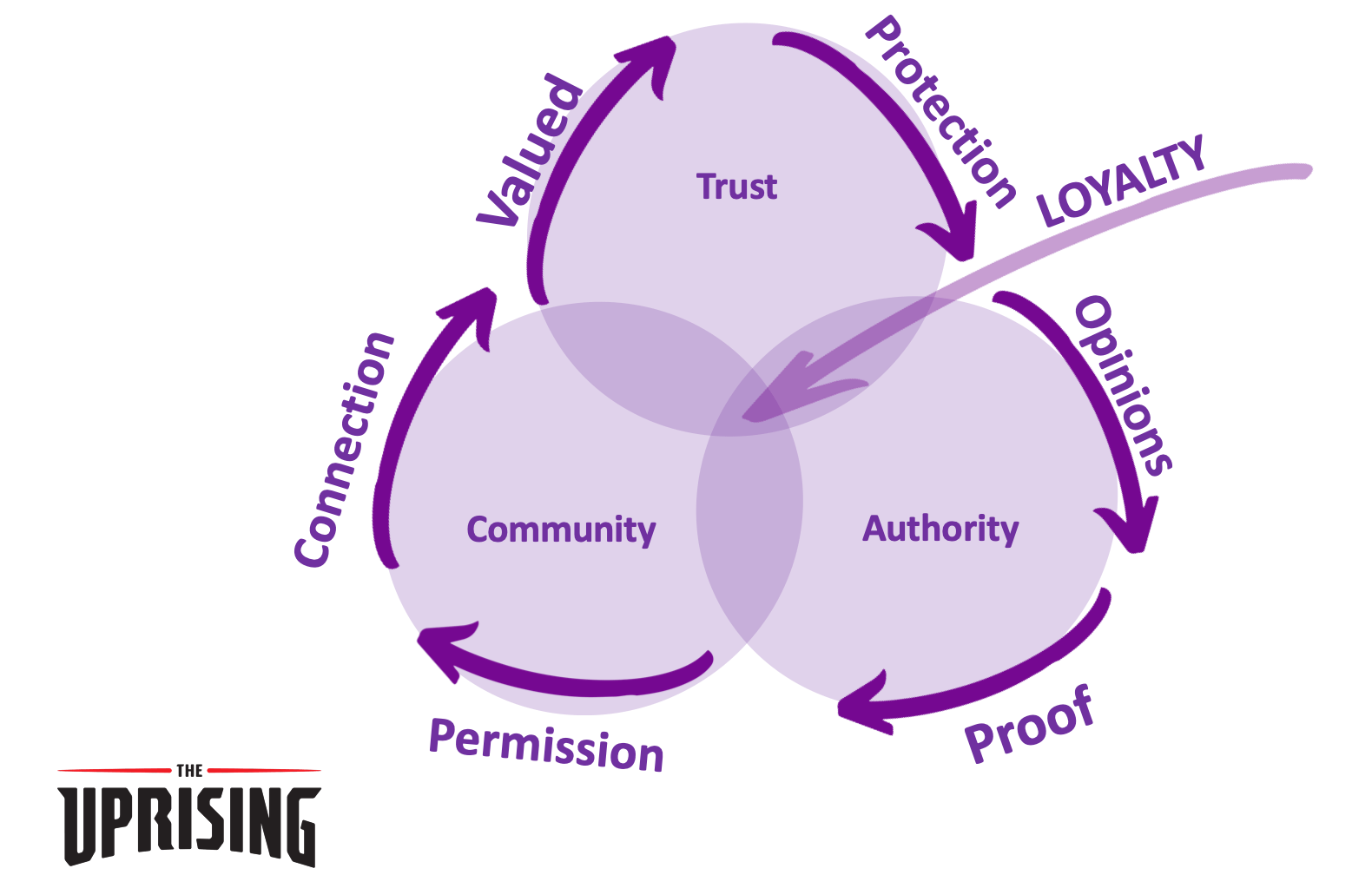 Dana explained that we all experience an emotional high at a conference because we're supported, and then we lose that when we're alone in front of our computer again. People have a constant need to belong.
Dana established Boss Mom to create a safe space for working moms and give them a place to belong, grow, and thrive. In her case, the community has become the business.
Loyalty means somebody who is willing to fight for you. You want your product to be a norm. If that is taken away from you are ready to fight to get it back.
Too many think of a community as boundaries and guidelines. It is really about consistency (even repetition to make it familiar) and protecting members to make them feel safe. If it is familiar, it is comfortable; if it's comfortable, it's fun.
THE FUTURE OF SOCIAL MEDIA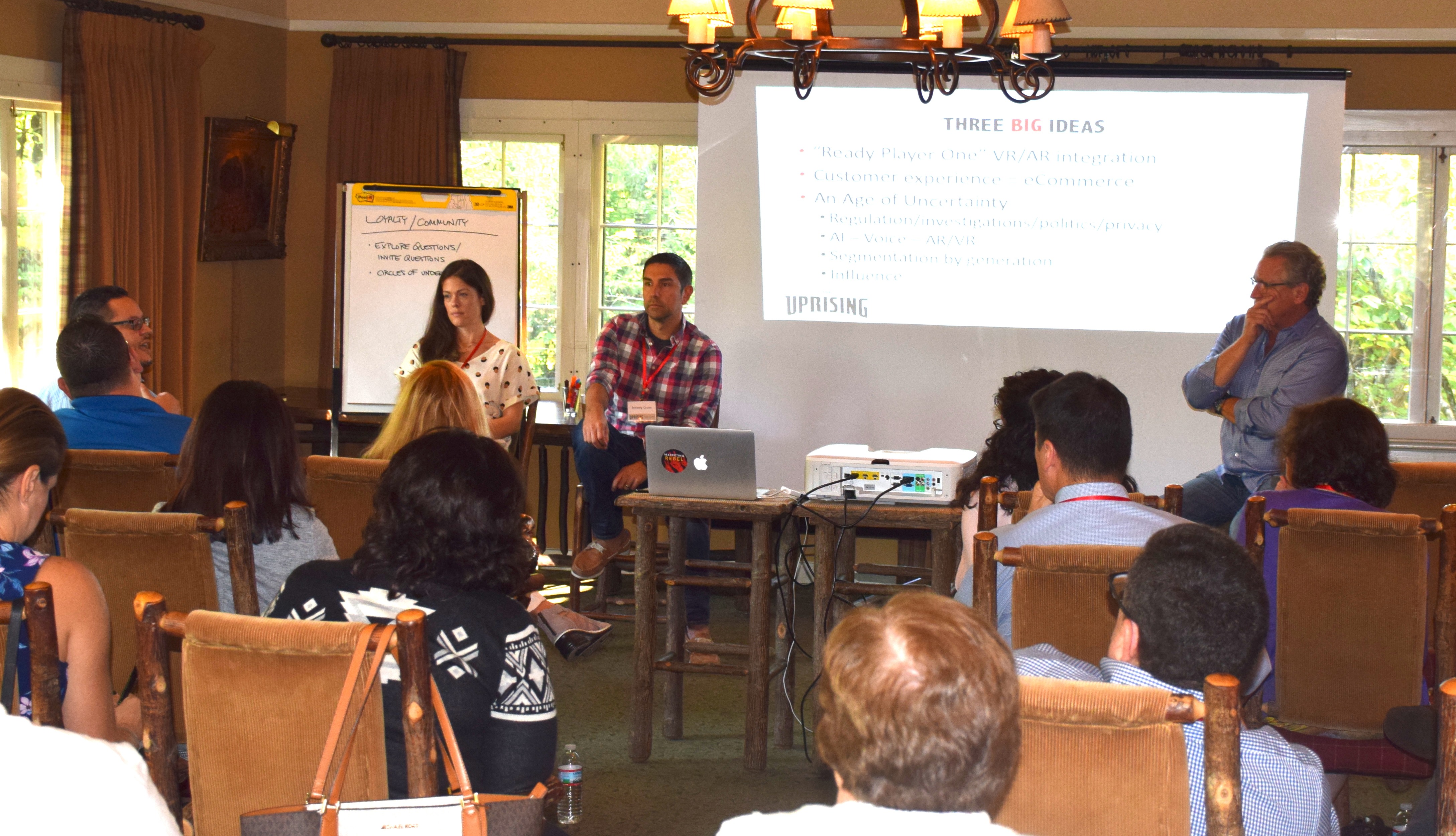 I led a discussion of this topic with Megan Conley (CEO + Founder of SocialTribe) and Jeremy Cross (itelligence).
We all agreed that we are in an era of deep uncertainty when it comes to social media. Some of the wildcards:
Regulation/investigations/politics/privacy
AI – Voice – AR/VR
Platform segmentation by generation
Gaming as social media platform
Evolution of Influence
Megan said that she is most interested in the integration of social and an immersive, virtual reality environment. The advent of 5G can enable a "Ready Player One" type of social environment.
Jeremy emphasized that to a large extent, customer experience will define eCommerce. This connection between experience and customer loyalty was a major topic throughout the retreat. He predicted a bolder integration between major banks and commercial services and social media.
I suggested that for the next few years, social media strategy will be like mountain biking — you can't look too far ahead. There are roots and rocks right in front of your path. Just get through the immediate obstacles and pick your path with a short term view.
The Uprising participants had a fantastic discussion about the future of social media platforms.
WORD OF MOUTH MARKETING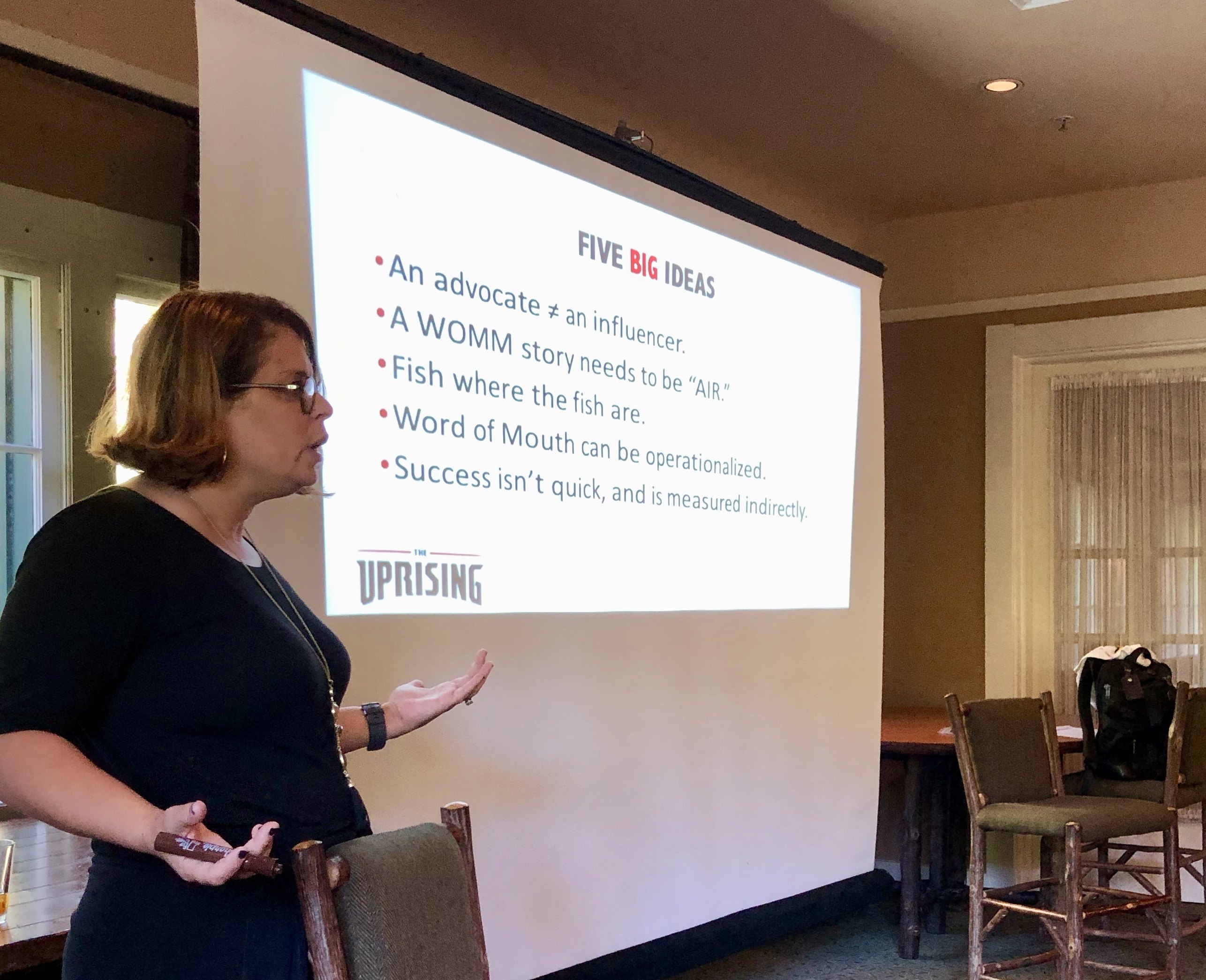 Sarah Neely is one of the world's leading word of mouth marketing experts. As vice president – strategy of Fizz Corp. she has overseen word of mouth efforts at many major brands.
She covered five key ideas:
1. An advocate is not the same an influencer
A word of mouth marketing advocate is a personality type. About 10 percent of the population loves to share stories at a rate 10x the rest of the population.
If you give them the right story to share, the customer becomes your marketer. An advocate provides organic reach for your story. An influencer, by comparison, would be somebody paid to promote a product.
2. A WOMM story needs "AIR"
The ideal story to seed into your target audience is:
Authentic – It has to be believable and true.
Interesting – Does it make you go "wow" and provoke conversation?
Relevant – Will enough people care about it?
3. Fish where the fish are
A key idea is to show up where people will care about your story. Roll up your sleeves, get out there, and talk to people!
Word of mouth marketing takes patience and a presence in your key communities.
4. WOMM can be operationalized and scaled
Word of Mouth Marketing strategy is built on math. We can predict how stories will flow in a population. Based on these reliable models, it is possible to create strategies that can spread stories in a city, region, nation … and beyond.
Sarah discussed the Fizz process for identifying the best WOMM marketing managers to help lead the process of spreading stories in the community.
5. Success isn't quick and it is measured indirectly
If you need to boost next month's profits, WOMM is not what you need. But if you're ready for the most effective and reliable long-term marketing strategy, it's time to look at WOMM.
It's impossible to predict when organic conversations will occur. Sarah talked about watching for patterns in available metrics like inquiries, web traffic and mentions that can point to an impact from word of mouth marketing.
MARKETING MEASUREMENT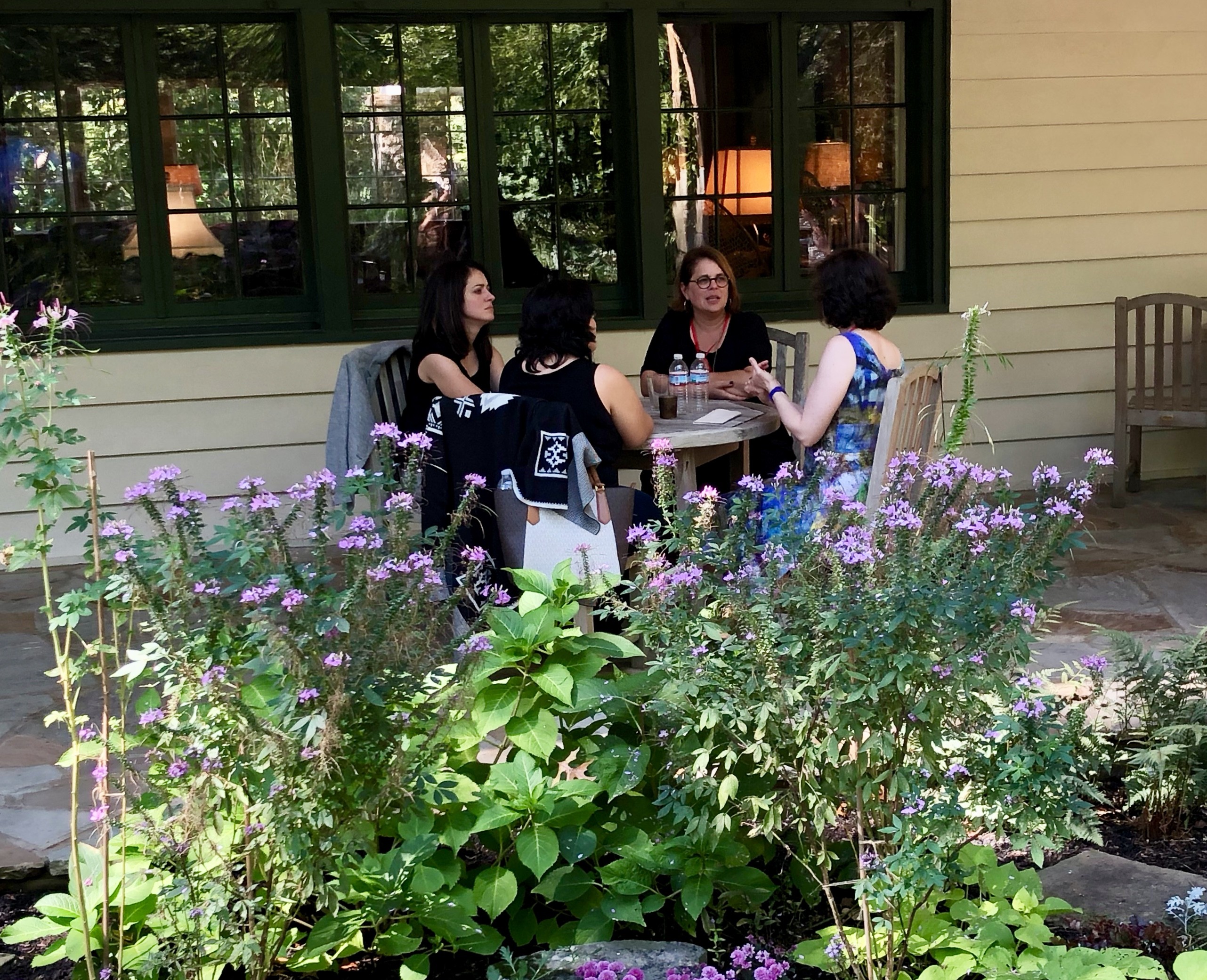 Measurement is an important topic for our marketing future because it can be an obstacle to progress. Many new marketing processes (WOMM, experiential, influence) are more difficult to measure. If we can't measure it, we may not embrace it, even if we need to.
This discussion was led by Brooke Sellas (CEO + Founder of B Squared Media), Alycia Kaufman (VP Marketing Jackson-Coker) and a special guest, Dr. Julie Ferrara, a business analytics expert who teaches at University of Tennessee.
Brooke talked about how most companies are still in the "monitoring" phase and little else. It is a reactive approach. She is encouraging companies to use social listening in a way that is proactive. An example is heading off service problems or combining research with other data to create new insights.
Alycia provided an example of creating an attention-grabbing game at a trade show which led to meaningful conversations and sales conversions.
Julie picked up on this case study — What are you capable of tracking, even if it is not exactly what you want. Start there. Did page views go up due to an event? You can see these trends over time.  Look for shifts and patterns and over time you can start to attribute customer experiences.
No data point is an island, there is a story behind every data point.
There was a great discussion among participants about the use of manufacturing best practices like statistical process control in the marketing world (or the lack of it!).
REACHING THE UNREACHABLE CUSTOMER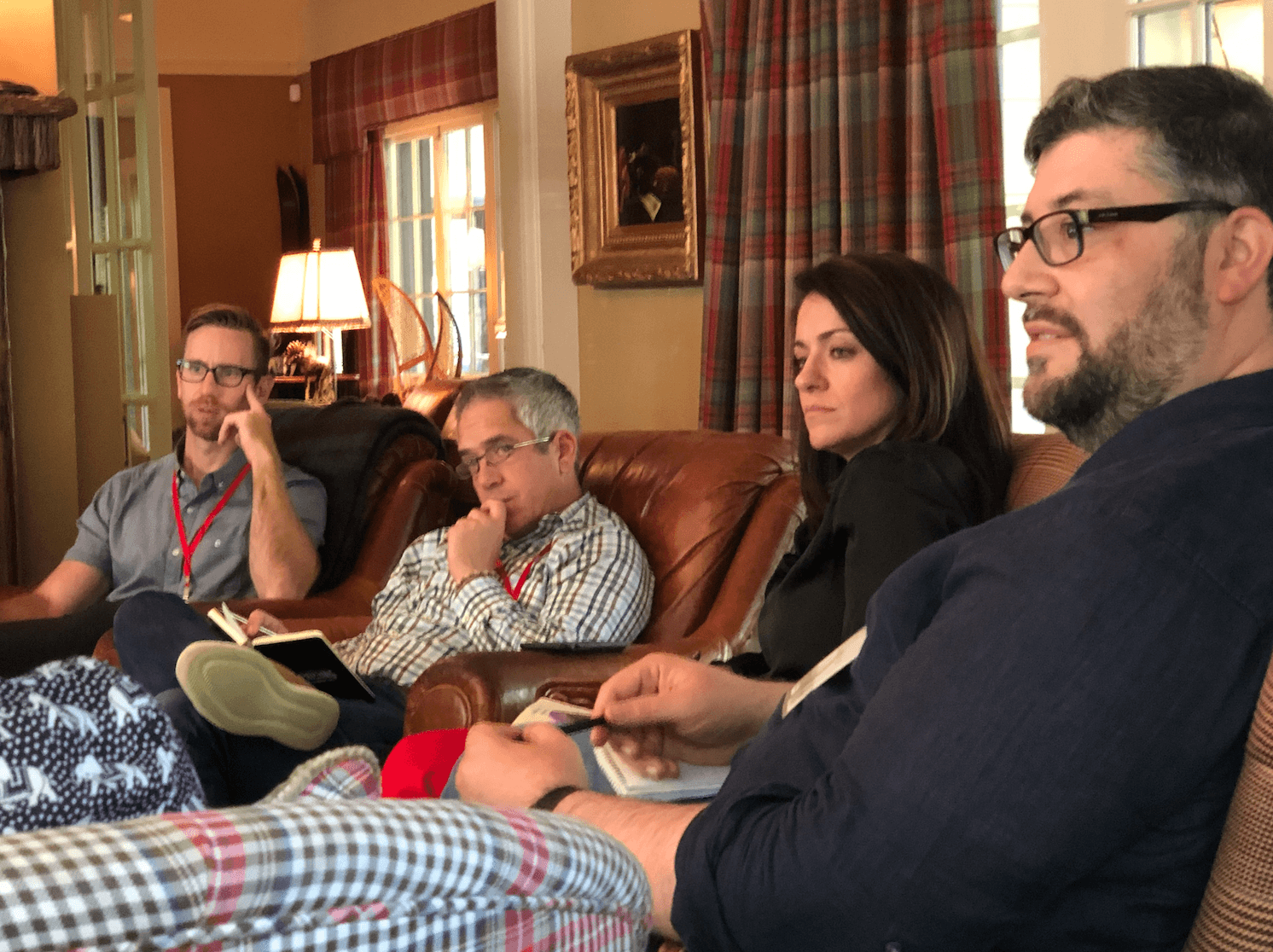 Mathew Sweezey, Principal of Marketing Insights for Salesforce, provided a tour de force presentation on marketing trends in the "Era of Infinite Media." Seriously one of the best talks I've ever seen. Much of the information came from his forthcoming book Context Marketing Revolution: How to Motivate Buyers in the Age of Infinite Media
.
Marketing has always worked in a certain framework in a certain time. All of that has changed. We need to change with it. We offload memory to devices, hence this has changed our decision-making process.
Consumer decisions are a function of our present media era and a completely different set of rules.
Businesses must replace their ideas of what drives consumer action with a new and expanded view of consumer expectations. Number one trait of high-performing companies – Marketing has an updated, new vision of marketing, not just new tactics.
Marketing must transition from being the "creators of messages" to the "owners and sustainers of the Experience." This requires decoupling marketing from the product and viewing its function as a much more encompassing pathway to growth, beyond the limited view of merely increasing sales.
Marketing must be recognized by executive leadership as a primary economic driver— and be supported as such across the business.
Salesforce research showed that consumers do the bulk of marketing for brands. The customer is the marketer.
The role of marketing used to be "voice box of the brand." Today, the most valuable thing we can produce is an experience, not a product. That does not mean just re-working our ads or creating more entertaining ads. The best messaging cannot save you. It means re-imagining marketing.
84% of consumers say an experience you create is equal to the product or service you sell, and there is only a 12% difference between young and old in this regard because we are all in the same media environment. Marketing is the owner and sustainer of all experiences not just the creator of messages.
All purchases are considered because they can be. Searches for "best toothbrush" is up 100% year-to-year. There is even a customer journey to build a toothbrush.
Attention was the foundation of the limited content (broadcast) era. Context is the foundation of the infinite era.
Mercedes spends $926 per car on advertising/marketing. Tesla spends $6. This is a completely different model. Focus on how we work WITH our audience not ON our audience. Tesla uses this inclusive model time and time again.
Tesla sells the purpose (get off fossil fuels) and the car sale follows. Marketing is primary, not the product. Mercedes builds the car and then sells it, by comparison.
Corporate responsibility is the lowest form of "purpose" in marketing. It is still a forced message on a market. The highest form of purpose-driven marketing is co-action.
On average, 135 people have the same social reach as a brand with a million followers. "Your PR campaign is not in the buying cycle. You're not controlling the message in any customer journey."
Chatbots are the future customer conversations. In B2B, this is becoming the number one source of leads and they are very well accepted by consumers. People love chatbots as long as they are Instant, accurate humane.
Mathew claims websites as we know them will not exist in five years. We will have conversational interfaces, a personal assistant.
HOW DO MARKETERS STAY RELEVANT?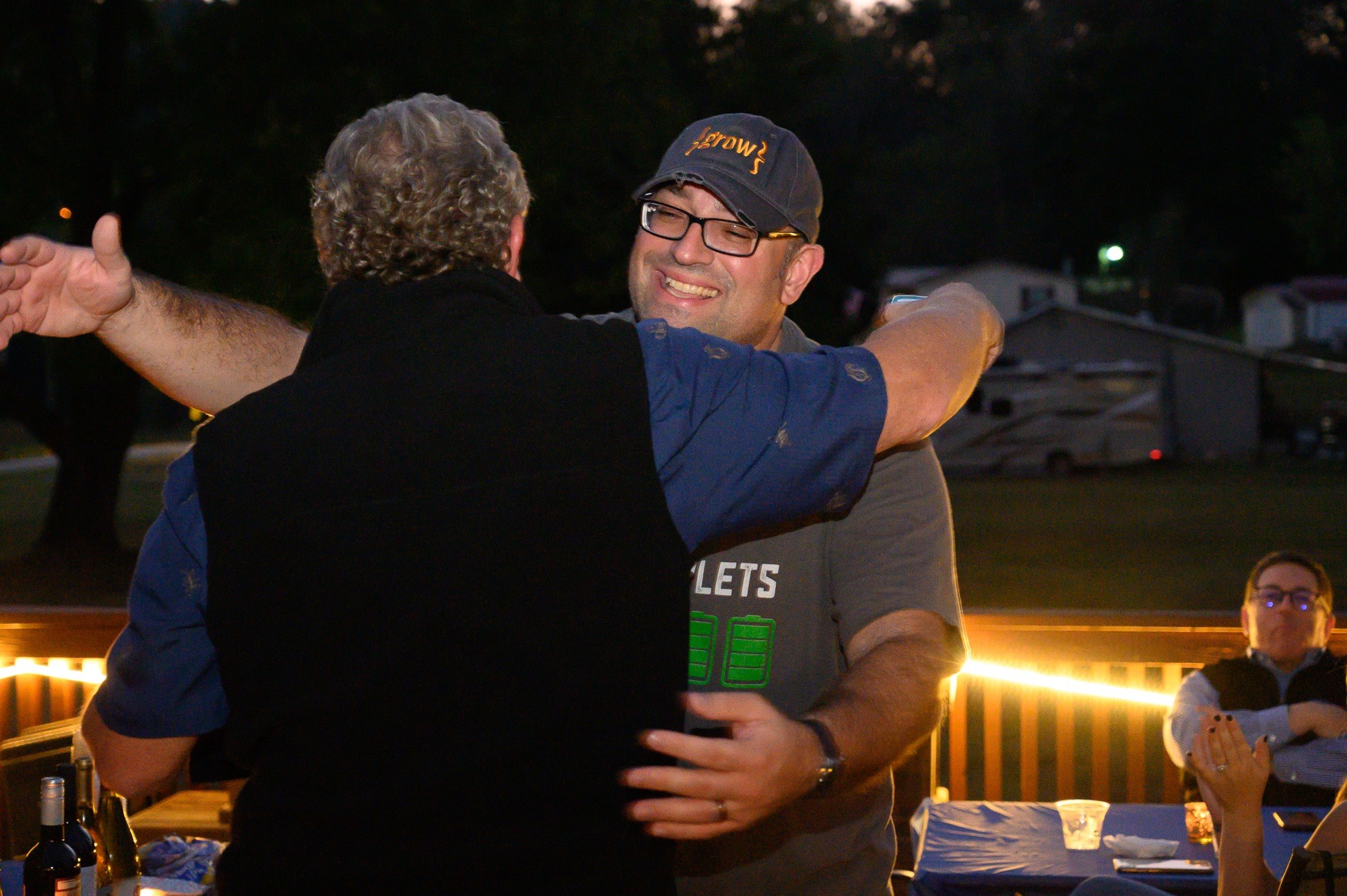 Mathew and Eugene Petrov led this discussion. Gene is a marketing/leadership coach and taught leadership in the US Air Force.
The session leaders broke down the challenge of staying relevant into these categories:
Academic learning (people, processes and tech)
Experiences like events and conferences
Strategies to keep your team relevant
Ideas to stay up to speed with your marketplace
This led to a vibrant participant discussion on resources, people, books, platforms, and events that were vital to personal growth in a fast-changing world.
I loved this quote: "The people and subjects we love become the underlying rivers of our lives."
Be willing to pursue your own intellectual curiosity. It will pull you down unexpected paths. People at The Uprising mentioned that studying favorite topics like Design, Architecture, Travel, Physics, and History help them understand marketing better.
Mathew led a fascinating discussion on a process to attract mentorship.
Dana and I also led a session on the role of personal branding and relevance. I talked about the basic principles behind my book KNOWN
and the process Dana was employing to expand her career to become known as a resource for large companies.
MARKETING AND ARTIFICIAL INTELLIGENCE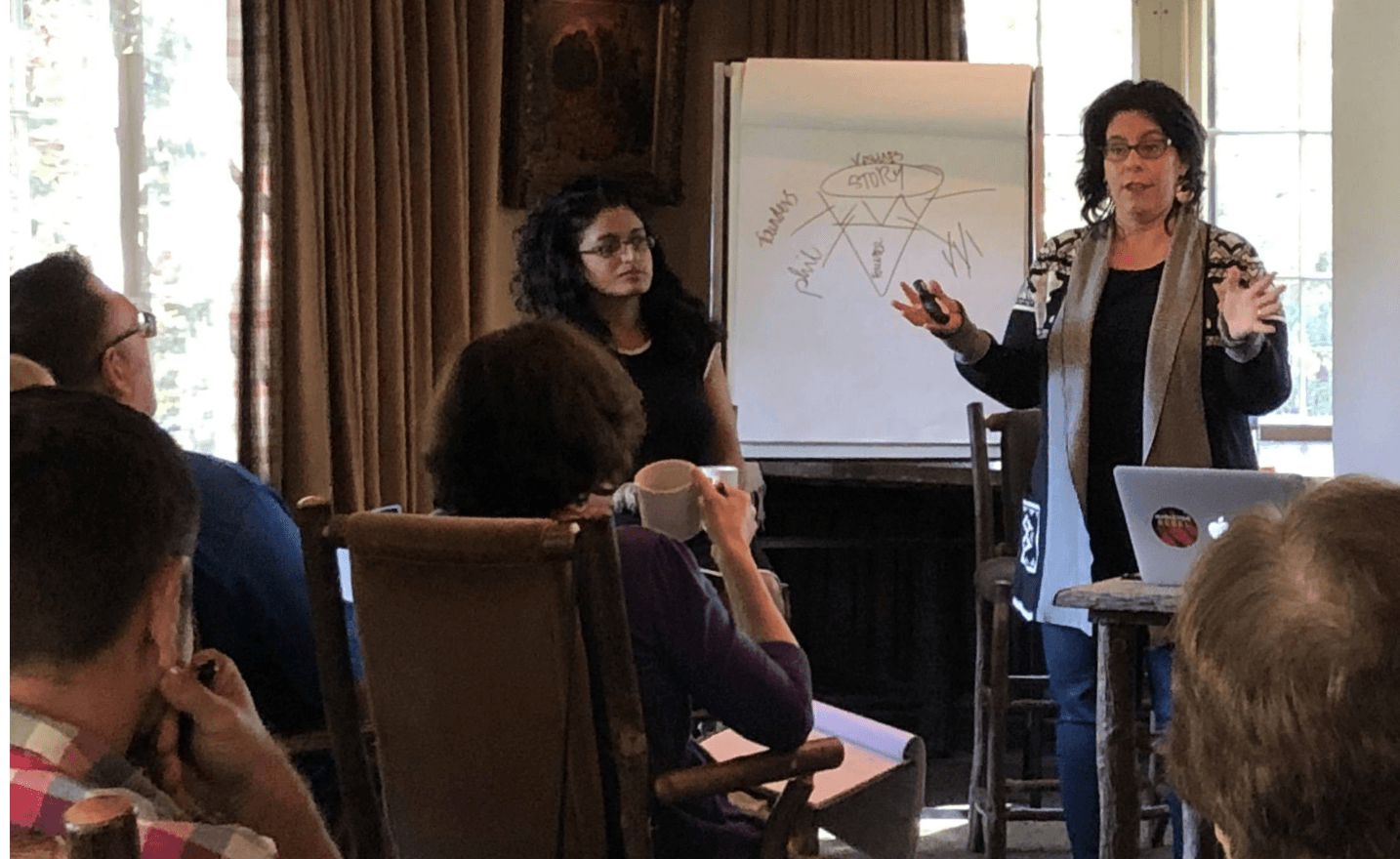 This was a provocative session that frankly changed my mind about a few things! It was led by Touseef Mizra (marketing consultant + NYU educator) and researcher Samantha Stone. (Founder + CEO Marketing Advisory Network). Samantha brought some original research for discussion.
People WANT to interact with machines for SOME types of activities
Voice is the new search
Fear of AI: Generational gap is much smaller than we think
Transparency is critical in chat experience
Automation is not AI
Humans must be part of the process
And now, some exclusive Uprising insight
As you can tell, this was an epic event that also included a considerable amount of fun!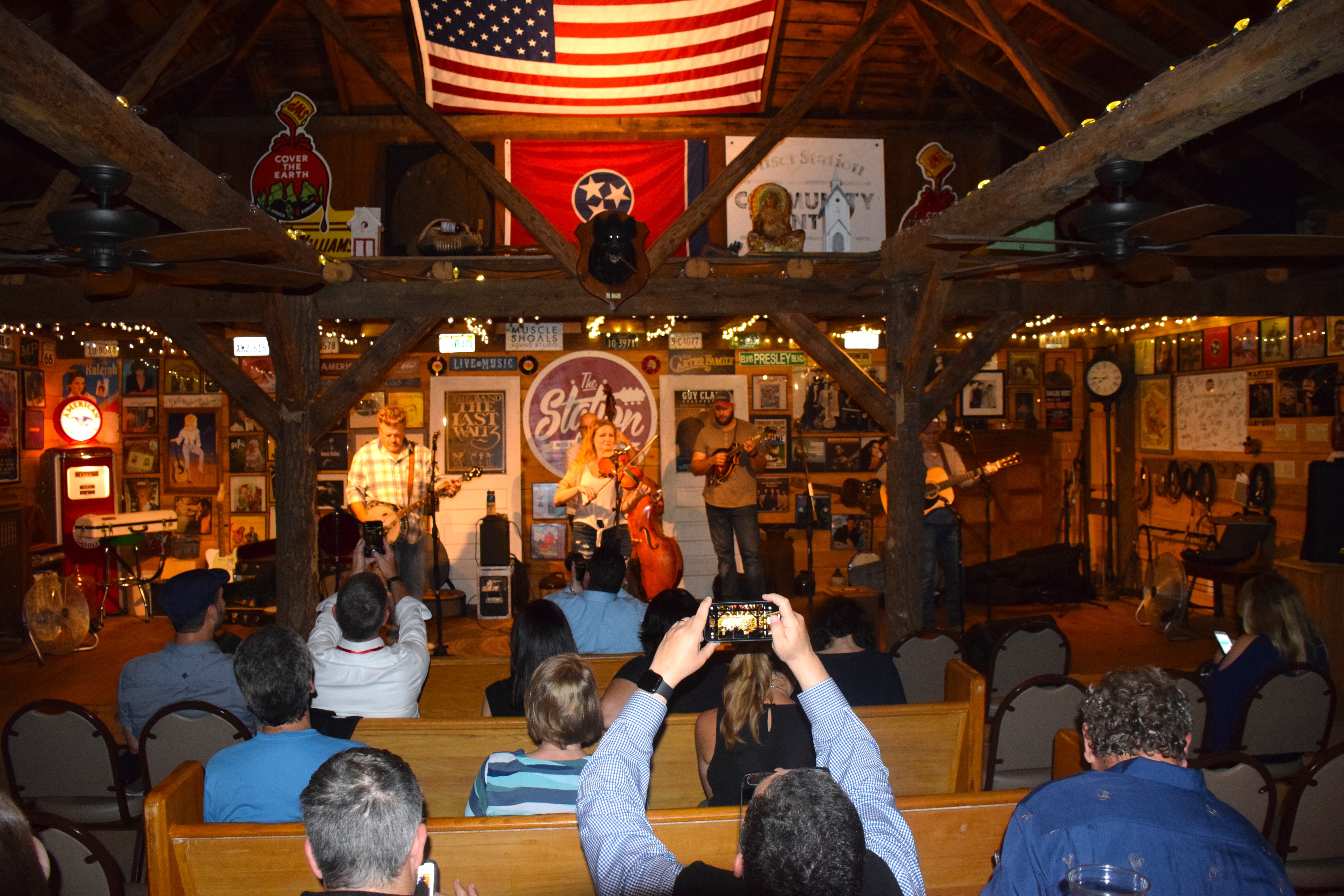 But there's more.
On the new episode of The Marketing Companion, Brooke Sellas and I discuss our greatest personal learnings from The Uprising. You won't want to miss this special show.
And I hope I'll see you at a new Uprising retreat I just announced for May 12-15, 2020! I promise an experience you will never forget!
Here's our show!
Click on this link to listen to Episode 172
Other ways to enjoy our podcast
Please support our extraordinary sponsors. Our content is free because of their generosity.
Many thanks to our friend Scott Monty for the awesome show intro. Be sure to check out his introspective newsletter Timeless & Timely, where he covers the latest trends and the oldest principles.
Tim Washer is contributing creative direction to the show and he's has worked for Conan O'Brien, John Oliver, among others. He helps corporations build more creative cultures.



It's hard to ignore — 630 million business professionals are active on LinkedIn. They have twice the buying power of a normal web user. If you're in business, you need to be exploring advertising on LinkedIn. Brooke and I have both had tremendous success with this marketing platform and to help you get started, LinkedIn is offering Marketing Companion listeners $100 in free ad credit. That can go a LONG WAY! Take advantage of this opportunity today by visiting linkedin.com/companion



RSM Marketing provides an indispensable outsourced marketing department! Why struggle with turnover and staffing when RSM clients receive a marketing director and all the resources they need under a flat fee monthly subscription?
RSM employs dozens of specialists and experienced marketing directors who assist companies ranging from startups to market leaders with thousands of employees. Companies across the country from all categories are choosing this model to overcome marketing complexity and outpace their competition. The typical outsourcing client uses 11 RSM subject matter specialists but pays less than the cost of one of their own employees. RSM provides breakthrough marketing for clients and has been named twice to the INC 5000 list. Visit RSM for special Marketing Companion offers including $5,000 in free services.