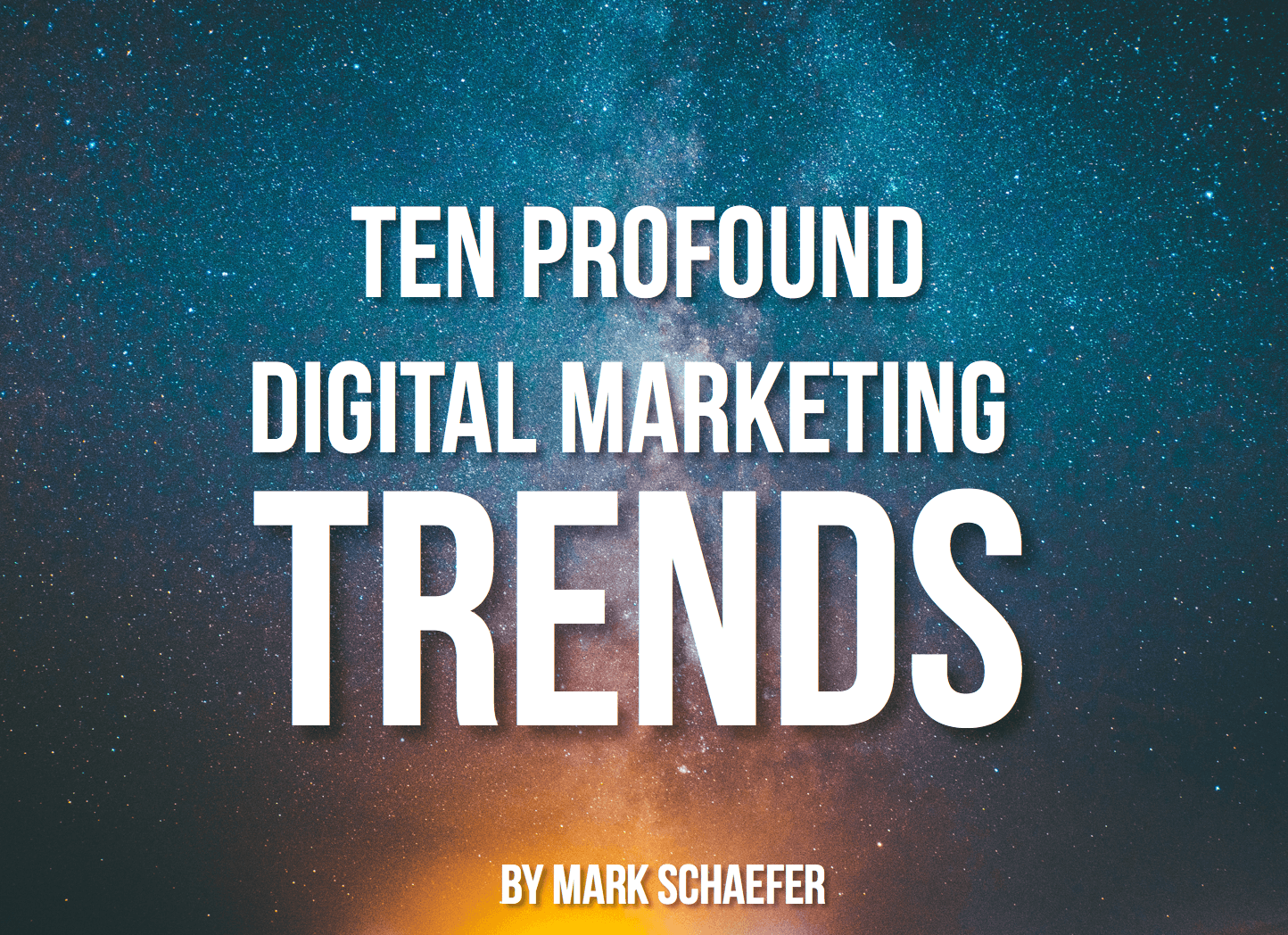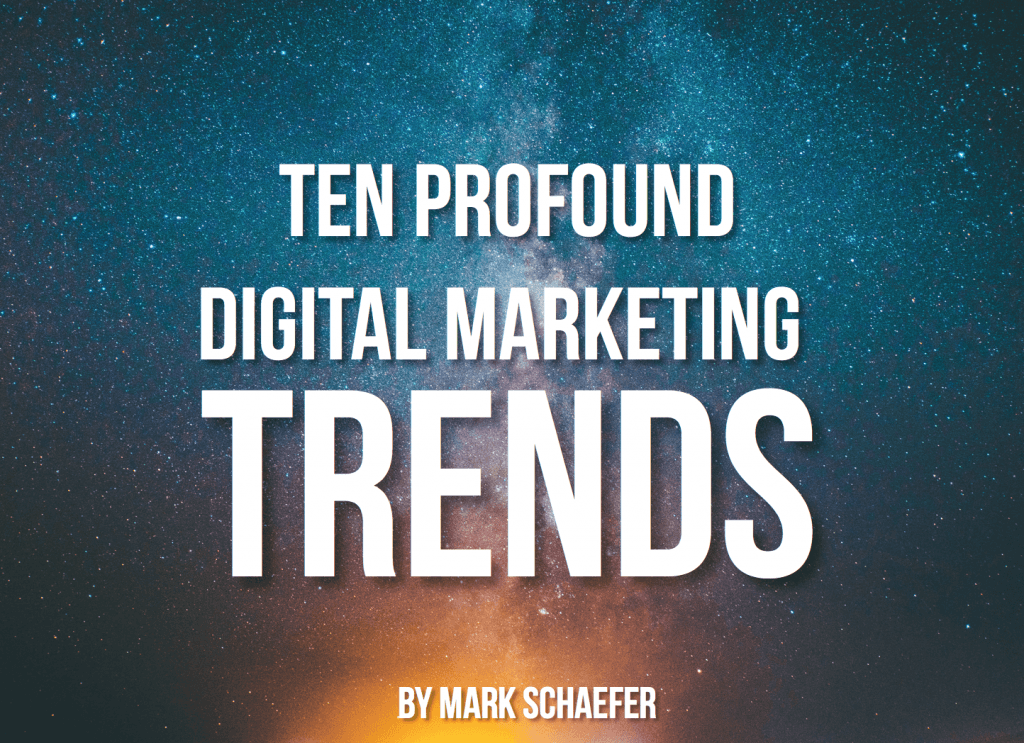 By Mark Schaefer
This is the time of year marketing bloggers make the prediction that "this is the year of social video" (for the tenth year in a row!)
But I can't help but make some predictions — thinking about what's coming next is my professional fuel!  I love to connect the dots in new ways and dream about the implications and what the new year will hold for us.
Let's look beyond the obvious trends at some developments percolating below the surface that will impact marketing in 2018 and beyond. Hopefully these are some new ideas for the marketing trend grist mill … let me know what you think!
1) The hyper-empowered consumer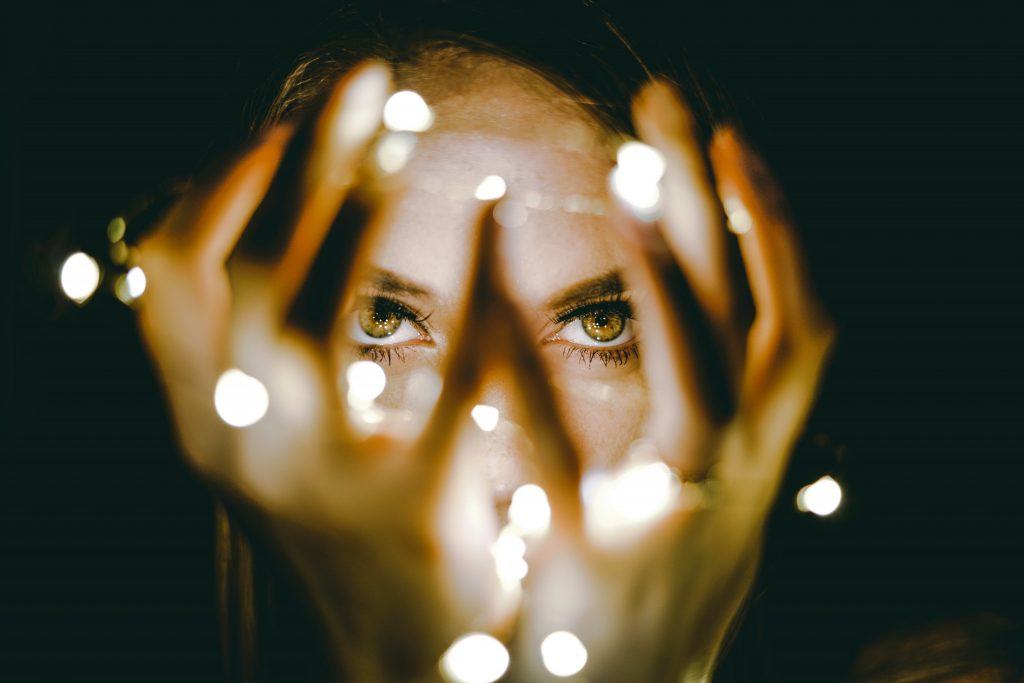 Marketing strategies and marketing departments change very, very slowly. For years, we've been spending money on stuff that doesn't work.
Research shows that a disproportionate amount of money is being spent on print advertising and other channels in decline.
Consumer behavior has changed dramatically in the past two years yet many companies are still working on digital strategies that worked in 2013.
80 percent can't measure their social media effort or content marketing.
A majority of marketers admit they don't understand their martech stack.
However, I'm starting to see evidence that companies big and small are starting to question these practices and begin to re-set in a dramatic fashion.
There are too many people in marketing using tools and tactics that worked five years ago. I think (and hope!) we see deep cultural changes in how we approach marketing with a focus on the hyper-empowered consumer.
Here is where the power is today: user-generated content, reviews, and influencers.
Here is where the money is being spent today: advertising, agencies, campaigns.
This has to change.
The power has shifted from Madison Avenue to Main Street. It's time to transcend  our marketing arrogance, our traditional organizations and silos, our budgets built on an iteration of what we did last year, and start to market our businesses in a way that reflects reality.
The hyper-powered consumer is in control.

2) Virtual spaces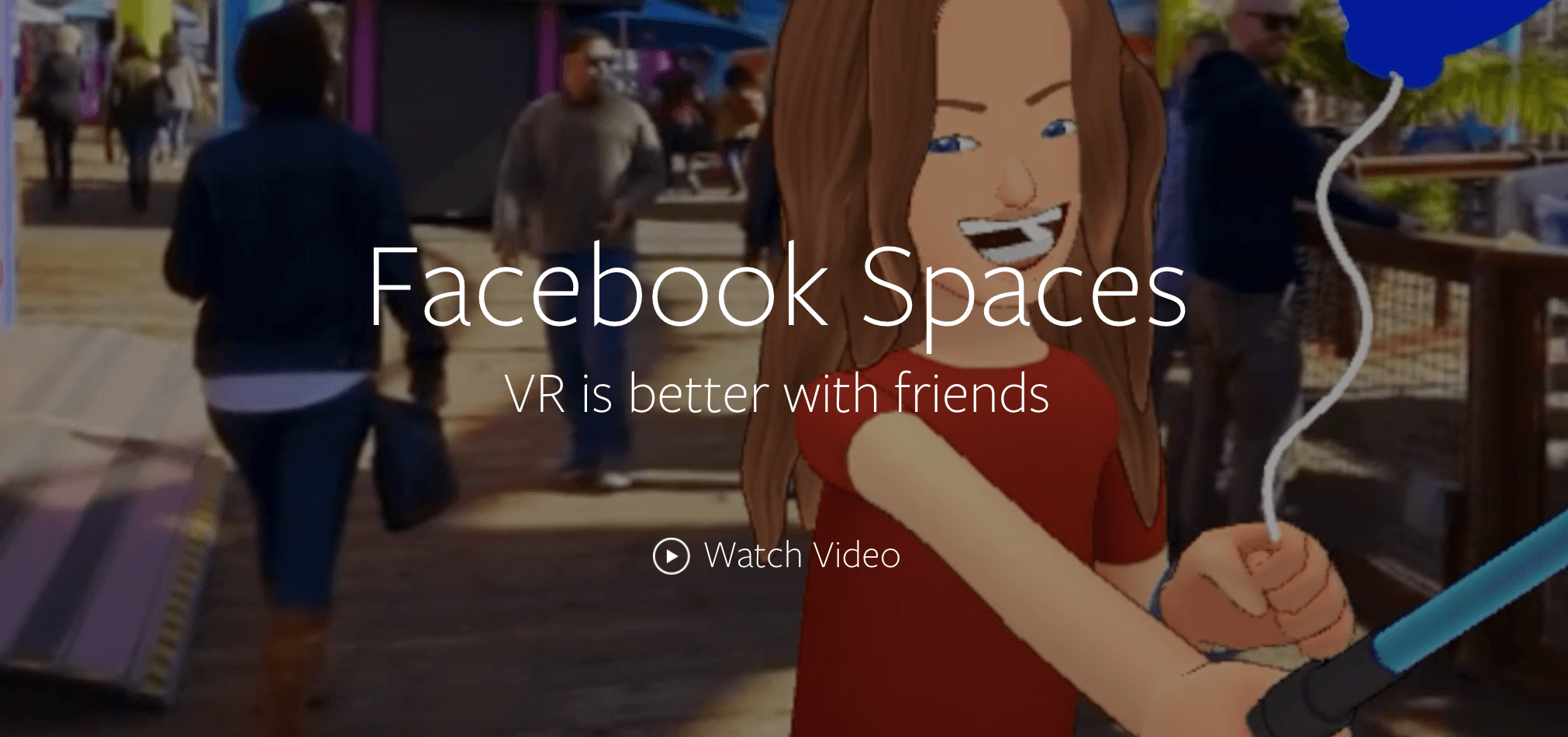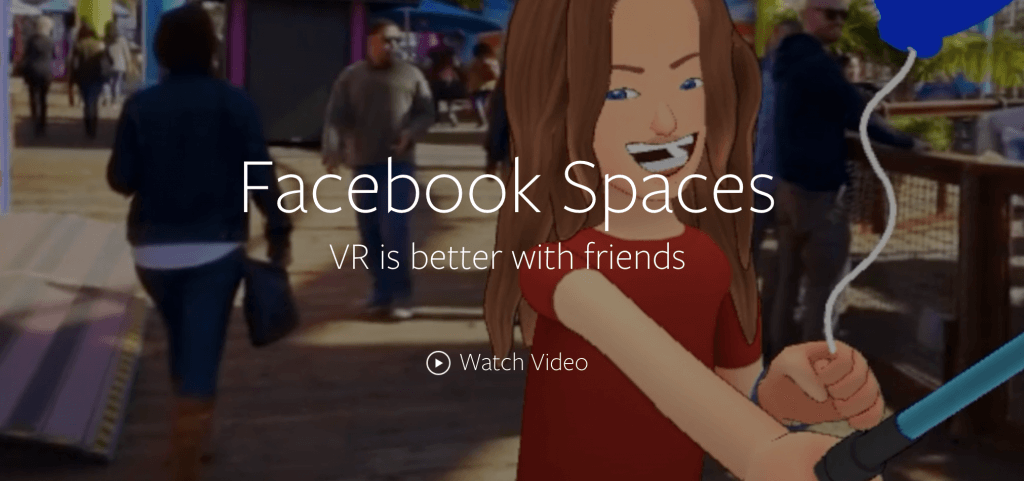 Recently Facebook gave us a glimpse of what social media will look like in a virtual reality world with Facebook Spaces. It's still crude and clunky but the platform also opens the door to transport us into immersive new experiences. I see this as just the first of a host of new immersive social platforms in our future.
This trend is important for brands because our favorite applications like Facebook and Google lock us into a "relational bubble" based on our social connections and previous history with the platforms. So being exposed to anything new would be a filter fail and a real challenge to marketers.
Creating immersive experiences is a way to invite people out of that filter bubble, so this is will become a significant marketing opportunity. Eventually, virtual reality will be a primary driver of the social media experience so watch this development closely in 2018.
Another thing to watch for: Who will own the VR space? Will there be a "homeroom" for virtual reality experiences like YouTube owns video and Instagram owns photos?

3) Public to Private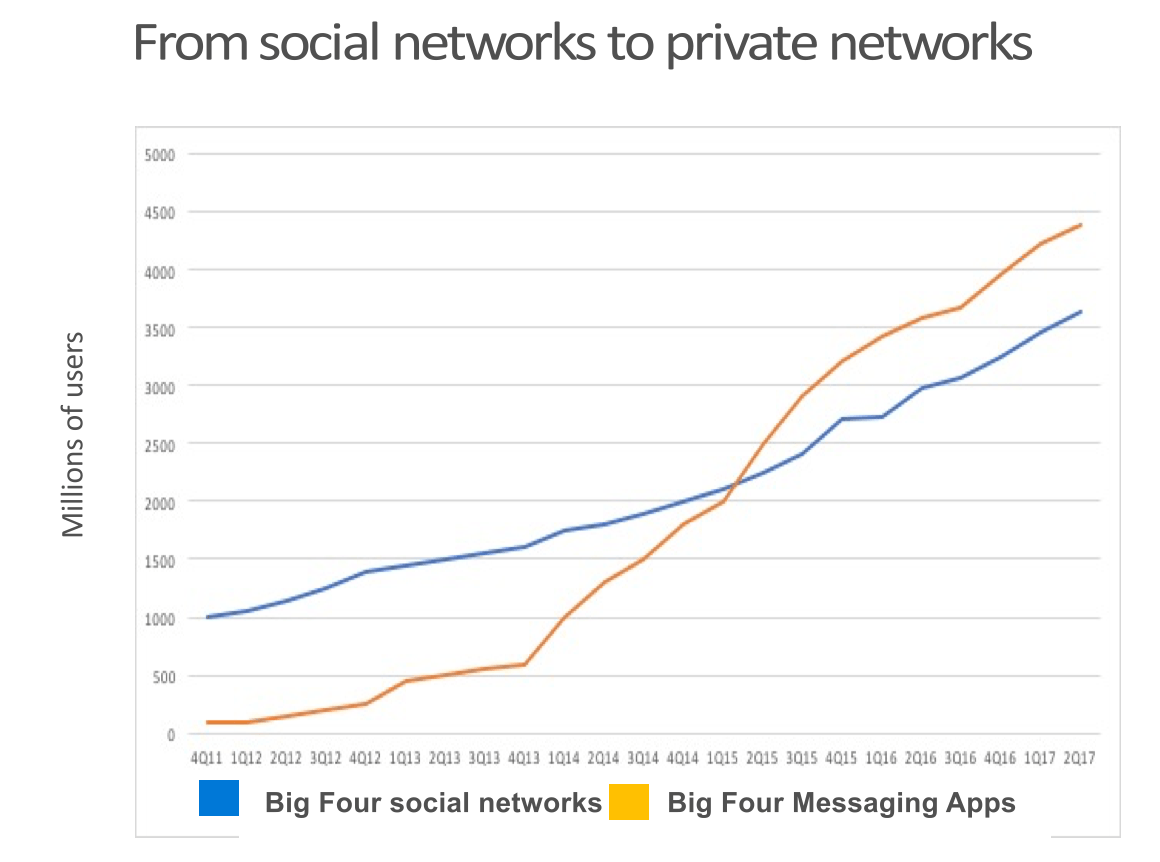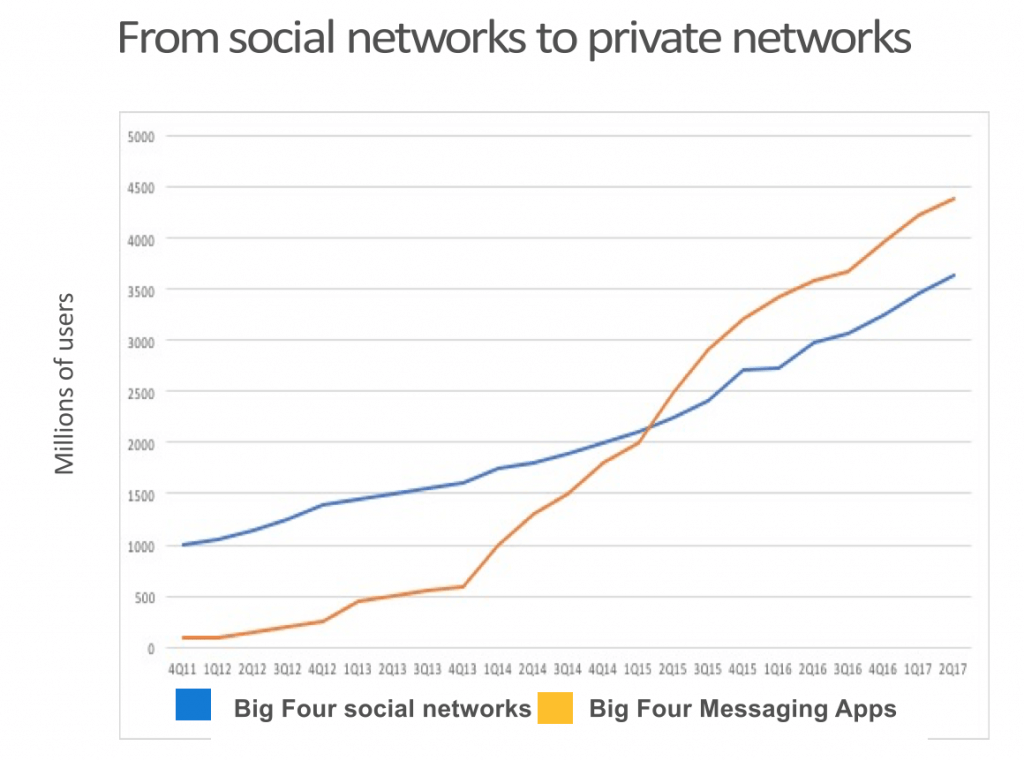 I think this graph represents one of the most significant trends in the recent history of marketing … and yet there is relatively little conversation about it. Social interaction is migrating away from the public view into private spaces.
What we see here is that social media is still growing, but conversations taking place on private messaging apps like WhatsApp, Messenger, and Snapchat are growing even faster.
Some implications for marketers:
The gold mine — Think about this: The biggest un-tapped trove of consumer data in history — private text messaging — is moving onto Messenger and WhatsApp and into the hands of Facebook. That is a WOW.
"Open rate" — The typical open rate for email is about 20 percent. Without the boost of ad support on Facebook, your organic reach for your content probably averages less than 1 percent (this can vary widely by business). The open rate for a private message? 98 percent. Smartphone users are more likely to have push notifications turned on for a messaging app than for email, a branded app, or even Facebook.
Be cool, not creepy  — How does a company engage in a private channel without being creepy? Make them fun. Chatbots will become a source of delight and entertainment.
Discovery — When we figure out how to use chatbots to connect in this space, how do we get people to discover us? Aflac recently ran ads promoting their duck-based chatbot, the first promotion of this kind I have seen. I think Bot Awareness will become a big deal, a new business opportunity. 
But there is more to chatbots than meets the eye …

4) Chatbots, but not like you think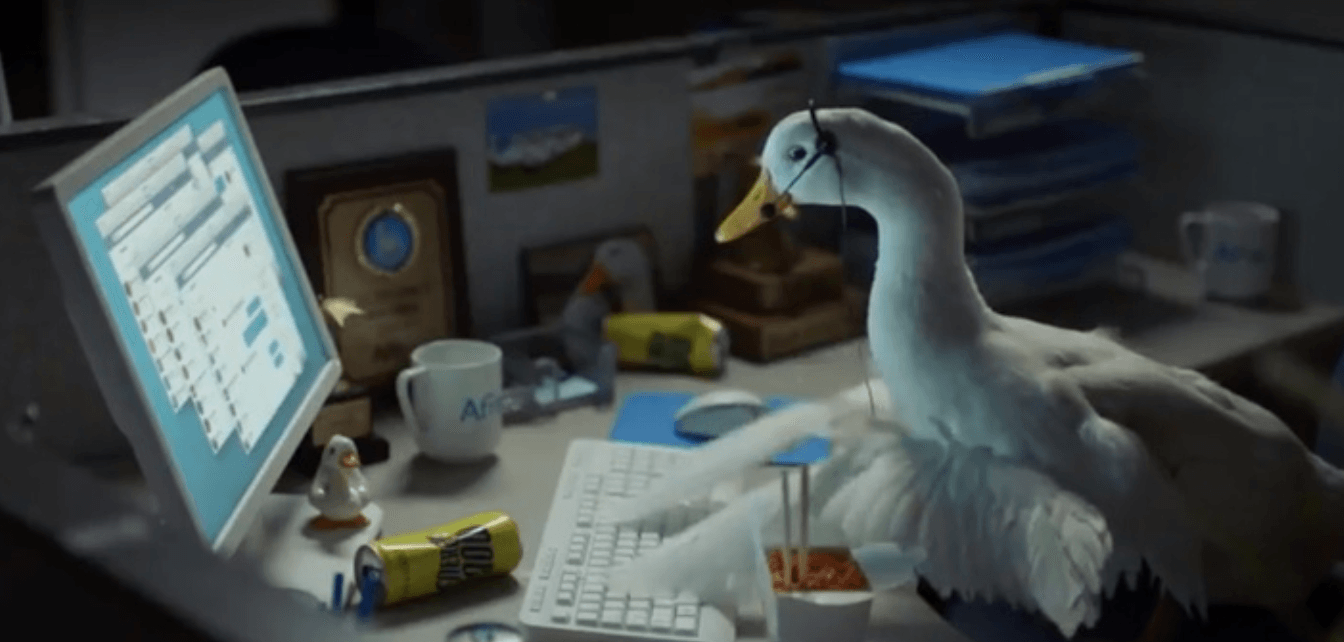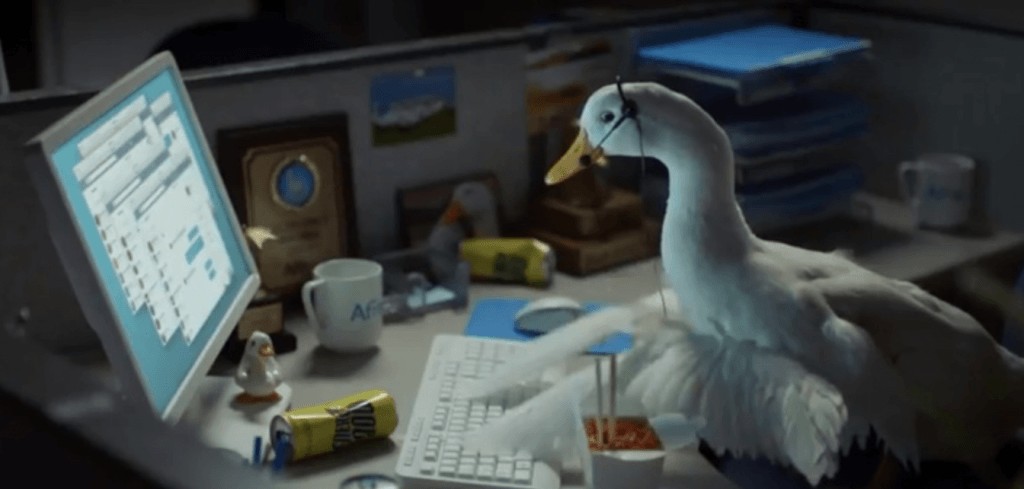 I'm sure many 2018 forecasts will mention "chatbots" as a trend but realistically unless it is applied to a high-call-volume business like airlines, insurance, banking, hotels, and car rentals, the economic viability for most smaller businesses is still a couple of years off.
However.
I agree that chatbots are going to have a long-term impact on marketing, but for a different reason than you might think.
Chatbots will usher in a new era of conversation marketing. Here's what I mean by that. Most customer service people are graded by how quickly they can deal with a problem and move on to the next issue. But chatbots can stay on "the line" and have conversations forever, collecting and recording all kinds of data. I see this as a way of picking up new customer information and insight … a strategy that has not been discussed too much.
I may not want to talk online with Nike, but I might have fun talking to a Michael Jordan chatbot. Heck, I might even talk to the duck. And those companies will be collecting information about me all along the way.

5) The talent gap crisis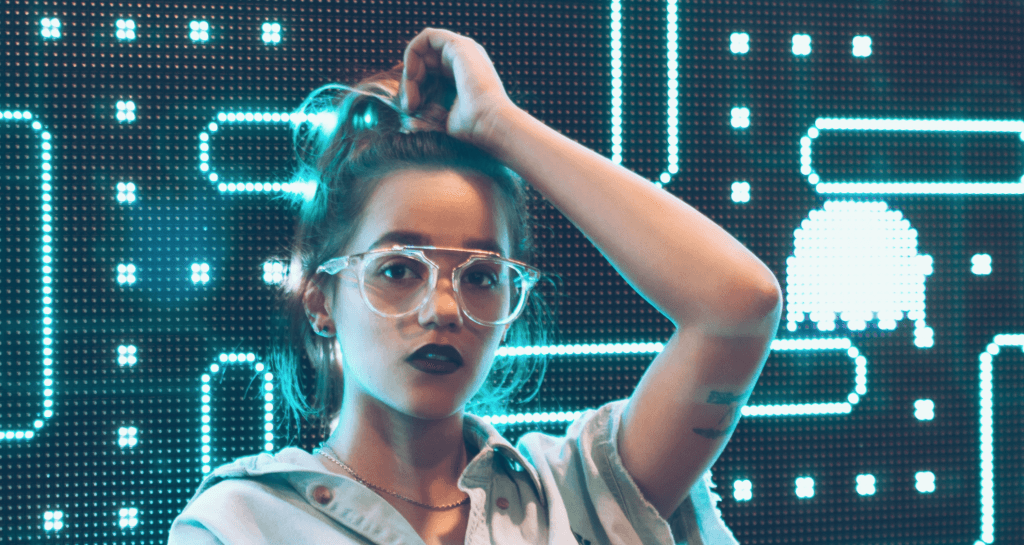 There is something weird going on.
Every CMO I talk to tells me they can't find the right people to fill marketing jobs. And yet, I have a lot of friends having trouble finding a job. The disconnect is in the skills gap.
Keith Weed, the CMO of Unilever, claimed in an interview that there is an entire generation of marketers who are "faking it" and called for an overhaul of the marketing function.
Marketing titans like P&G acknowledge that their biggest brands are struggling to find relevance and, over the last few years, fired thousands of marketing professionals who aren't keeping up.
The truth is, the marketing jobs are out there but CMOs can't find the RIGHT skillsets they need to fill them and this is creating a true employment crisis.
I can comfortably predict a boom market for re-training programs, escalating salaries for up-to-date digital professionals, and an uptick in employee turnover (which may be the most disruptive force to a company!)
A side note: My most recent Rutgers University mini-MBA classes on digital marketing has had record enrollment, up 100 percent from last year, a sign that mid-level managers are taking action with their careers. This is the best one-week immersive course on the planet so check it out if you are feeling unsure about your career.

6) AI Angst


I know, I know. Artificial Intelligence is all the craze. But AI also represents a cataclysmic change for the marketing profession. People are going to lose their jobs, or at least they'll have to perform their jobs in radical new ways.
Here is a universal truth: People don't want to perform their jobs in radical new ways, let alone lose them!
For this reason a key trend for 2018 isn't AI, it's overcoming internal resistance to AI.
We kind of want AI to work, but we don't really want it to work, do we?
I've been around long enough to know that when something threatens a person's hold on power or control in a company, it is going to take heaven and earth to get them to change. That's why I think the big trend for 2018 is the push back on AI.
But here's the deal. It IS going to happen, but more slowly than people are projecting. AI is a journey. It will start small by using AI to increase efficiency and reduce friction in the customer journey. Moving up the maturity curve, we will see AI-based engagement that will enhance or even pre-empt customer service.
If our competitors accomplish these AI milestones before us, we're dead. The distance between customer expectations and the reality of what ill-prepared businesses can deliver will become so great that a slow and gradual transition is no longer possible. An AI transformation isn't about applying a fresh coat of paint. It's like moving to a new country.
This is going to be a year of reckoning that will force many companies to take decisive action, even if it includes firing the obstacles who are in the way.

7) Blockchain, kind of


We all have to recognize that Blockchain is transforming digital business models. The question is, how will this impact marketing in the next 12 months?
My view is … not much.
It's sort of like this.
Let's say you go into a car dealership and the salesperson tells you this new model has an entirely new electronic operating system: It has been upgraded from Widget 2.0 to Widget 5.0. The internal system is more efficient and secure than last year. My reaction would probably be "meh."
But if the car has a radically new entertainment system, a beautiful new design and lifetime free maintenance I would go "wow." Those features represent true consumer value.
So I see Blockchain as having an underlying, systemic impact in 2018 but I haven't figured out how it will show up as recognizable marketing sizzle. There has been a lot of buzz about blockchain and marketing but I think it still a couple years before we see something tangible. Let me know in the comments if you think differently.

8) Social Media Regulations
The social media titans have been asking for it.
YouTube has allowed violence and pornography to seep into its YouTube Kids network.
Facebook's integrity as a place that "helps you connect and share" has been laid to waste. It is a clearinghouse for propaganda, hate speech, disinformation, fraud, and bullying. Facebook isn't just vulnerable to information warfare, it is complicit in it.
Twitter is a cesspool of fake accounts and bots spreading fake news.
Several nations are suing Google for unfair trade practices, privacy breaches, and stealing consumer passwords and other information from home wi-fi networks (and Google has not cooperated in the investigations).
Television, advertising, and even movies are regulated but Facebook, the biggest media channel in the history of the world, is whistling in the dark, manipulating our newsfeeds to create levels of social media addiction to increase their profits.
Social media is the new world order. It determines our digital and real world opinions and behaviors in incalculable ways. But with great power comes great responsibility and these companies have shown they cannot police themselves.
Is 2018 the year our governments wake up? Let's hope so.

9) Mass marketing to mass personalization


For years we've talked about the opportunity of personalization. But when was the last time you received a truly personalized and customized email offer? Direct mail catalogue? Pop-up ad?
Other than slightly better Facebook ads, so far the whole personalization movement has been a big bust. In fact, "personalization" on the web today usually means you keep seeing deals for stuff you already bought.
But there's really no excuse for that. The machine learning capabilities are here. Is this the year we finally see a level of personalization that makes us go "wow?"

10) Information density

The most profound trend impacting every aspect of marketing these days is the increasingly difficulty path to standing out amid an explosion of content.
BuzzSumo research illustrated this effectively and conclusively when an analysis of millions of pieces of content showed that when content saturation occurs on a topic, engagement on that content drops precipitously.
This is Content Shock — as the amount of content in a niche increases, the cost of competing in that niche becomes prohibitive.
What is the ultimate solution to this issue? We must look at content marketing success in an entirely new way. The value of content that is not seen and shared is zero.
Yes we need great content. Yes, we need to build and audience and engage. But none of that will work unless we learn to ignite that content, a strategy I cover comprehensively in my book The Content Code
.
A recent Forrester analysis concluded that a major marketing issue is "consumers cocooning themselves from 'digital noise'."
The key to content marketing success is not the content. It is the transmission of the content and figuring that out how to do that will be an overwhelming priority for 2018 and beyond.

So that's my view of some of the more interesting trends to watch for in the year ahead. There's probably a lot more I could discuss (security, smart speakers, SEO implications …) but I think 10 is a nice number to serve as a launch pad for your ideas.
What are you excited about? Concerned about? What did I hit and what did I miss?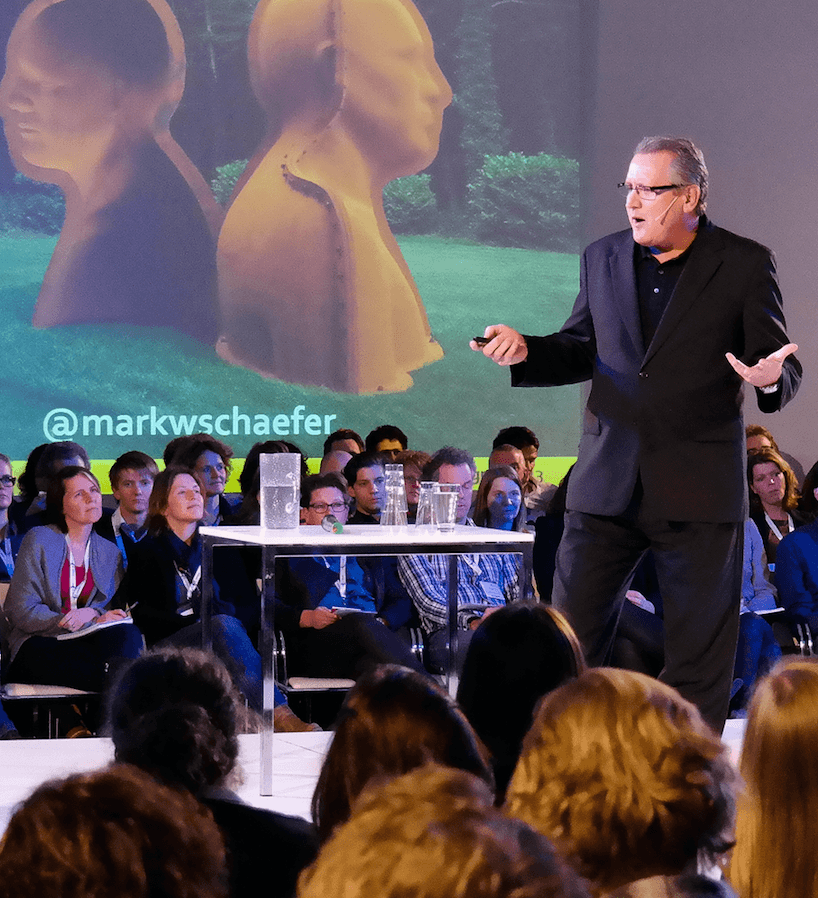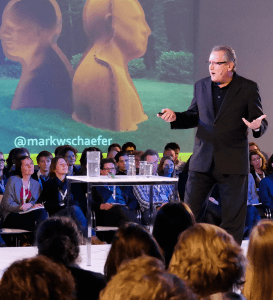 Mark Schaefer is the chief blogger for this site, executive director of Schaefer Marketing Solutions, and the author of several best-selling digital marketing books. He is an acclaimed keynote speaker, college educator, and business consultant.  The Marketing Companion podcast is among the top business podcasts in the world. Contact Mark to have him speak to your company event or conference soon.
Illustrations courtesy Unsplash.com