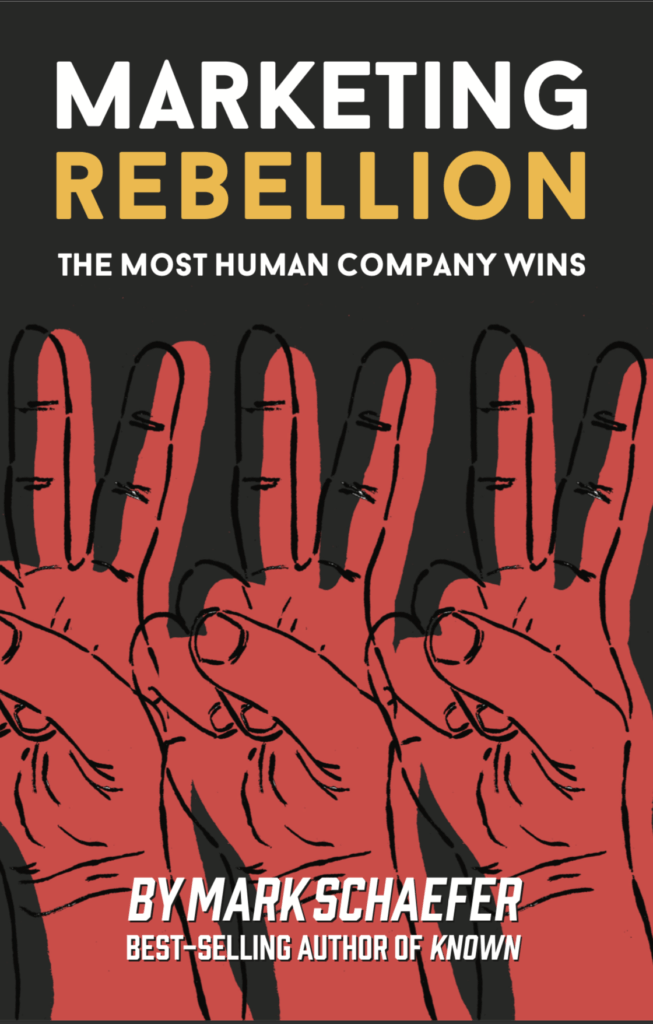 By Mark Schaefer
My new book, Marketing Rebellion: The Most Human Company Wins
is now live!
It is my best book, and my best professional work. Allow me to tell you why this is essential reading, and a book unlike any other business book you've ever read.
Let's start at the beginning. Take a look at this short video to understand the premise.
If you can't view the video above click to see it on YouTube: Marketing Rebellion video
Did this video make you squirm a little? It sure made me uncomfortable. In fact, writing this book made me question the very foundations of what it means to be a marketer today.
Why Marketing Rebellion is an essential book
"Marketing is in an existential crisis" – Ashley Freidlein, eConsultancy
The fields of marketing, advertising, and PR are literally convulsing with change. No strategy we employed in the past is likely to work in a world where technology is racing ahead of us, customers buy based on personal values more than product features, trust in brands is at 10-year low, and nobody sees your ads any more. 
I understand if you feel overwhelmed, stuck, and even fearful about the new marketing landscape. We need a new playbook, something we can understand and hold on to through these years of overwhelming change. That's exactly what I provide in Marketing Rebellion.
Packing a punch
"Today, you can no longer be in a city. You must be OF the city." — Fabio Tambosi, Adidas
Here are the main deliverables of my new book:
Your view of marketing will change forever. Through extensive research, expert insights, and groundbreaking case studies, I paint a true picture of the world today and what it takes to succeed in it. 
You will gain an instant competitive advantage. Most marketing organizations are asleep … and they don't even know they're asleep. This book delivers the truth in a way that will provide sustainable competitive advantage to you and your business because you're going to roll right over your drowsing competitors.
You'll have actionable steps to move forward. I am a teacher. I'm not going to lay a bunch of alarming new insights on you and then walk away. I want you to succeed and every chapter has achievable, actionable ideas. If you buy the book, you will also have access to many supporting resources including a valuable workbook filled with more insights, study questions, and bonus material — for free.
You'll be inspired. There has never been a more exciting time to be in marketing. Let me introduce you to some inspiring people and companies who have adopted a human-centered approach to business. Together, we can lead this rebellion.
You'll have fun. Articulating the future of marketing is a serious topic but I let it unfold in an exciting and even funny writing style. One reviewer said he couldn't put the book down and I think you'll feel the same way. I mean, the book comes with its own coloring book. That's a first, right?
Are you in?
"You can keep up with the blazing pace of culture or you can measure. You probably can't do both." — Marc Simons, Giant Spoon
Writing this book was like getting a new masters degree. I studied, researched, and wrote about one topic for two years. And I have a clear view of the new marketing landscape. To win, it's going to take a new mindset, a new skillset, a new relationship with our customers. 
It's going to take nothing less than a Marketing Rebellion.
Please join me in this essential movement toward human-centered marketing.
Buy the book in paper and Kindle here: Marketing Rebellion: The Most Human Company Wins
Buy a hardcover book here.
(Audio book is on the way for Audible, Amazon and iTunes!). 
Thank you so much for your support!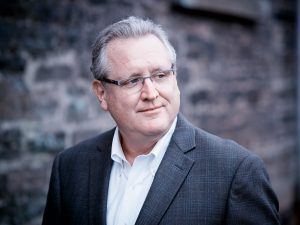 Mark Schaefer is the chief blogger for this site, executive director of Schaefer Marketing Solutions, and the author of several best-selling digital marketing books. He is an acclaimed keynote speaker, college educator, and business consultant.  The Marketing Companion podcast is among the top business podcasts in the world.  Contact Mark to have him speak to your company event or conference soon.